Since I decided to hit double time on the end of the remix, I knew instantly that the piece that would give me the most outfits was this white button down. (I am wearing this one from Target but also recommend a Madewell one! I have this one from Madewell but wear the Courier tops all the time, so this one is a classic!) So let's get to it!
1. Try it with Trousers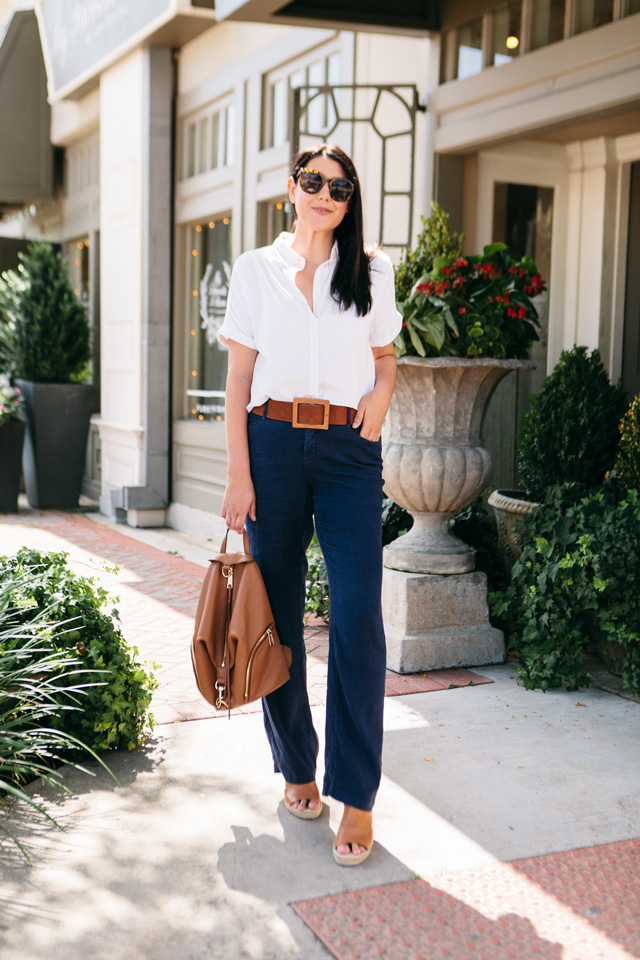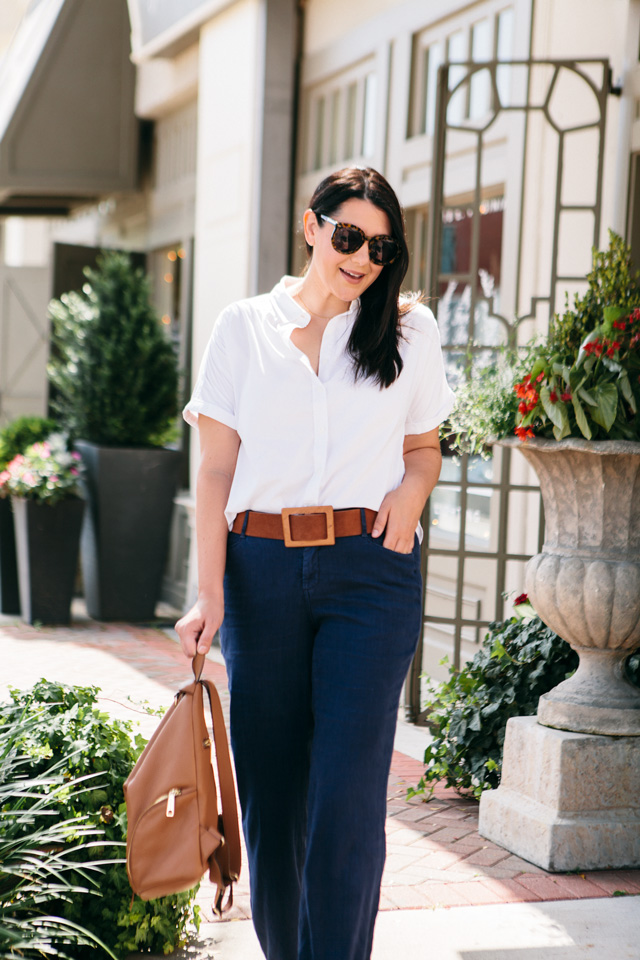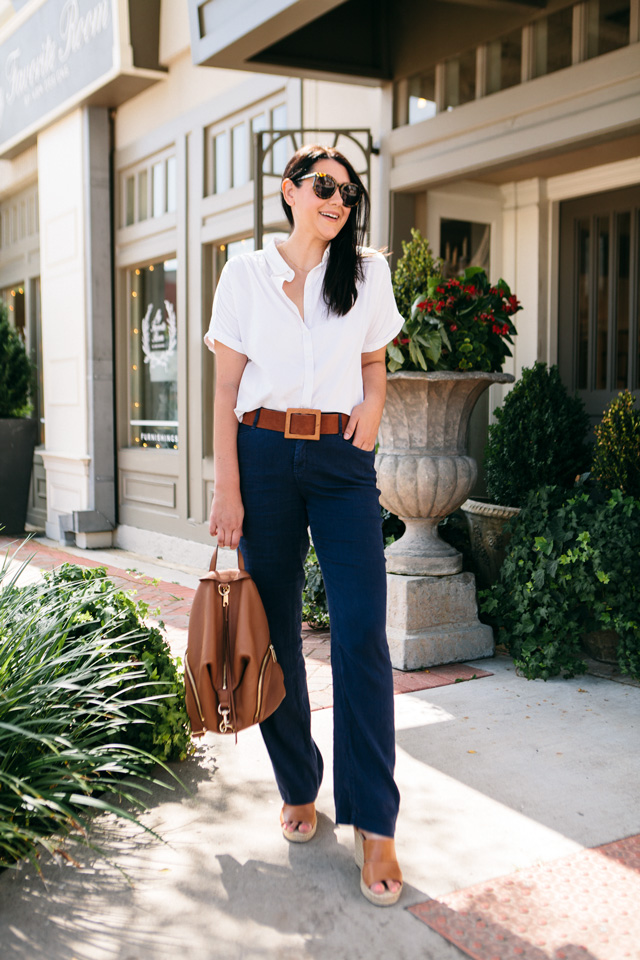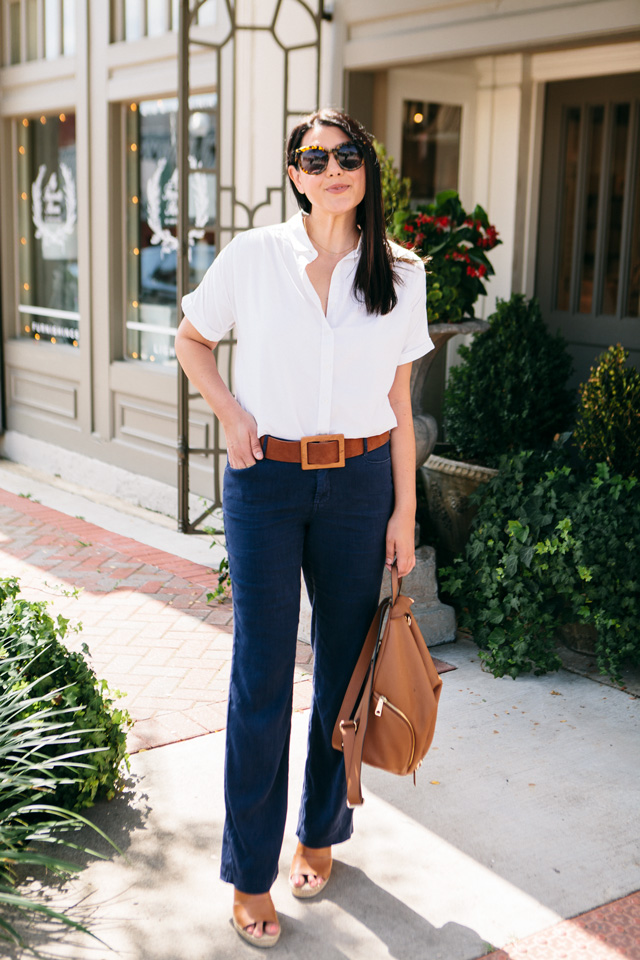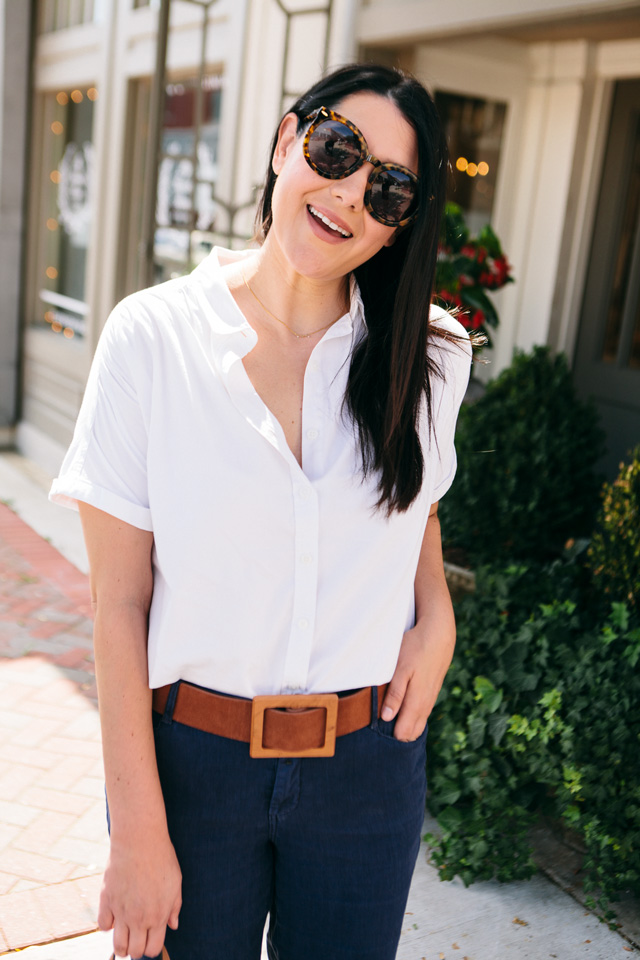 Remember how I said I was obsessed with this new belt? I meant it! (Again, it's a tricky little guy and to get it to stay in the buckle, you have to fold the end and tuck it under the belt buckle and then it says.)  When we got out to shoot this outfit, I had forgotten the belt and thought my outfit was going to have to be a re-do but LUCKILY I am a garbage person and had actually left this belt in the back of our car from our last photo session. (It's true, sometimes our backseat looks like a closet exploded. 😉 ) So the photo session was saved by the belt.
I love the look of crisp white with these linen trousers (obviously) because it dresses this pair of linen pants up. This outfit would easily translate to the office, as well. Perhaps a casual Friday? I think yes. Find these trousers here!
Full Outfit Here
---
2. Romantic Florals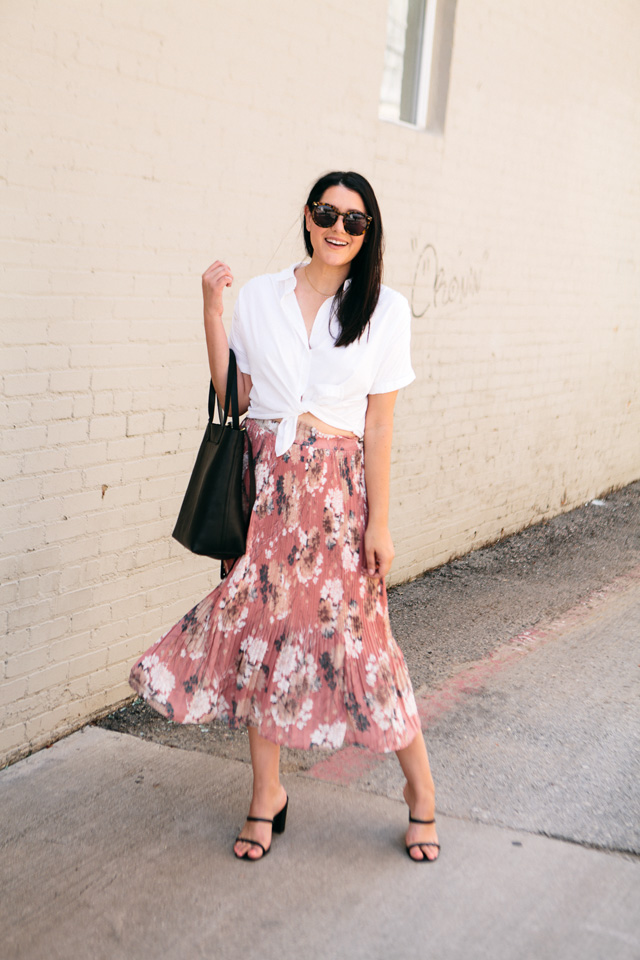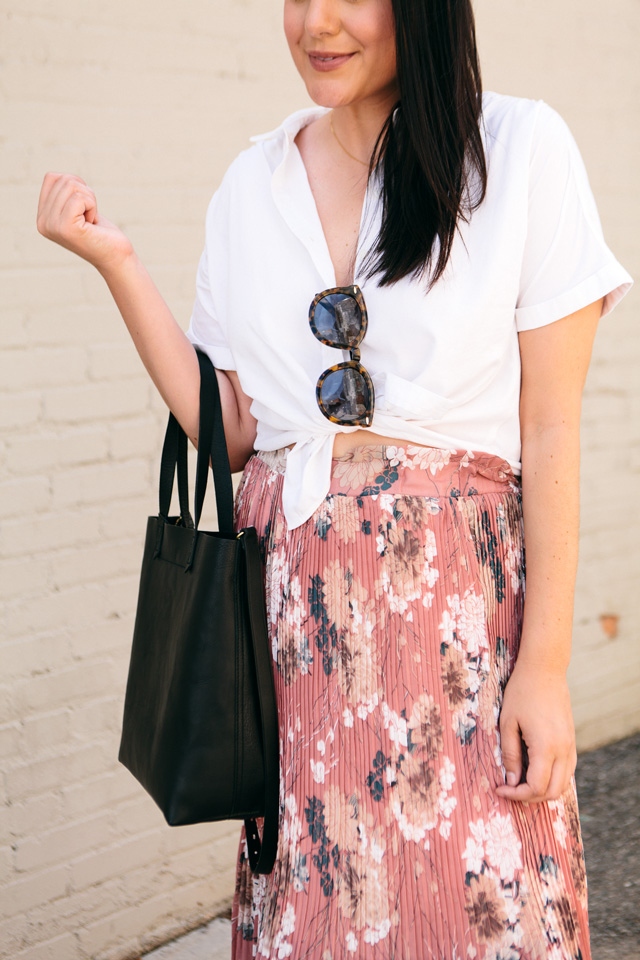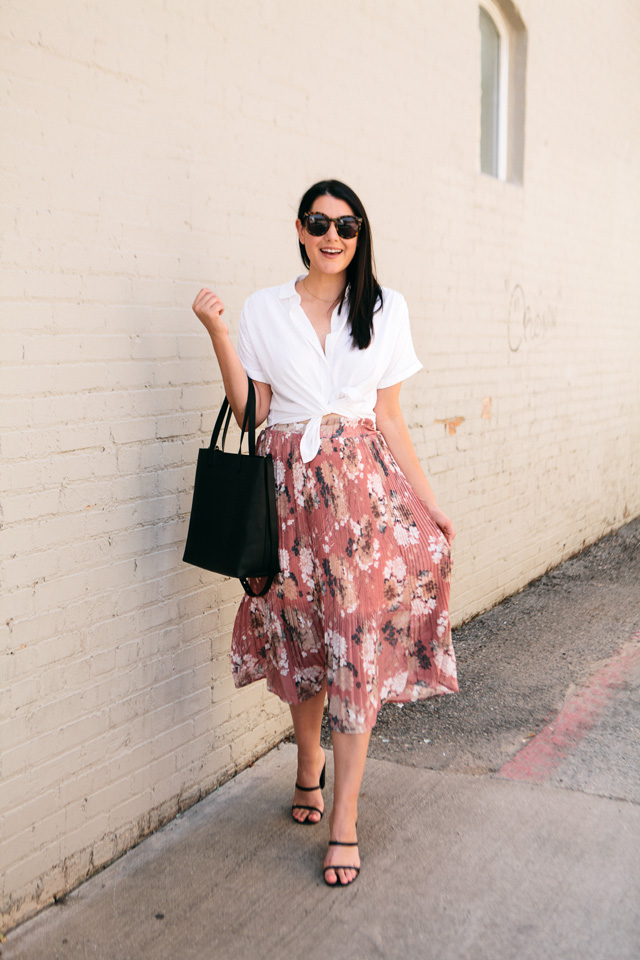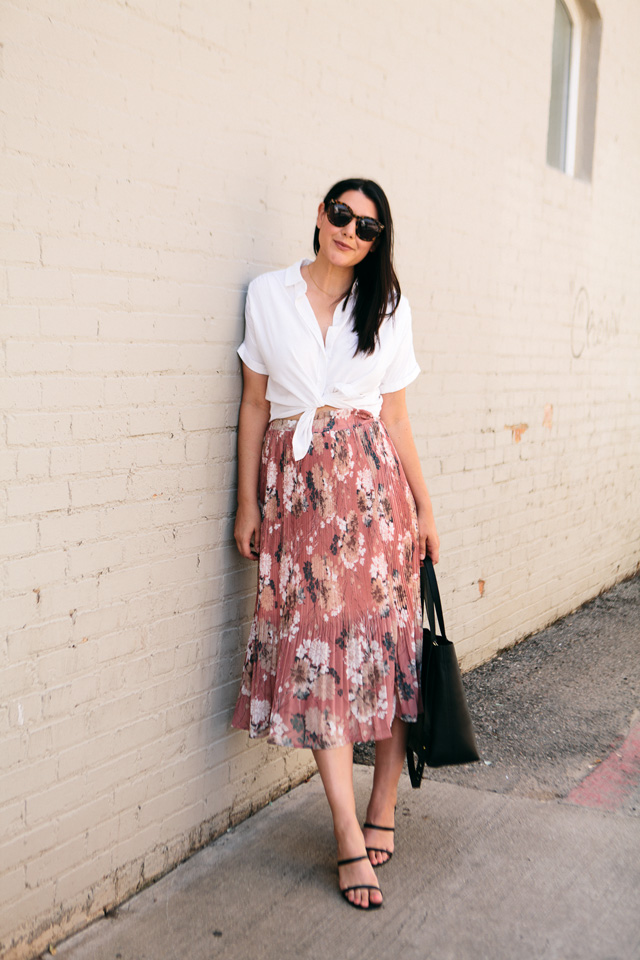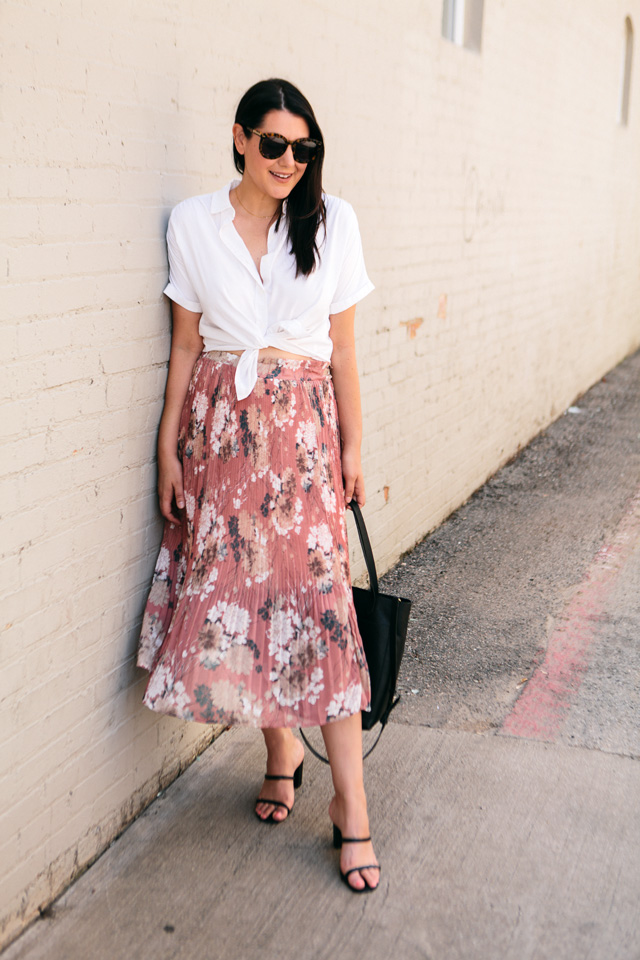 I love this floral maxi skirt and knew that a simple white blouse would pair perfectly with it — and boy was I right. I wanted to do a simple tie with this blouse to make this look a bit more casual and summery. Pairing it with the black accessories gives it a different look than the last time I wore this skirt, too!
Full Outfit Details
---
3. Clean Classics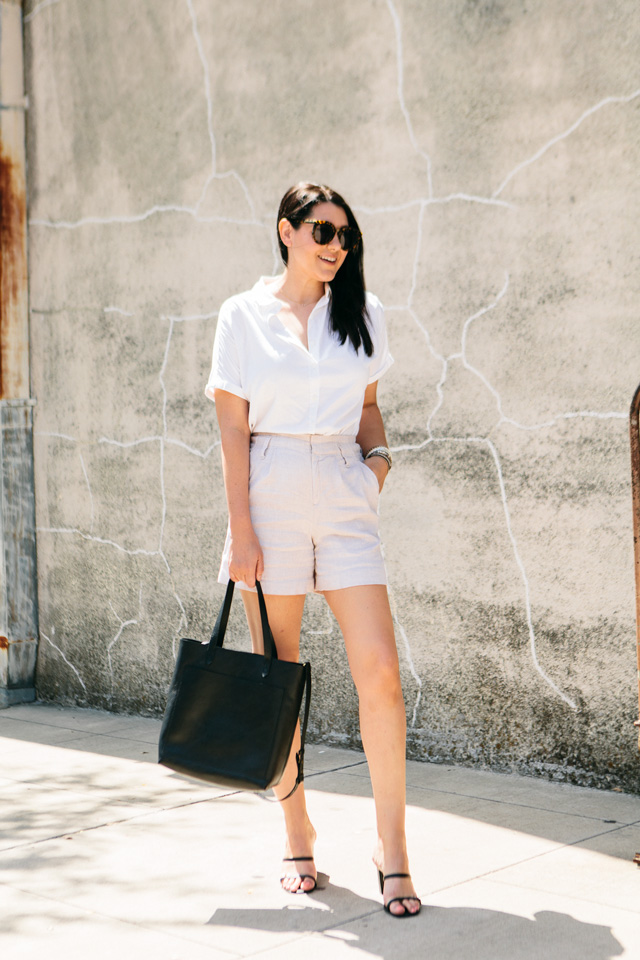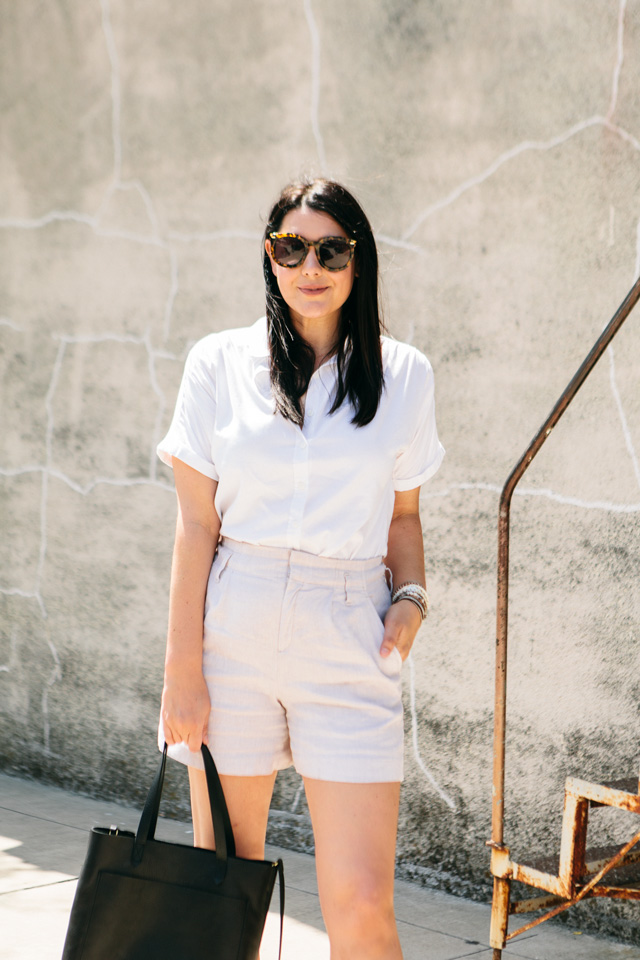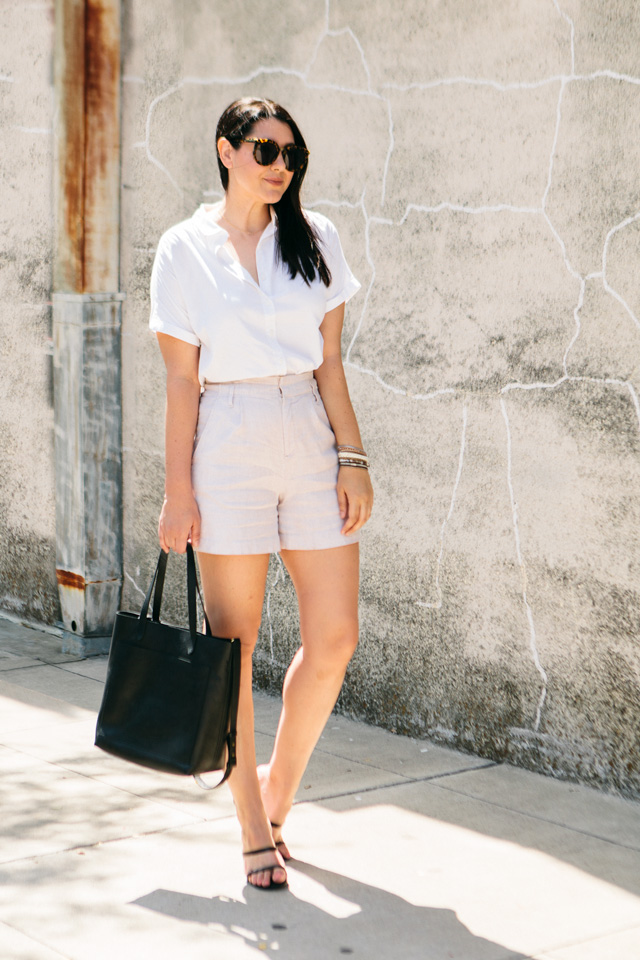 When I was planning my remix, I knew this was one of my top outfits to shoot. It's just so simple, classic and clean. This look never goes out of style. You could also pair this look with neutral or tan leather accessories as well and definitely feel free to accessorize. I added a sparkly bracelet with this look just to give it another dimension but hoop earrings or a layered gold necklace look would be perfect too.
My shorts are on sale right now, too! You can find them here.
One regret with this outfit: I wish I would have a pair a thin belt with this, in either a neutral or a black. So just imagine a belt on this outfit, ok? 🙂
Full Outfit Details
---
4. Tie it up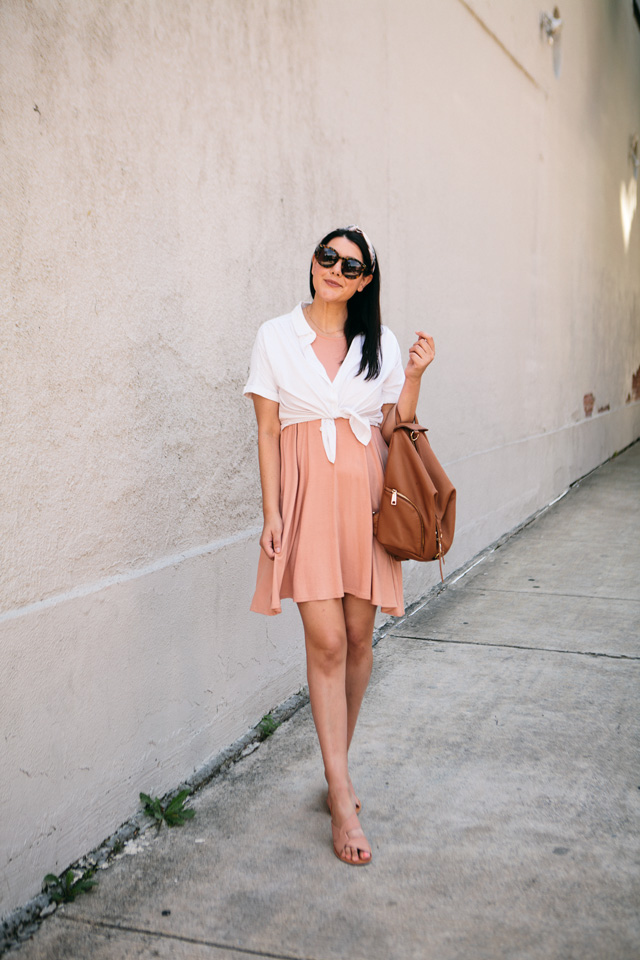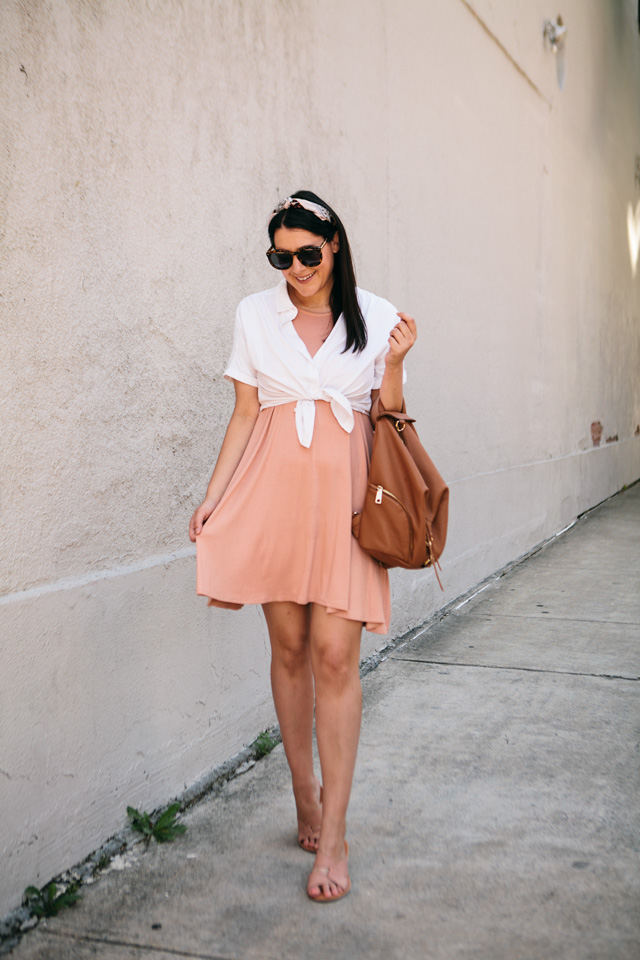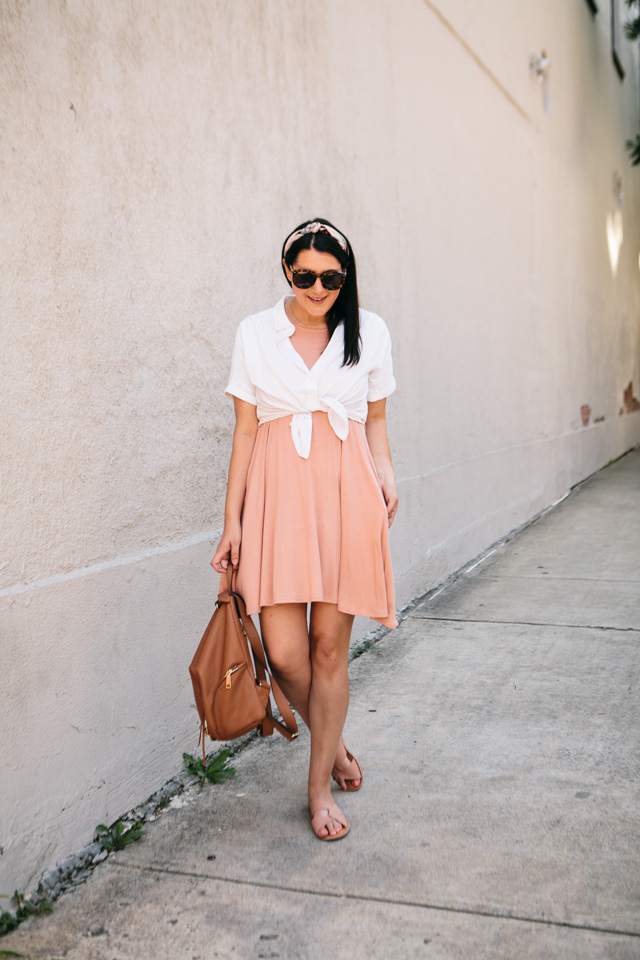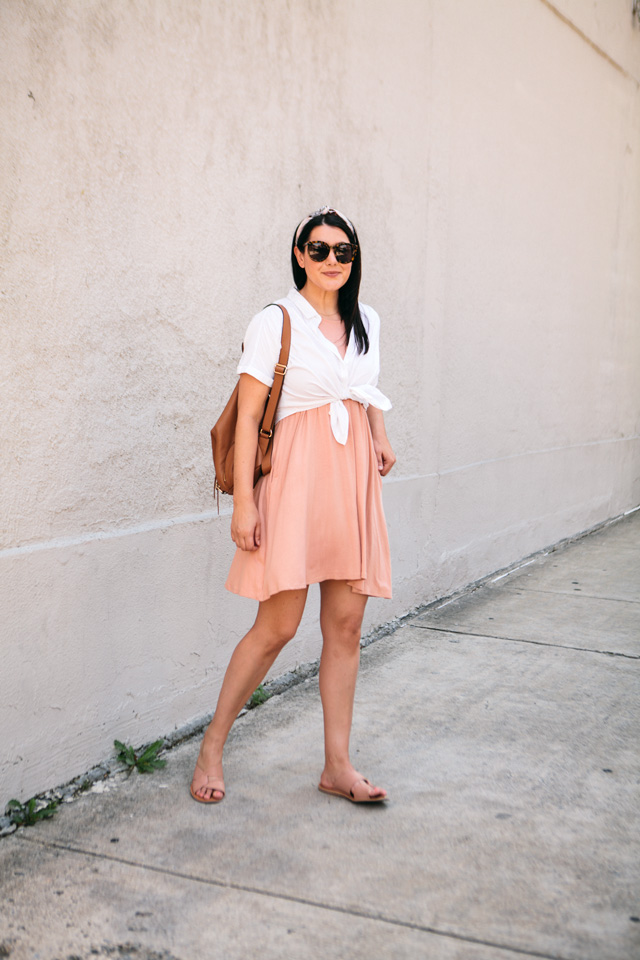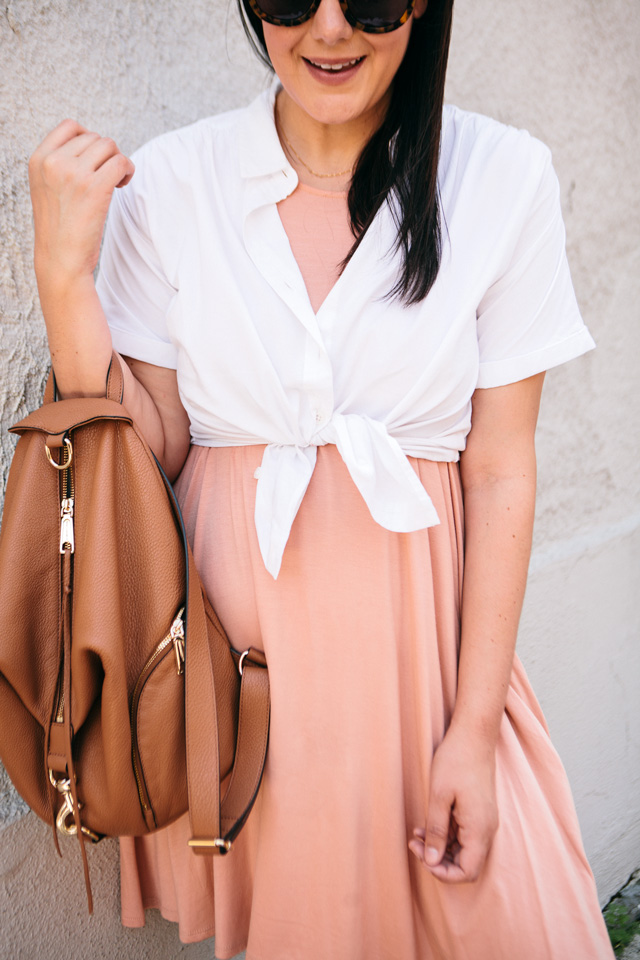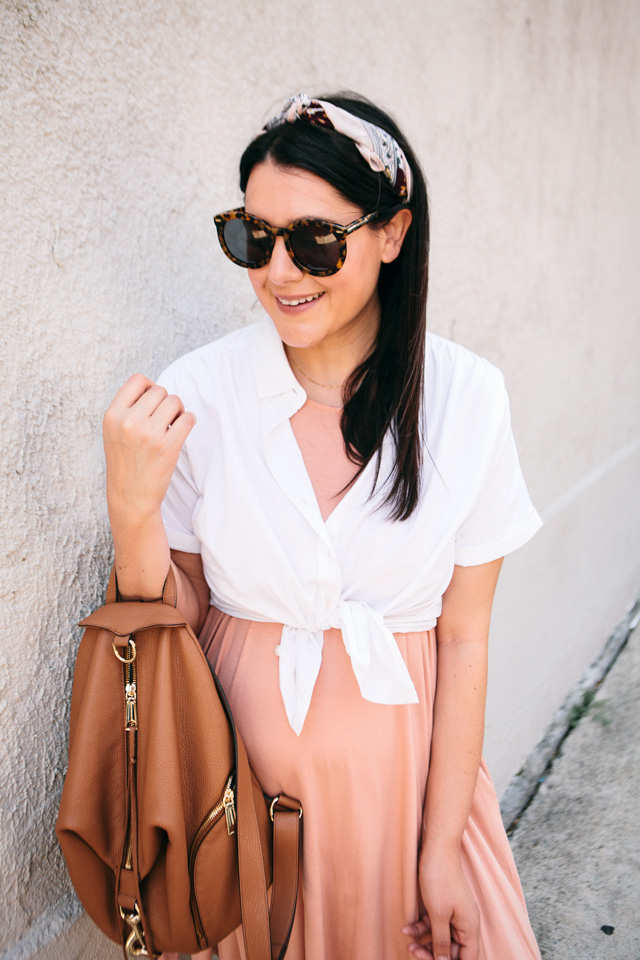 Guess what? We've restocked this best-selling dress at the shop in this color! I wanted to show you how easy and effortless it looks when you layer a button down over a simple dress. I wanted to show the dress underneath so I left the top few buttons unbuttoned and then did a simple floppy tie. And I thought why not add a scarf to the hair? I think it just adds that extra zhush you know?
Find my head scarf here! Along with the dress, you can use code FIREWORKS for 50% off!
Full Outfit Details
---
5. Flirty Florals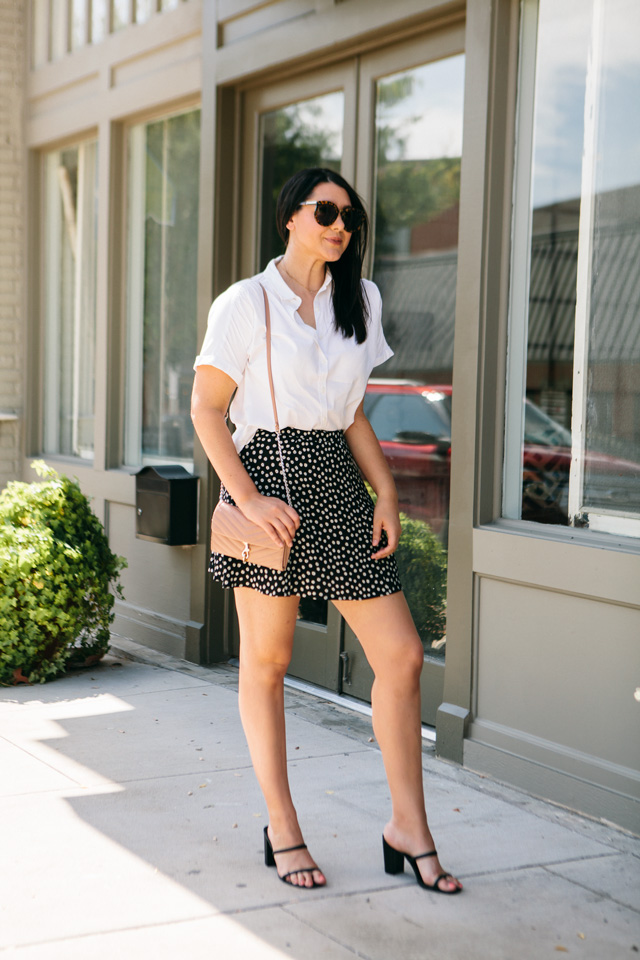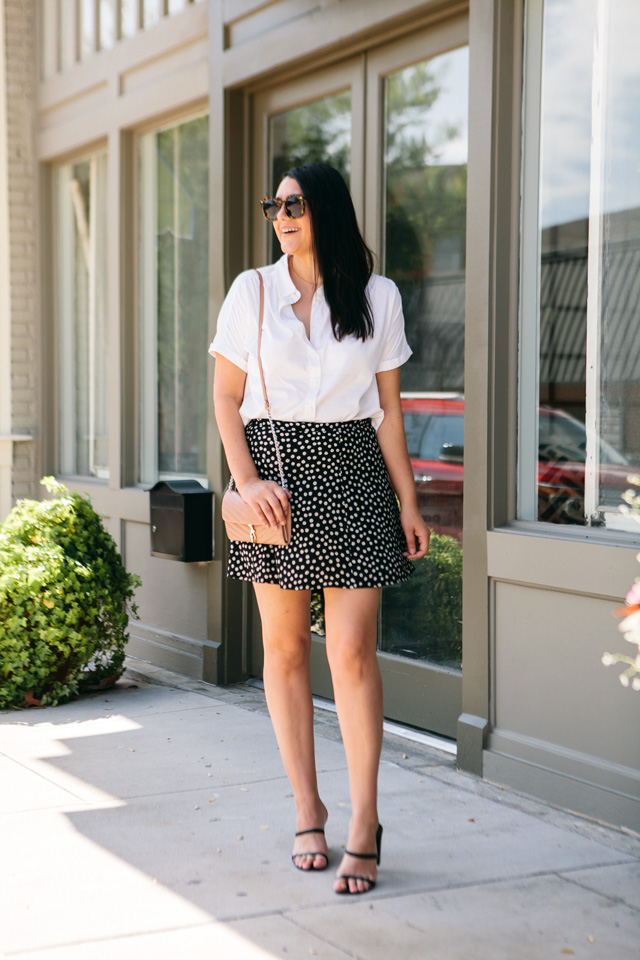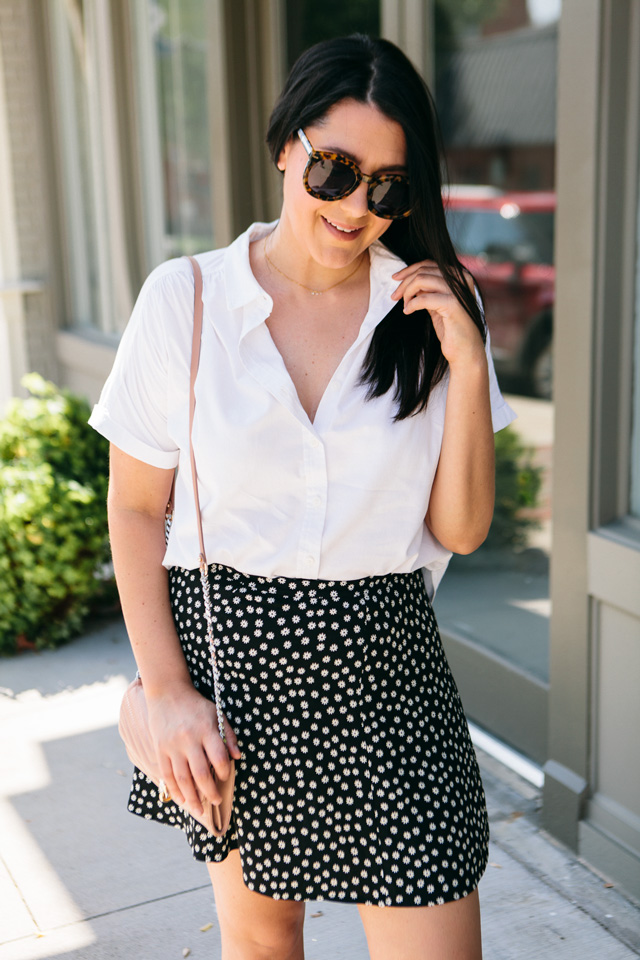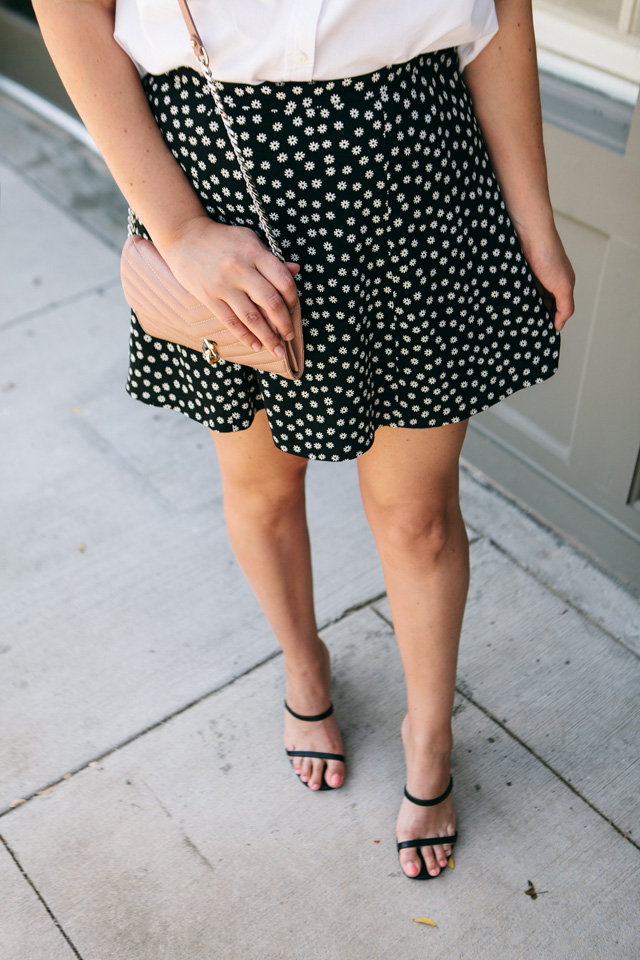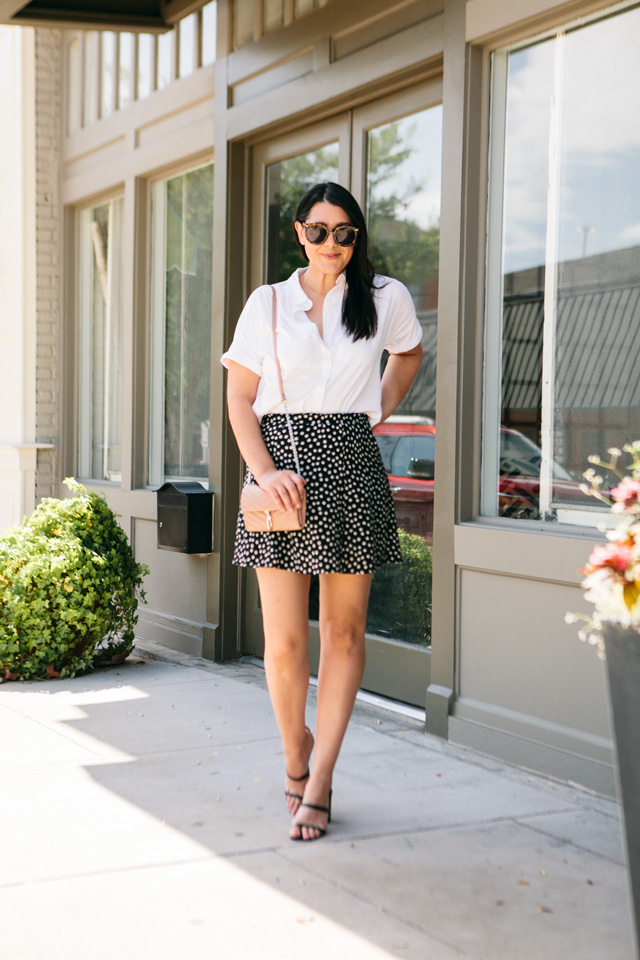 This skirt has been FULLY restocked!! I was so excited when I saw that this morning! I am in the 10, I sized up for length and my waist isn't my smallest part and this skirt is high waisted so for me a size up was helpful. I would say it runs a little small, but if you don't need waist or length then stay TTS. You can find it fully in stock here!
Full Outfit Details