This jumpsuit is back in stock! I repeat! It's back in stock!! You can find it here!
Okay now that that's out of the way…let's get to remixing! (See how I wore it first here in this post.) I knew when I bought this jumpsuit that sneakers had to be involved in some way because I just think that's such a cute and unexpected way to wear a dressier jumpsuit. I didn't look at this outfit in the mirror before we shot it, this was totally in my head as an outfit concept. I was hoping it would work and it 100% did! See below and tell me your thoughts! (also if you are wondering how I don't look in the mirror it's because we were running out the door and I've moved my bedroom full length mirror to the office for try-ons, so I'm mirrorless most mornings unless I run to the office first! This morning I didn't so I was hoping it just worked. 😉 )







I think the key styling piece here are the white sneakers. They keep this look bright and light, which is exactly the casual vibe I wanted. You can do any white sneaker with a look like this! I'm wearing my Greats brand sneaker – a serious favorite. They are comfortable, really well made and last for forever! You can find them here.
Details of this Outfit
We didn't actually go on a date in this outfit. This was taken at 9 am with a cute little toddler in a stroller with her two baby dolls that she takes everywhere. BUT wouldn't this outfit be perfect for a night out? It's simple, easy and to the point. The point being get me a glass of wine and something to eat.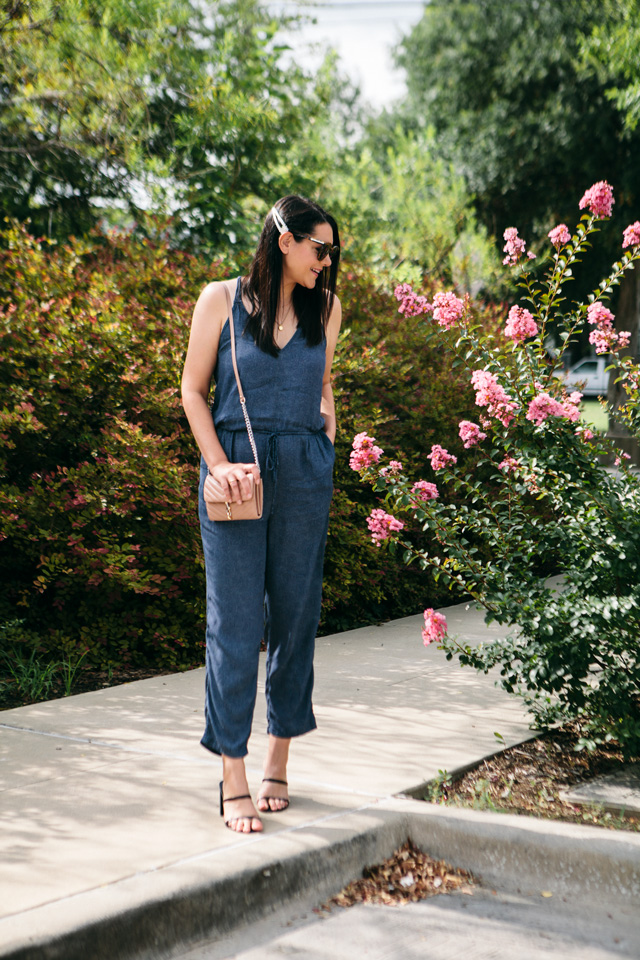 Isn't it amazing how a little hair accessory and some heels completely changes the vibe of this jumpsuit? I mean, this is a fancy look but it's just a switch of the heels and bag! I also layered a few necklaces, as well. Easy peasy.
Details of this outfit
Outfits 26 & 27! Just three more to go!