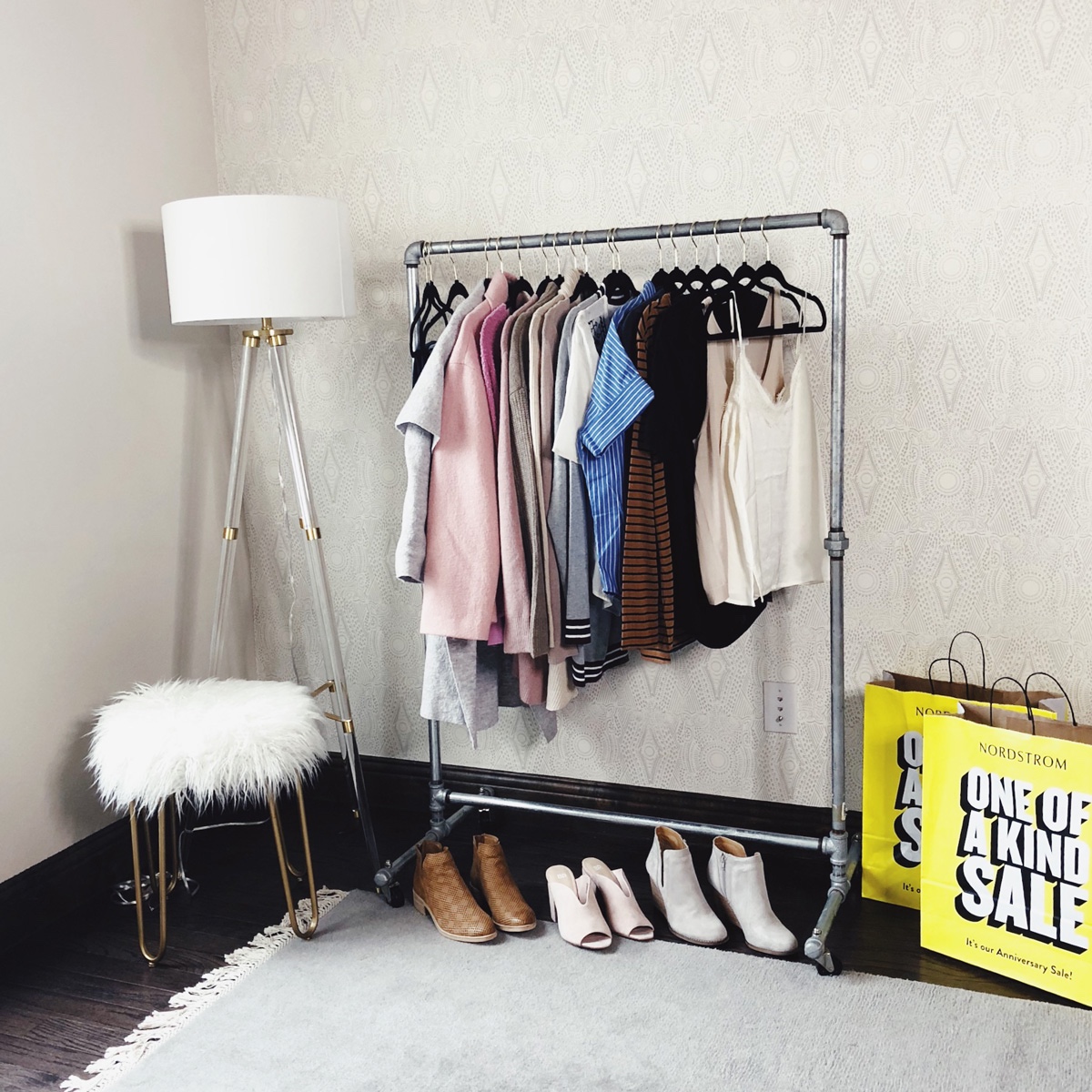 The best time of the year is coming up, no not Christmas. That's for the children. No I'm talking about adult Christmas — the Nordstrom Anniversary Sale! We don't need no Santa because we treating ourselves this year. Know what I'm saying?? So as you very well know, it's one of my favorite sales ever, not of just the year, but OF ALL TIME. This is a sale of EPIC levels. I'm getting giddy just thinking about it. If you are a Nordstrom Card Holder, early access is THIS THURSDAY at 12:30 PM ET. And if you are an ICON or Ambassador Card Holder, then you get even earlier access on Wednesday! I am actually heading in to shop today (#icon #humblebrag #blessed) and I will report back what I find! I'm running a little late so there had better be some 29s in some denim or someone is going to lose it. And by lose it I mean quietly say the 'f' word to myself with absolutely no one in ear shot. If you are not a card holder, then you've got to wait until next Friday to get the goods but have no fear — you will be well prepped to shop. After shopping this sale the last 6 years, I've got you covered with all the tips you possibly need. I'm basically a pro at saving money. This is what I tell Bryan. Look at all the money I saved! I like to think that the physical weight of my shopping bags is a proportionate value of my savings.
So what is the Anniversary Sale exactly? Besides the best reason for July to exist (sorry Cancers) it is when Nordstrom puts a lot of their fall merchandise on sale — brand new, never before seen items for fall! It starts July 12th at 12:30 ET pm, if you are a Nordstrom cardholder, and it goes public July 19th through August 5th. All prices will go up August 6th. See? You are going to need a game plan. Grab a coffee — possibly a cookie. I actually ate Chick Fil A for breakfast before my shopping trip. I like to be nice and bloated before a try-on. So do with that information what you will.
But before we get into the tips — I want to know what YOU are looking for! I have early access today and tomorrow and I'd love to be able to keep an eye out for the best pieces YOU have in mind! Let me know in the comments below on what you love finding from the sale! Beauty? Now styles? Later styles? Coats? Shoes? Denim? All of the above? LET ME KNOW! I want to be your personal shopper! I'm also asking this question on my IG so if you follow me there, let me know!
---
And now for a few of my tips I've picked up from over the years:
make a wishlist
Think now and later. Granted it's hard to make a wish list when you aren't quite sure what is going to be on sale, but you can have a general idea what you are looking for. Personally, I like to look for fall shoes, denim, athleisure, and my favorite designers on sale. I've said it before and I'll say it again and again — this is the time to get designer clothing at sometimes up to 40% off. I like to think that I'm beating fall fashion at its own game.
When you are making your wish list, follow it first and then you can go off-roading a bit. If you are in the market for new boots this fall, then start there first. Do you need denim? Get to it first and get your size because I promise you if you don't someone else will. You get the idea. I always like a game plan before I go into a big sale like this or I get overwhelmed and either miss the things I really want or buy things I don't need.
set your budget
So here is the deal with the Nordstrom sale — I say it's always better to buy it and try it than to wait it out. So how do you do this with a set budget? You've got to be a little bit elastic at first, then strict. What I mean is to figure out what will work for you, you've got to try things on and see them in person.  Follow your wish list and go for your favorites first (or if you can see something is selling fast, grab it up!) I guarantee you that you will have pieces that won't fit the way you prefer or just wasn't what you were looking for and those will get returned. Or if you like everything you ordered but perhaps went a bit overboard (sheepishly raises hand every single year), you can choose your very top favorites and then make returns of the items to fit your budget. This is why I like having the Nordstrom Credit Card* because it gives me room to shop, make my decisions and return (promptly!) so that I can stay on budget but get everything I need/want.
get it quick!
There is no disappointment like waiting too long on a piece and letting your size get away. Sizes and styles go fast in the first two weeks of the sale, so don't be afraid to try things out and take a chance on a style. If you see it and like it, buy it. Returns are inevitable, so take a chance! Speaking of taking a chance, start with your favorite brands but give other and new brands a chance. Some of my favorite pieces and newest discoveries came from the Nordstrom Anniversary Sale! But I had to get to them fast. 😉
download the LTK app
If you follow me on Instagram or Facebook, then you know that I use a service called LiketoKnow.It to link items that I'm wearing or showcasing. <You can download it from the app store here> So the way this used to work — 'like' my photo on IG and magically get an email — no longer functions this way any longer. Instagram revoked that luxury with their updates this spring so the best way to get outfit details that I post on IG only are from the LTK app. You can download it from the app store and search for me on there. I have the same username everywhere so I'm easy to find: kendieveryday. If you like the outfit on the app, you can get an email still with all of the details. You can also shop directly from the app or see everything from the app. It's actually really simple, but it takes a bit to get used to since the whole 'like' from Instagram to magically appearing email no longer works. You can also screenshot my photo on Instagram or Pinterest and if you have the app it will automatically pair and the details will be in your app once you open it back up.
Basically, it takes out the mystery of what I'm wearing on IG and it saves me from tagging a source that you have to go hunt down and find. If I just tag 'Nordstrom' then you are on your own to hunt down and find which white tee I'm wearing instead of me just linking it through the app and your shopping from there. It's actually pretty incredible and I find myself doing this so often with my favorite bloggers I follow. This is hands down the quickest way to find pieces from the sale because we are basically shopping in real time during the sale.
sign up for rewards
Sign up for Nordstrom rewards … or even better the Nordstrom Credit Card for access a whole week earlier! This is the best time to procure notes and get early access. During the sale is when I spend the most at Nordstrom and I accrue some points, let me tell you. I've bought many designer bags on "discount" because of my Nordstrom Rewards. Of course this year I've got a high chair I'm saving my notes for. Funny how things change in a year. 😉 (Pssst want a little tip? If you have rewards that are about to expire, you can always go in a buy a Nordstrom gift card with them. Their gift cards don't expire!)
take advantage of free online returns
 When ordering online, Nordstrom truly is the best at free returns — by mail or in store, if you have one close! It's a relief when trying to figure out fit or sizing, so definitely keep that in mind when ordering your styles. It's a nice little safety net. My only rule?? Be courteous! If it doesn't work, you will know it pretty immediately so return it quickly and let someone else can snatch it up!
Check back regularly for newly added styles
This is unconfirmed and could be totally my imagination but I always feel like when the sale goes public, there are new styles that are added. It could, of course, be styles that sold out and got replenished with stock and I just missed them before. Or maybe I just missed them before in general — there is a lot to look out for! But I'm always on the prowl and of course, I'll be sharing my favorite pieces with you, but check back in every few days for sizes/styles and I think you'll be pleasantly surprised.
Be sure to check back Thursday for my favorite picks from the Early Access sale! See you then! I mean I'll see you before too. Like I live here, on the internet so, see you always. 😉