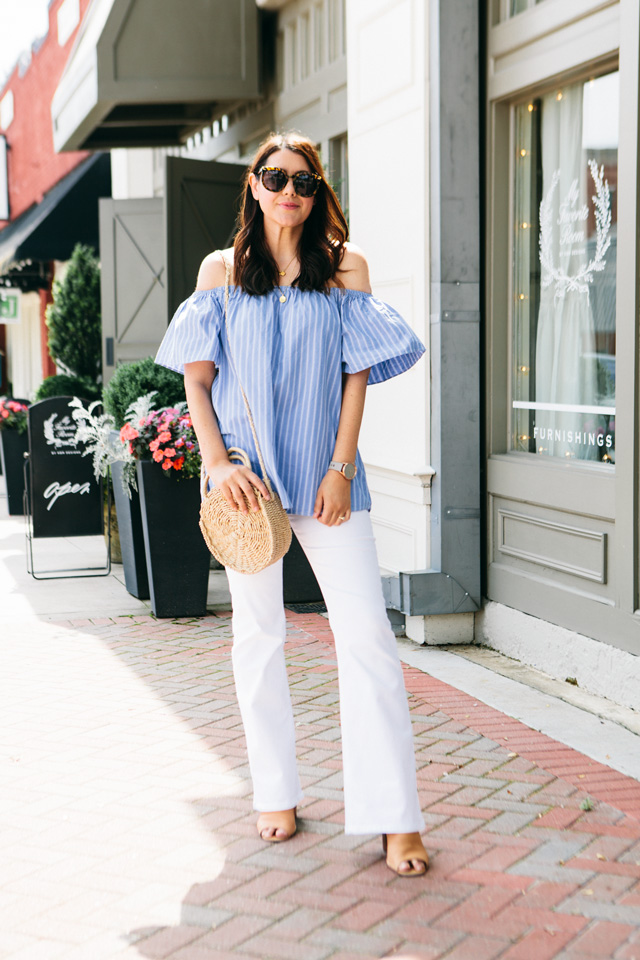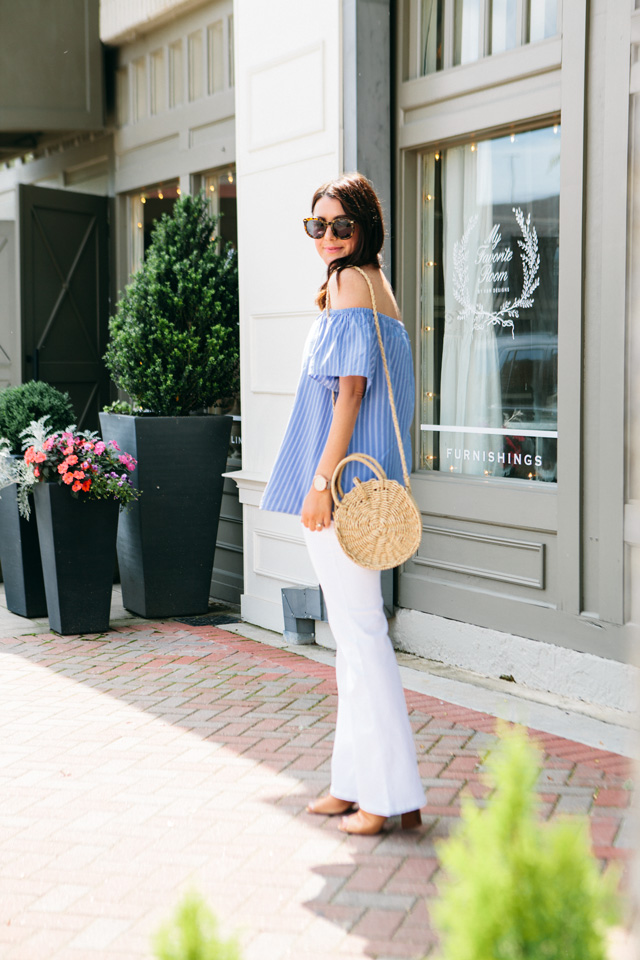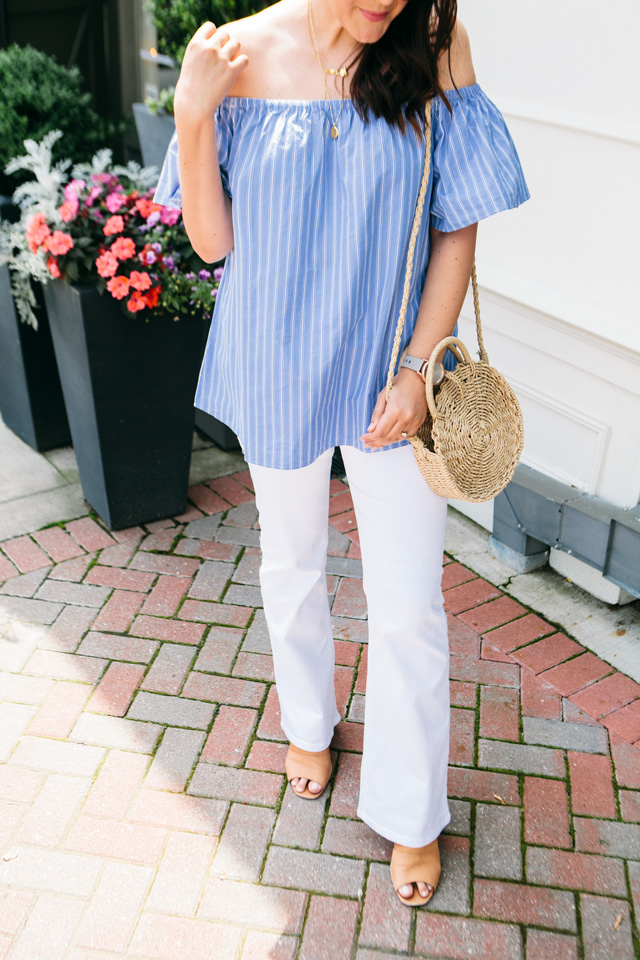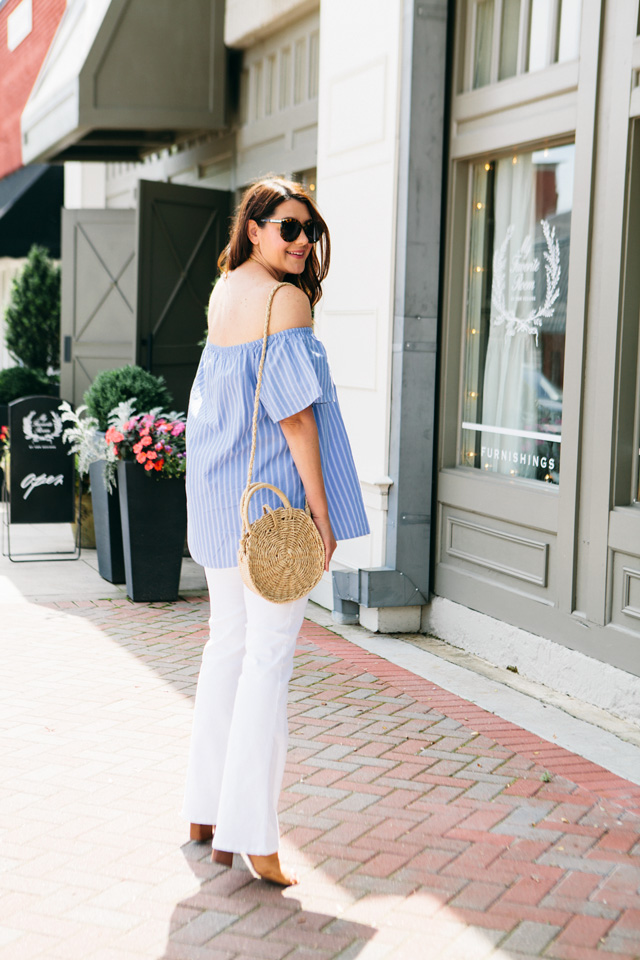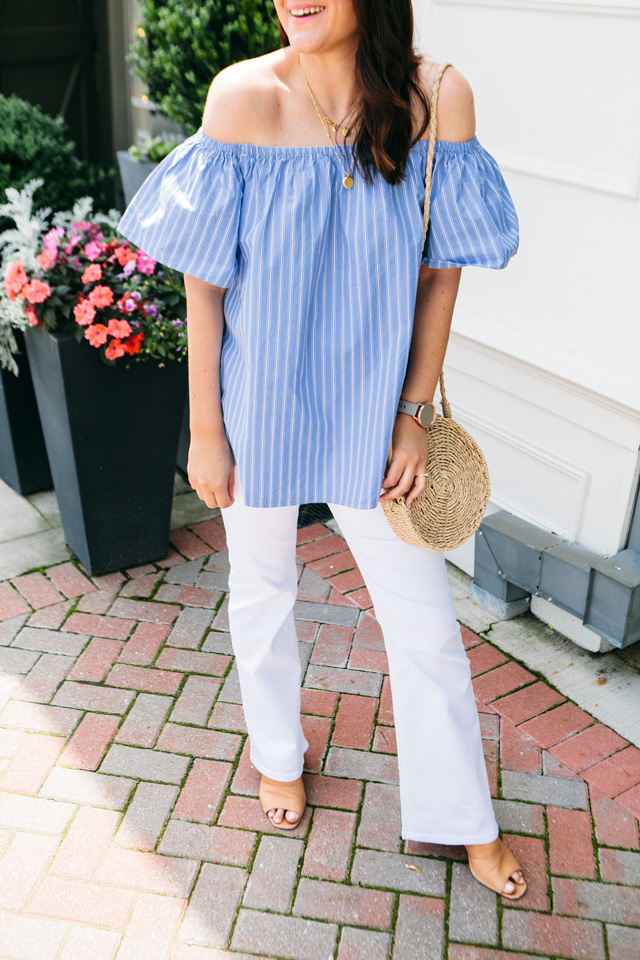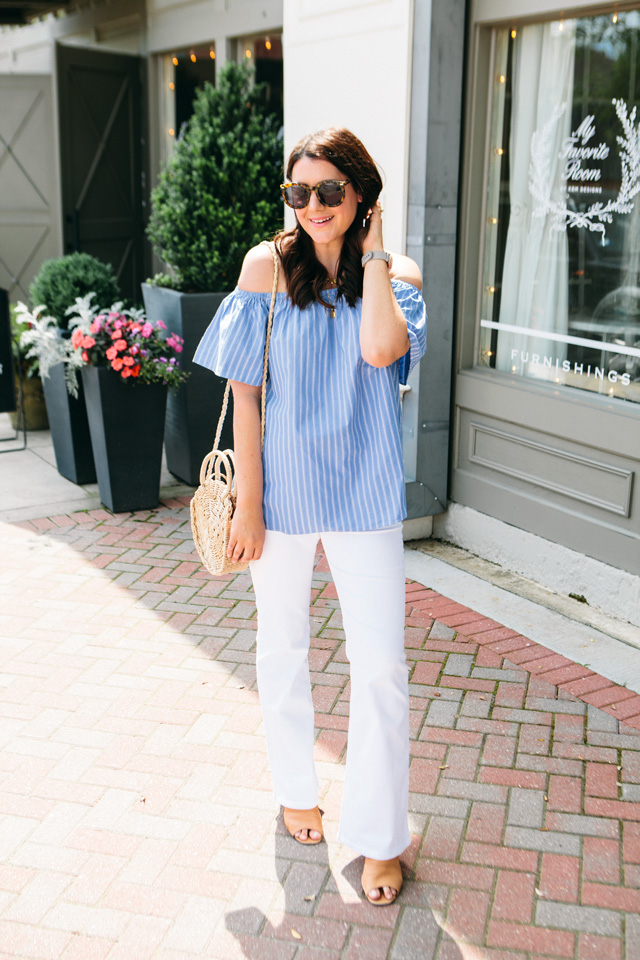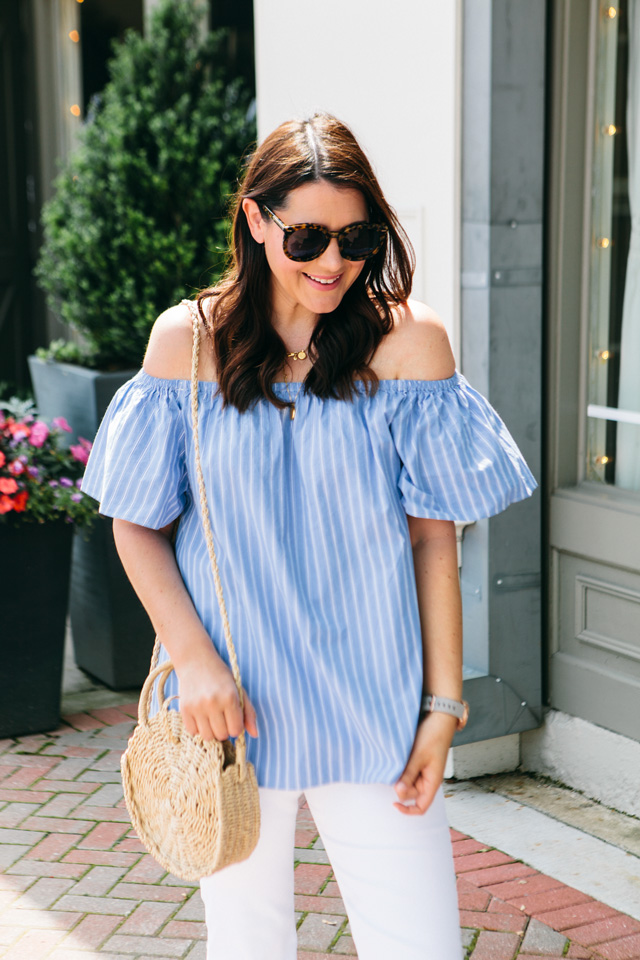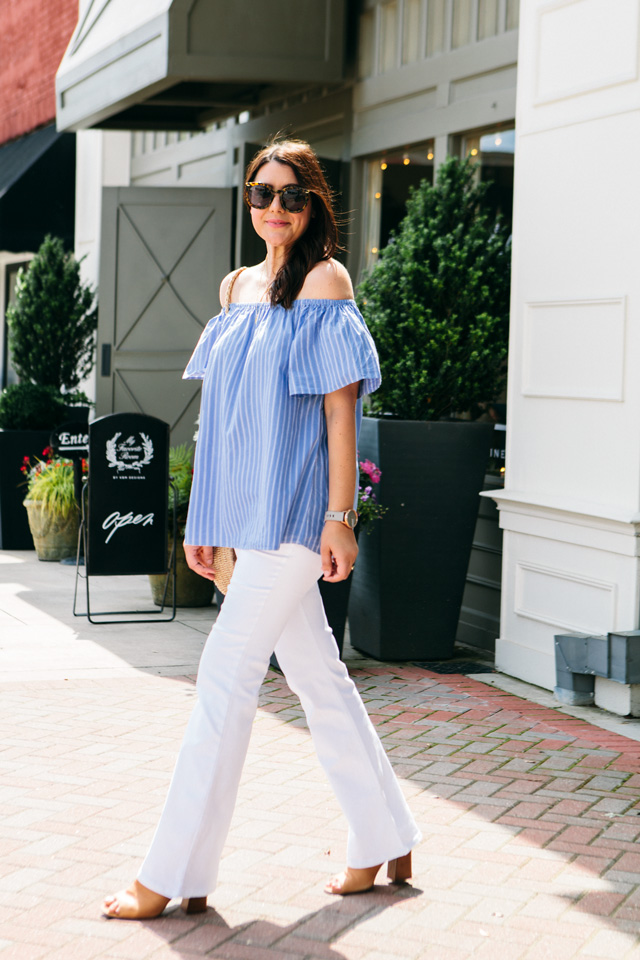 Have you ever ordered anything online and when you received it it was different than what you expected — but in a good way? That is exactly what happened with this blue striped top. (You can see it on the model here for reference.) Obviously I liked how it looked online because I ordered it but when I got it in I had actually forgotten what I'd ordered and what this was supposed to look like. I slipped this top on and immediately pulled it off my shoulders, just like how I'm wearing it above. In fact,  I had these white jeans on at the time and when I looked in the mirror it was like outfit destiny. The bootcut of these jeans with this off the shoulder tunic — it just works. I can't explain magic when it happens, it just happens. This top may not know it, but it's meant to be an off-the-shoulder show stopper.
Besides styling this top to be off my shoulders, the actual way that this top is different isn't the quality (it's a nice, lightweight poplin fabric) but the fit. I would say it runs true to size but it's a bigger than I expected, in a really good way. I like the length of this top worn both ways (scroll down if you want a spoiler alert for the second way to wear it!) and I like that worn off my shoulders it feels more tunic like. I was expecting a more tailored fit but this top has a nice flowy feel, perfect for summer. It's just $38, too!
How are we feeling about non-skinny jeans these days? I'm loving the look of these bootcut white jeans, which honestly that's a sentence I never thought I'd say again. I took a chance on these white jeans with the fit because the review on them was low but I thought why not? I can always send them back (Wal-Mart has free shipping over $35 and free returns). I took a chance, bought my size (size 8) and they are a perfect fit. (When I re-read the review, I realize this person is a petite and I would 100% agree that these pants would not work on a petite person without some tailoring to the length, just FYI.) I would say that these absolutely fit true to size. I am a 29 in most denim and the size 8's fit just right. I'm thinking about taking the plunge on the denim ones, too! This pair of white jeans kind of spruces up my summer wardrobe with a twist. I'll bet you never saw these white boot cut jeans a-coming.
Once I realized that this top's first priority isn't to be an off the shoulder blouse, I knew I needed to make this post a tw0-way post. The second way I styled it is below!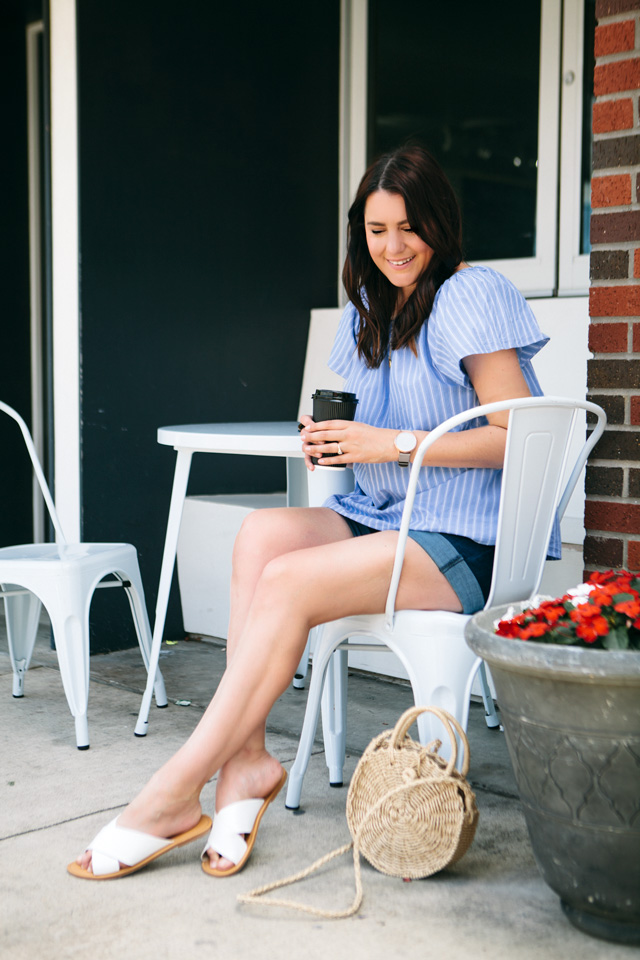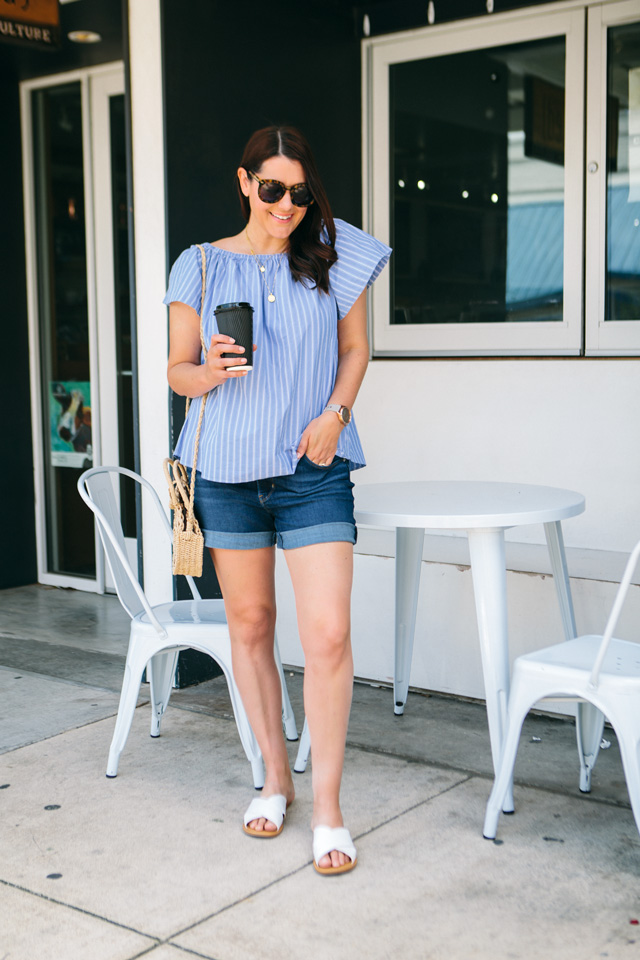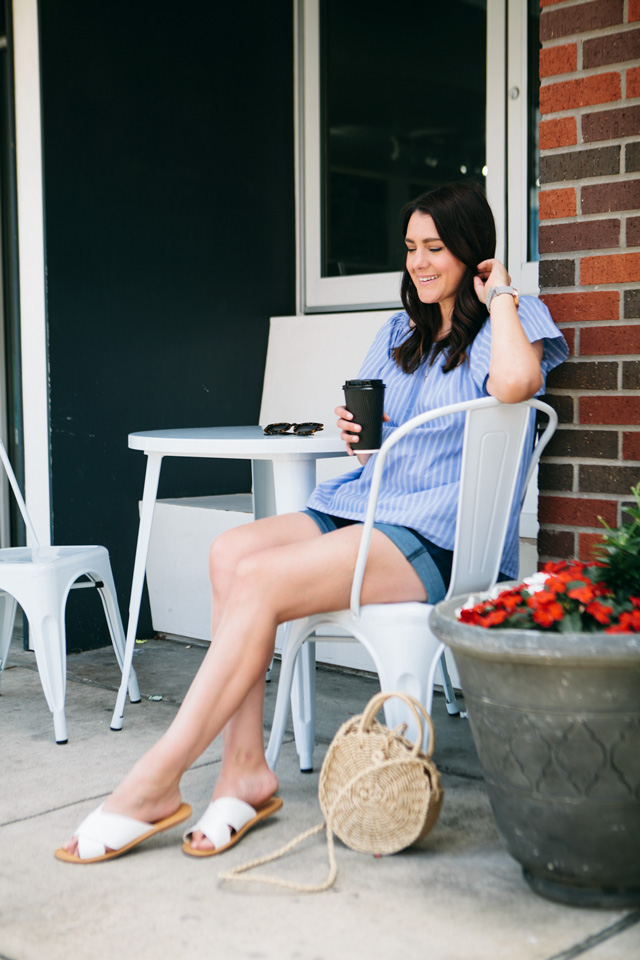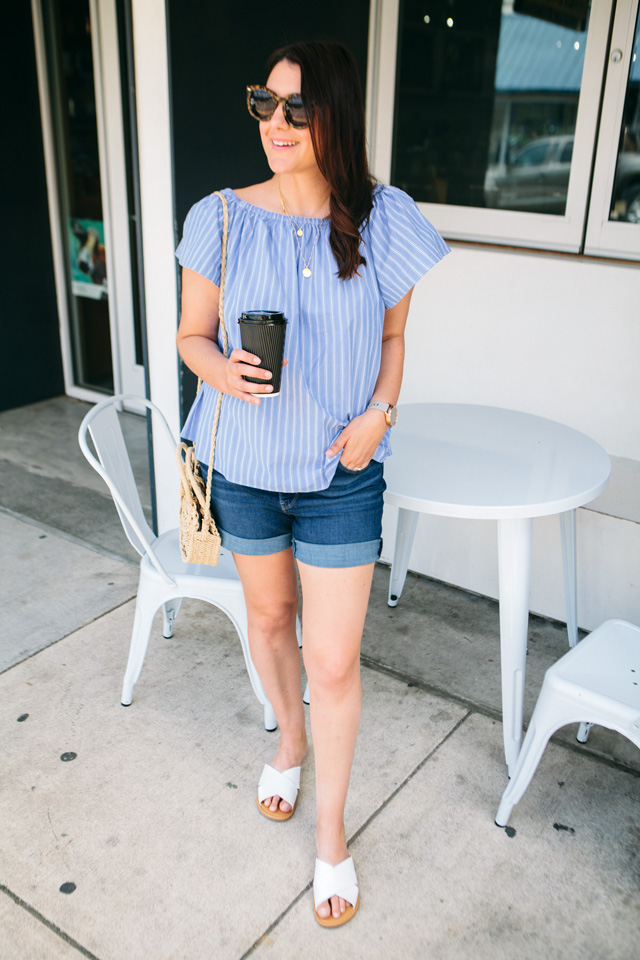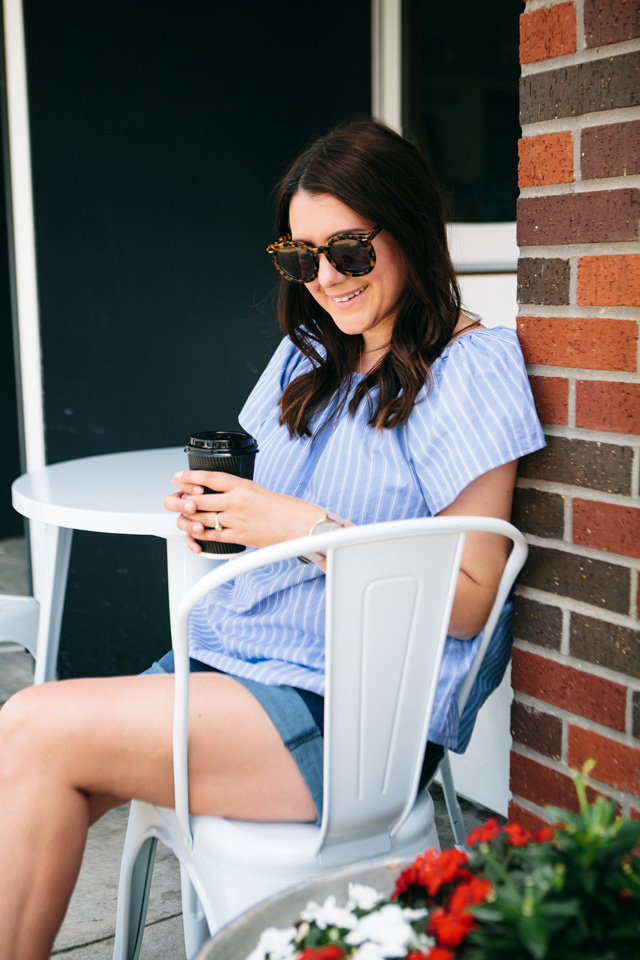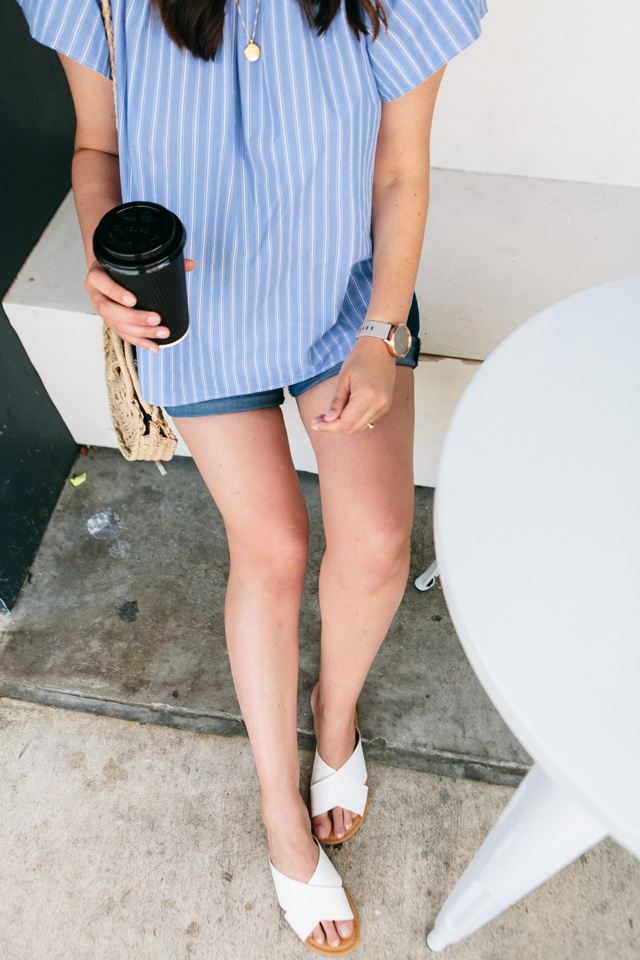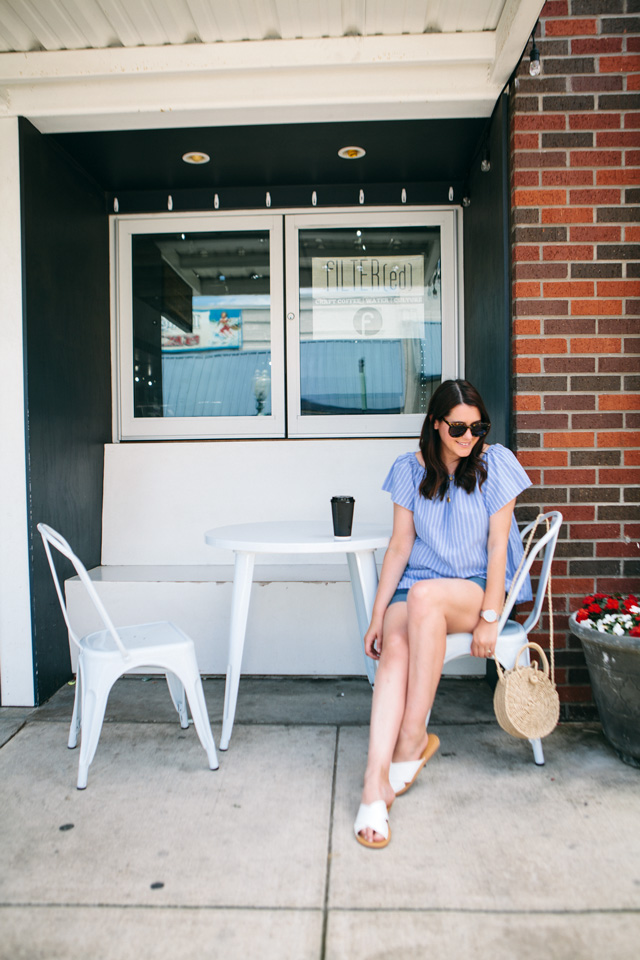 I've been holding on to these shorts since March when I first ordered them. Why I think that March is shorts weather every single year is beyond me. But I am glad that I have them! These are Levi's (a favorite brand of mine) and they are the Classic Shorts. I've also linked the mid-rise shorts if you don't want to roll / cuff them as much. I've rolled mine at the cuff twice so that they would be this length. They are a longer length uncuffed. I may try the mid-length next and let you know about those, if ya'll want! (These shorts fit TTS, I'm in the 8.)
A nice denim short works so well in the summer with an easy top like this one here. Isn't it darling worn as it's meant to be as well The thing I like about this top is that it truly has range. I'm now realizing I could have worn this 3 ways in this post with just a pair of skinny jeans and heels, too. But I'll bet your imagination can conjure up that outfit on your own. 😉 Just throwing it out there as an easy option as well.
If you're eyeing these sandals, you better act quickly! There aren't a ton left in stock last I checked. There are 4 different color options and I have the brown, the white and the black. I love all of them equally but I'm finding that the black have been my favorite lately. They are super comfortable too, the bed of the shoe is padded so it's a nice spring in my step. They are under $30 and such a steal!
---
*This post is brought to you in collaboration with Wal-Mart! Thank you for supporting the brands that support this blog!