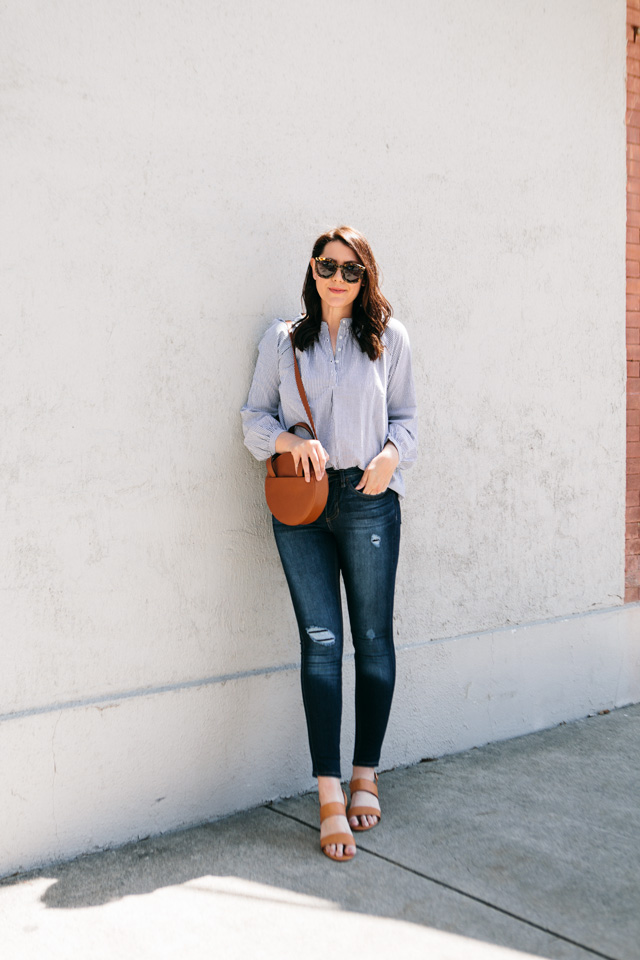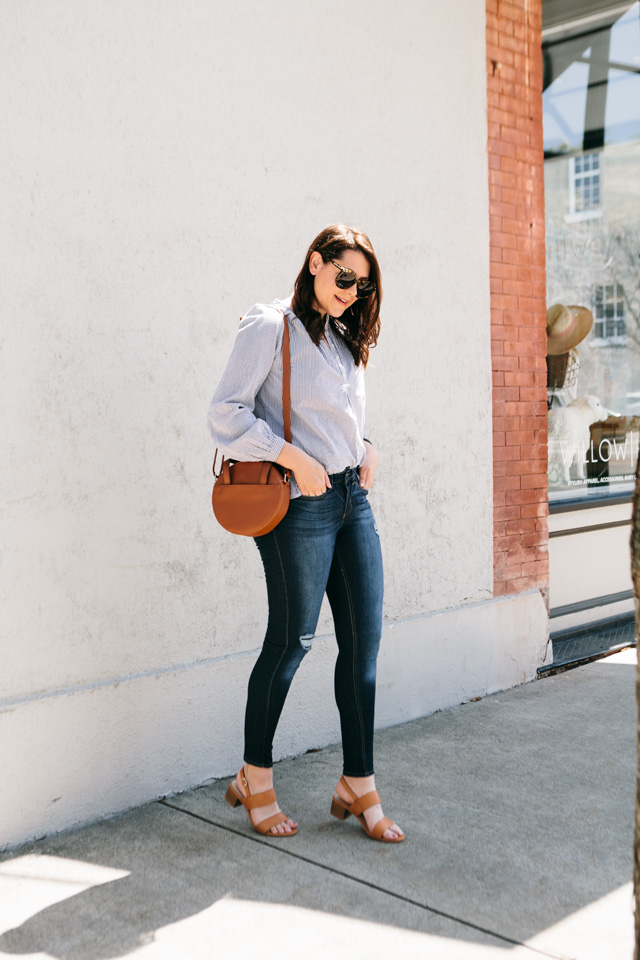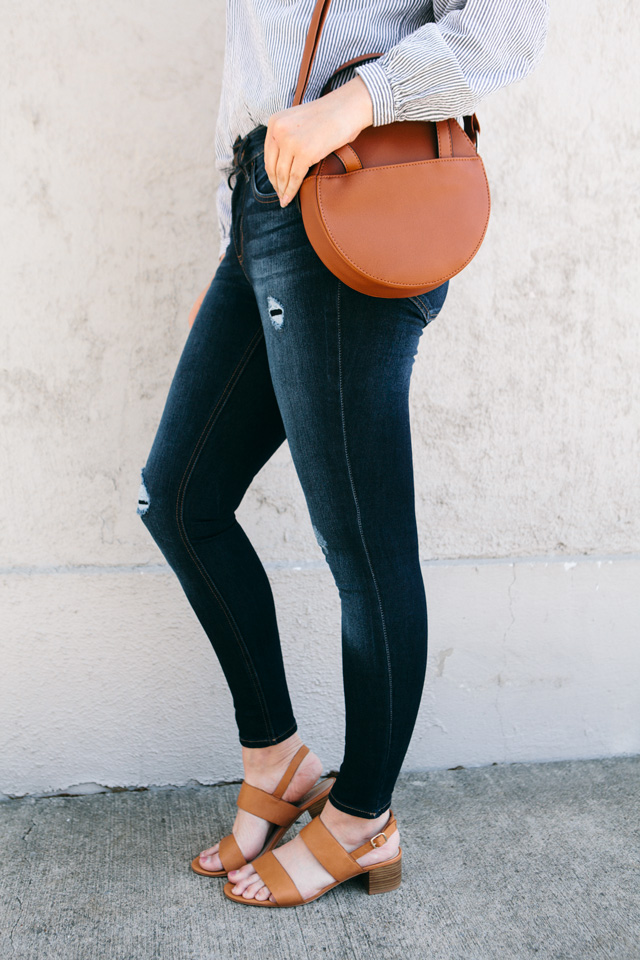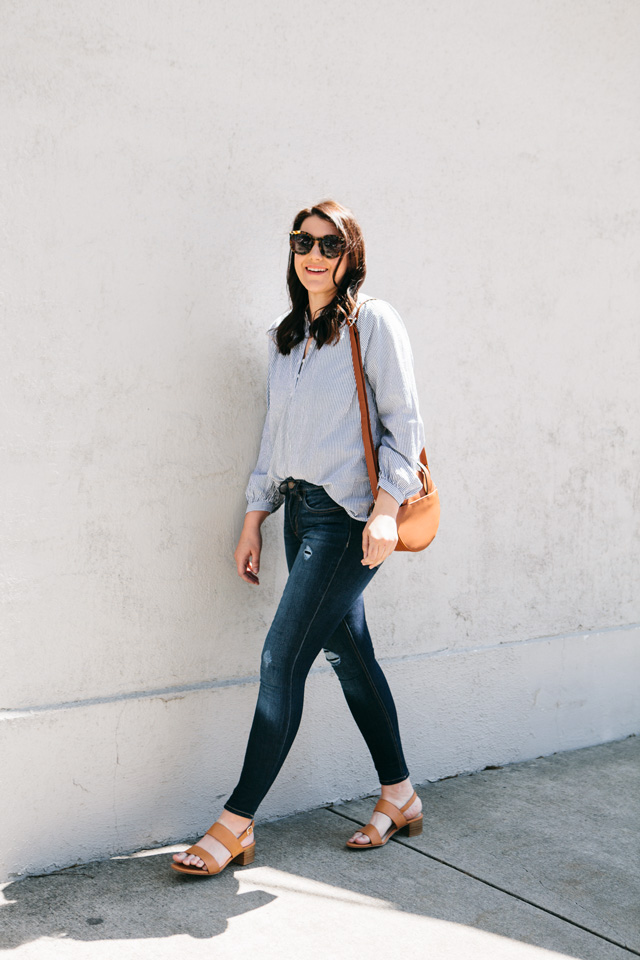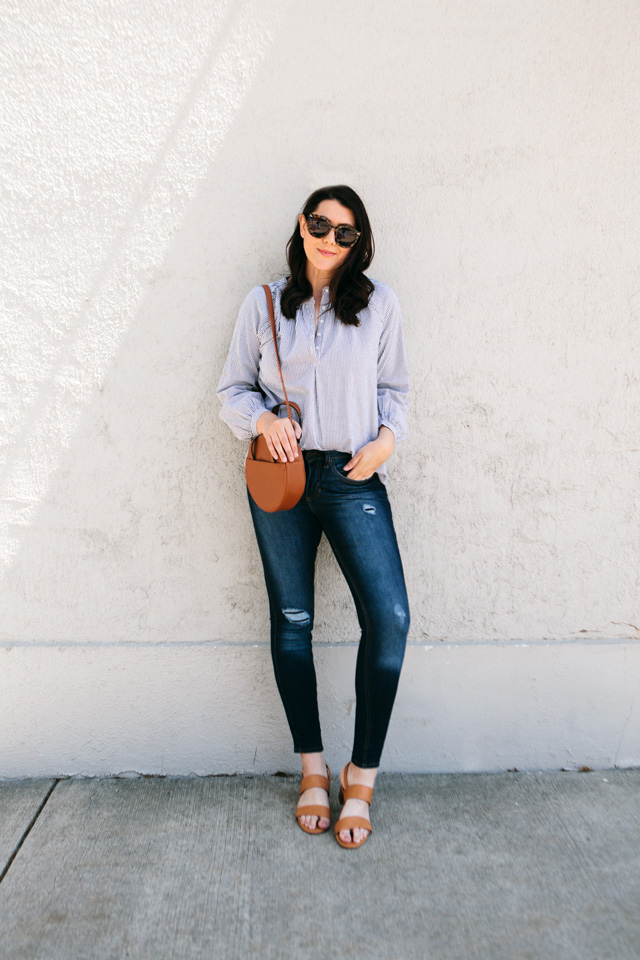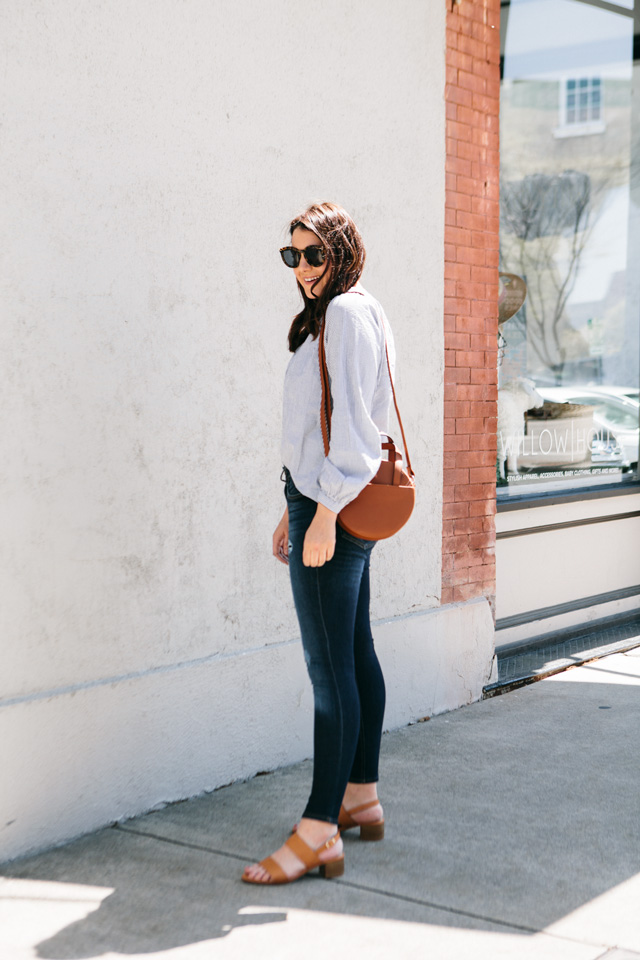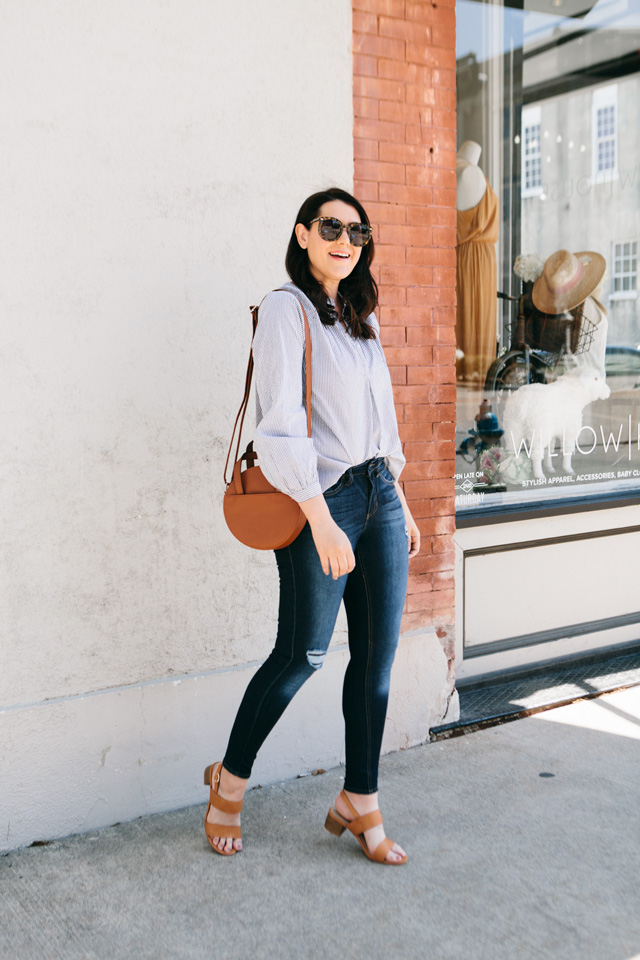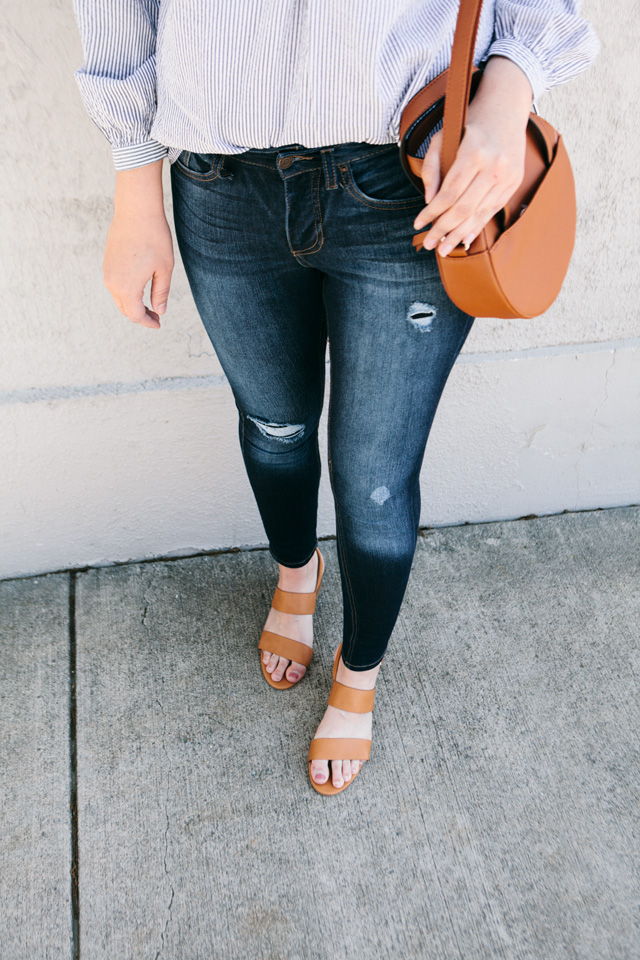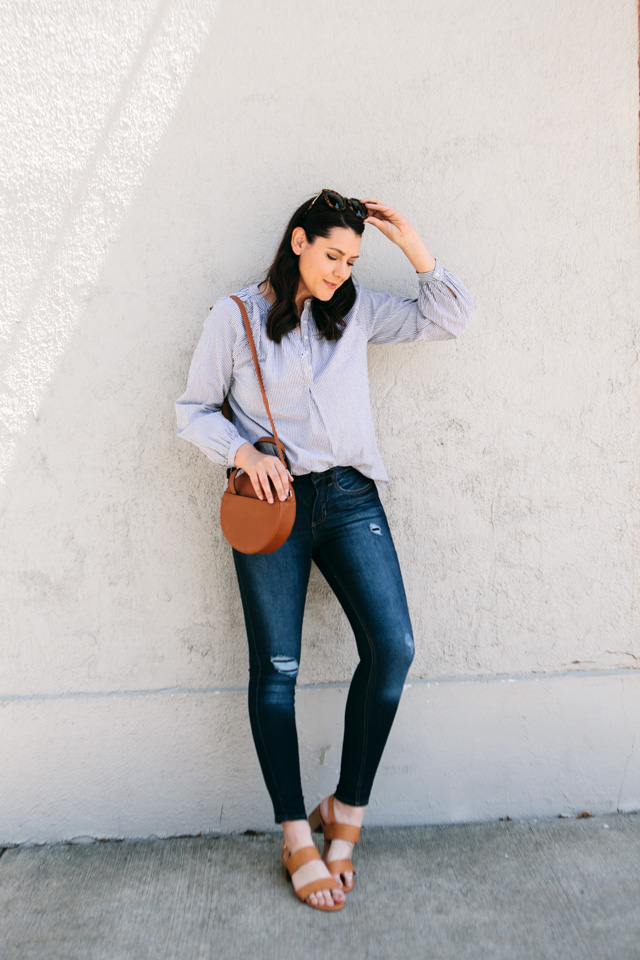 Would your jaw just drop to the floor if I told you my ENTIRE outfit was well under $100? Like from head to toe. Denim, top, shoes, and purse. Pick your jaw up, friend — actually leave it there because I'm going to tell you where this adorable outfit is from and you are not ready for this news. YOU ARE NOT READY but I'm going to tell you anyways.
My entire outfit is from Wal-Mart Fashion AND it was free 2-day shipping. Let me know when you recover from this news and I'll continue this post.
Remember when I told you on Monday about these under $20 pants that surprised me at a) how well they fit and b) the quality of the fabric. Well, I'm back again with a few more surprises for you. This top was one of the first ones I saw when I was browsing their women's section because it just looked like an easy top to pair with dark denim or white. I didn't realize when I put it in my cart that it was seersucker and when it arrived, the quality and fit were spot-on and the fabric was such a nice surprise. I think I was expecting a thin fabric but this is nice seersucker cotton, perfect for spring. It reminds me a lot of my favorite tops I've picked up recently! I am in the medium and find it runs a bit generous in fit. I like this fit but I would say it fits more like a large. More fit info below, as always!
Wouldn't this top look cute with white jeans too? Just saying. I love a top that you can make the denim switch on and it looks completely different. White jeans would dress this top up! You could stick with these sandals or go with a higher wedge, like these here. And now I want to wear that complete outfit.
Let's chat about this denim — I am always a little skeptical about trying denim online and not in the store. Do you feel me on this? Trying on jeans isn't my favorite past time anyways and I always feel like it's a gamble if I don't know the brand. But I saw this pair and thought they looked very comfortable and very slimming. Plus at $17, I thought this pair is worth trying on. Now here is where I went wrong: I didn't read the reviews (like a dummy) and I didn't buy two different sizes (like a dummy). [Please do not shop as recklessly online as I do — always read the reviews, friends.]  But luck was in my corner because I really like this pair of distressed jeans! They are that good kind of skinny jeans that sucks you in. God blessed us with the discovery of 4% elastane spandex and we should be grateful for it. BUT I definitely need a size up for maximum comfort. I am in my normal size here (a size 8) and with a prayer, some assistance, and a really deep exhale I got these babies buttoned. (More than once too! lol. I wore them around my house to loosen them before we shot and it worked!) I would suggest sizing up one for the best fit. Or live on a prayer, girl and go true to size.
These jeans are a thicker fabric than a jegging, by the way, which is what I was expecting for the price. They are a nice pair of stretchy jeans and the distressed area is reinforced so no skin is seen! (Some people love the look of distressed but hate the exposed knee look!)
I am also super excited about these sandals! They are very comfortable and fit true to size. I only wish they had a higher heel (because of course, I would say that). But if you are looking for a sandal that is easy to wear, has a nice size heel and can go from casual to dress in a flash, this shoe is for you. You can find this sandal here!
Since we are talking spring essentials, I obviously think everything I am wearing is wonderful additions for spring, but I picked out a few other items that I loved at Wal-Mart right now!
Items I Purchased For Spring
Essentials Under $50 for Spring
(Side note: I know my shirt looks blue but it from a reflection in the photos. I am in the black/white striped! I promise — I double checked for you!)
---
Thank you to Wal-Mart Fashion for collaborating on this post! All thoughts and opinions are my own. Thank you for supporting the brands that support this blog!