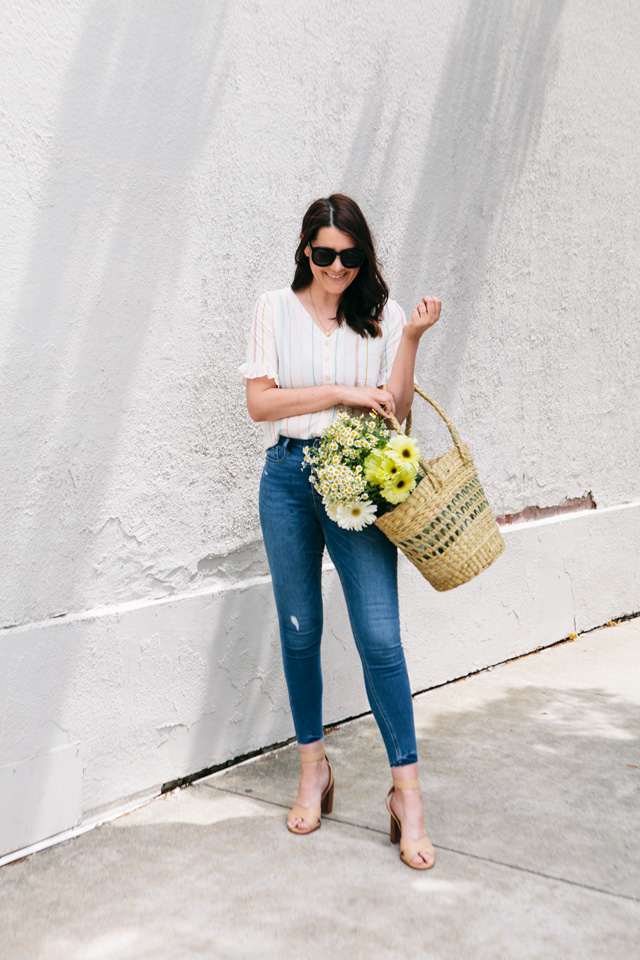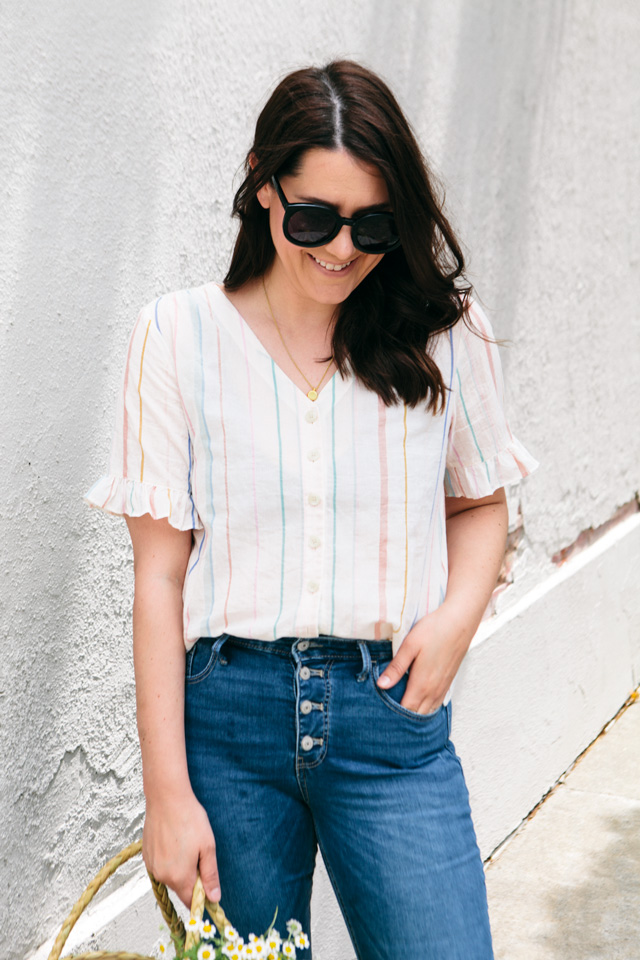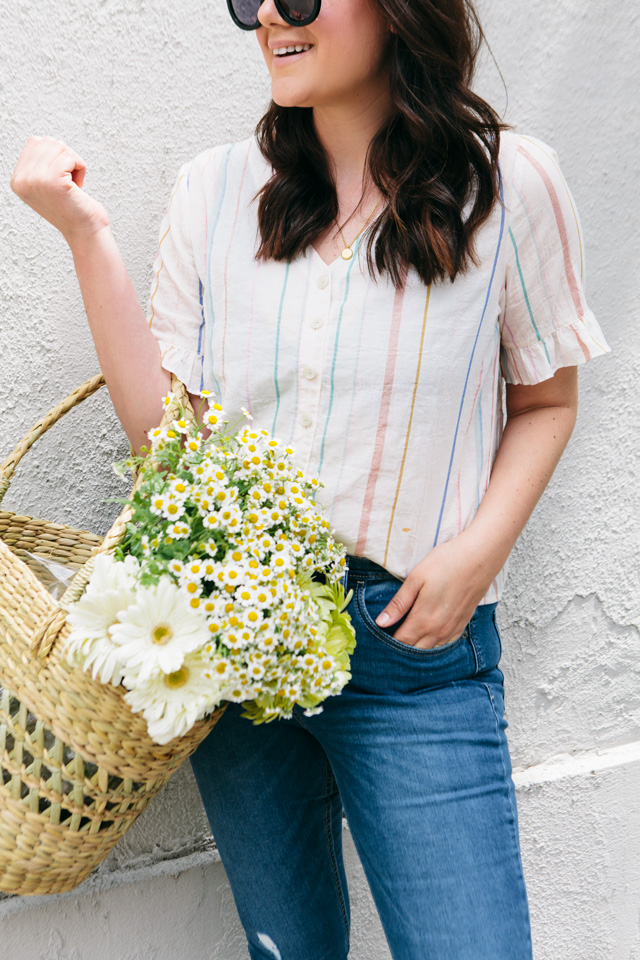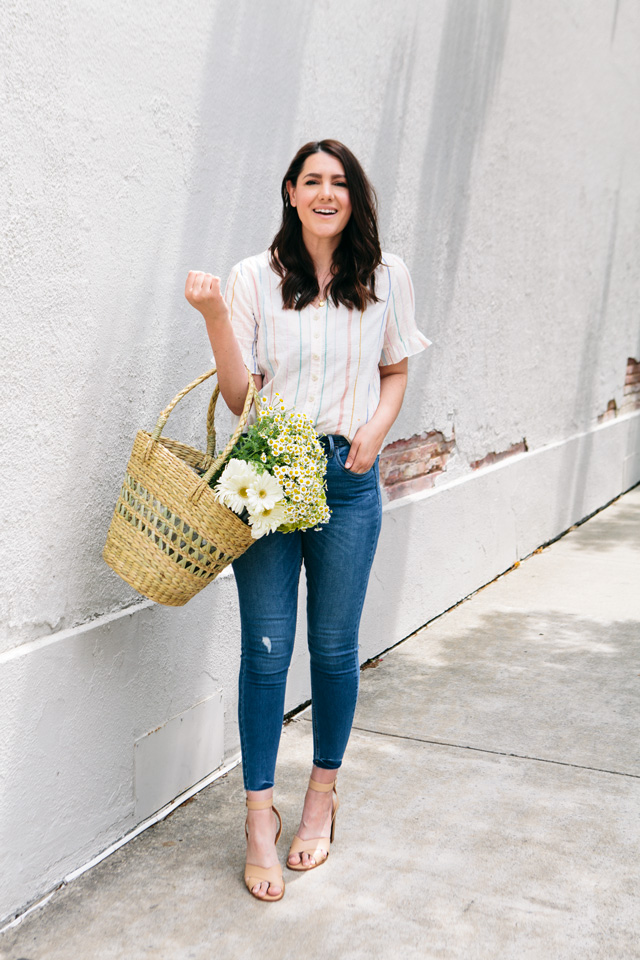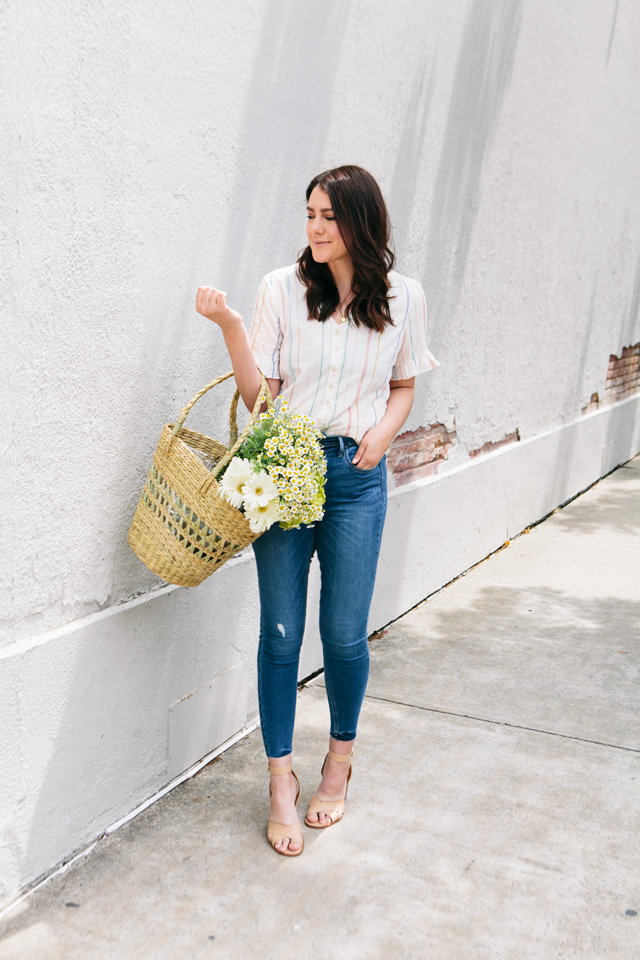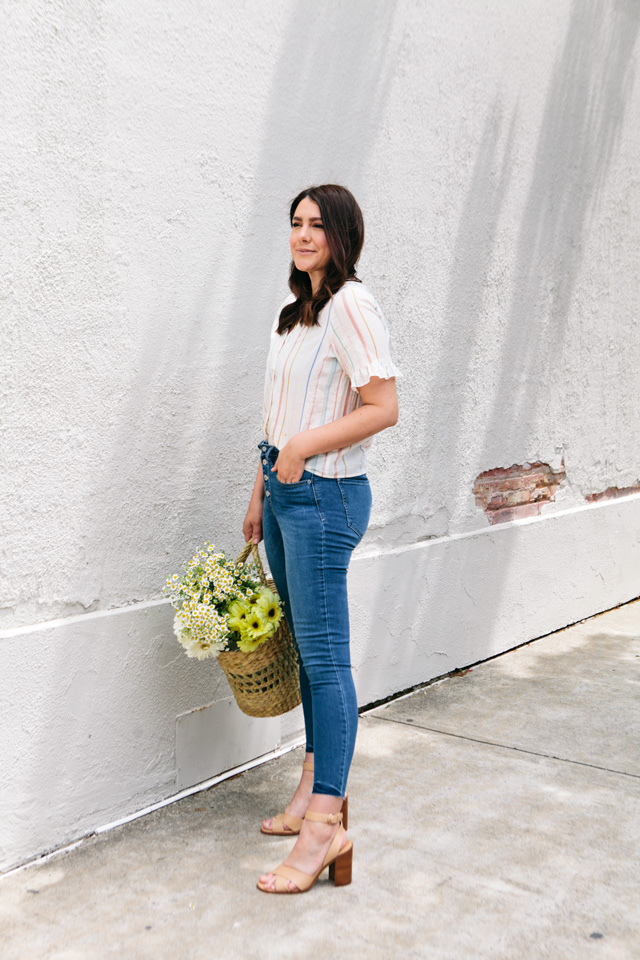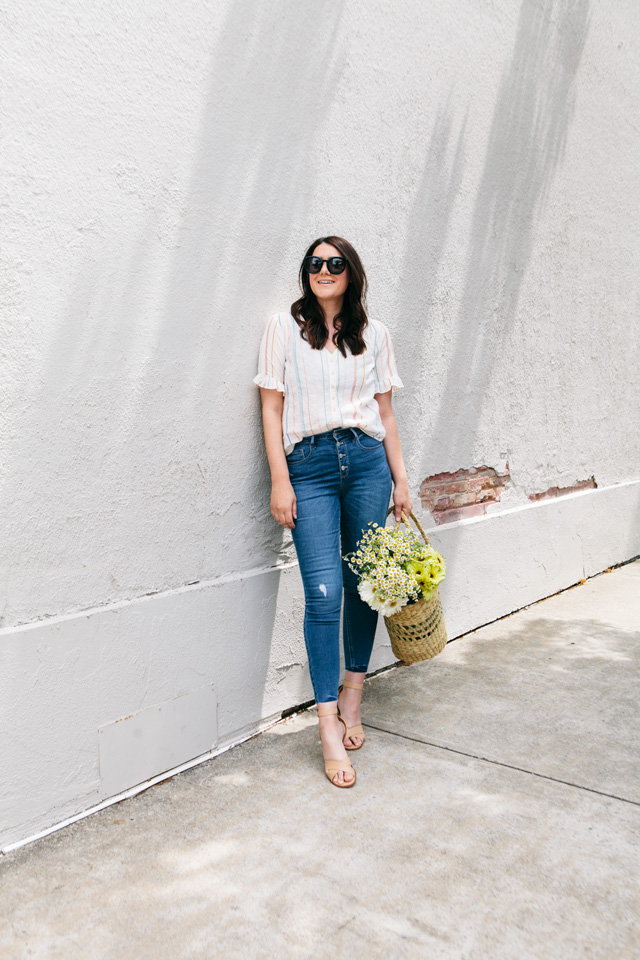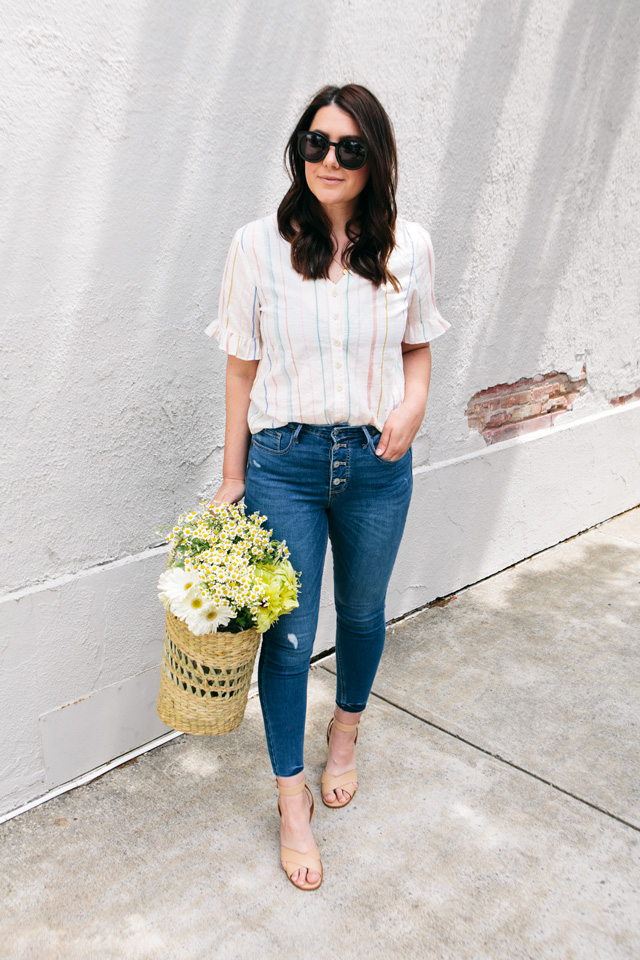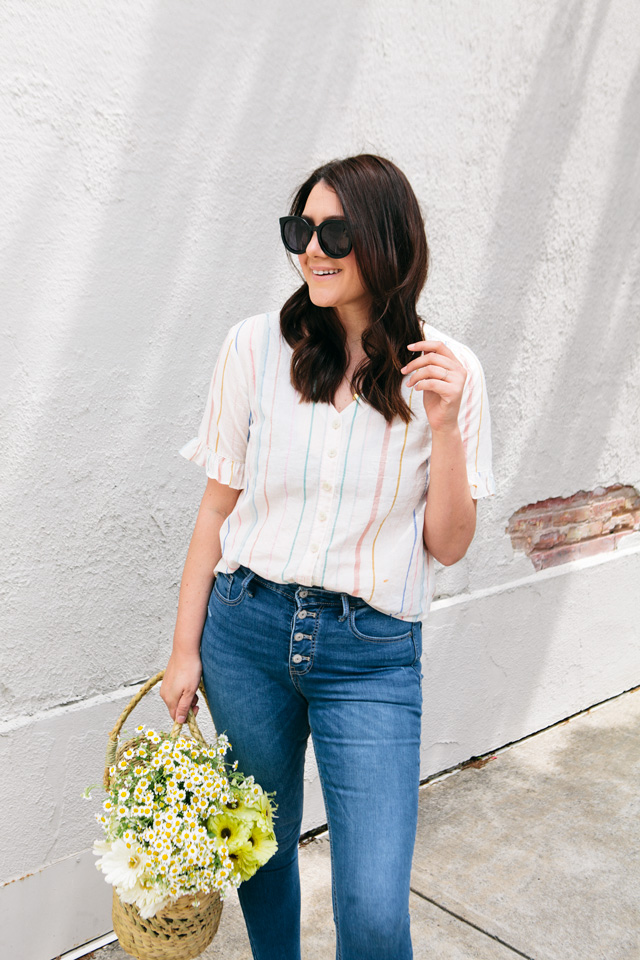 It's fresh flowers in a purse season, you guys. Get you a bouquet and shove it in your bag, ASAP. I say this tongue-in-cheek because I actually love this trend right now. The internet has given me so many excuses to do random things that I could have only dreamed of as a weird kid. Carrying fresh flowers around in a woven bag is one of these dreams realized. If your dreams are small enough, you CAN achieve anything. 😉
Let's talk about why we are all really here — this blog post, not life in general. I'm not going that deep today. These jeans are from Old Navy and color me surprised because they have been on heavy rotation this past week. (I just picked them up last weekend.) They remind me of this pair of Madewell jeans I've been dying to get my grubby little hands on. (See the Madewell pair here.) I probably will still get the Madewell pair because…well you know me. BUT I wanted to give these Old Navy ones a try! I've kind of sworn off ON denim because I like buying designer denim or Madewell denim for the quality and the fit and they tend to last. In the past few years, my main go-to's for denim has been Madewell, AG (especially at the Nordstrom Anniversary Sale), Agolde, Levi's or a new to me brand, Good American. I don't think I've ventured too far from those few because when you hit your 30s, you like what you like. However, I was in Old Navy the other day looking for Gemma and I a matching outfit (of course I was) and I saw this pair and thought let's do this, Old Navy.
So, how's the fit? Well for me, they fit true to size. They are high waist denim, I am in the size 8 and they fit perfectly. (The rise is a 10″ rise, by the way. That info is not online but I measured it.) The fabric is soft, stretchy denim with a raw hem at the ankle. I am in the regular length, I am 5'9″, for reference. If you are taller, I would get a tall size. The biggest question I've received is if they stretch? I wore them three days in a row this week and so far the only stretch out is at the waist. Which is pretty typical for me and my complicated relationship with denim. The knees, butt, and thighs have stayed true to what the fit was when I put them on, which is fantastic! My only complaint is that the top of the waistband where the button fly starts doesn't quite match up (you can see in some of the photos above) but for a $30 pair of jeans, I'll deal. Also, these babes are COMFORTABLE. I give them an 8 on the Pajama Jeans scale. (A 10 would be these from Good American, SO FREAKY SOFT.)
And it looks like today they are 30% off, so they end up being $21 ya'll. If you're looking for an easy pair of denim for $20, this is the one!
I wore this top on a girl's night out and let me tell you, it was a compliment grabber. It's the prettiest top with subtle rainbow stripes and that little ruffle sleeve is the cutest addition. I sized up to a large on a hunch that I'd need more length and chest room and I was right! I think the reviews were saying true to size, but with a long torso and a D chest, I needed more fabric to cover my parts. If you have neither of those things (a long torso or a big chest), then stay true to size!