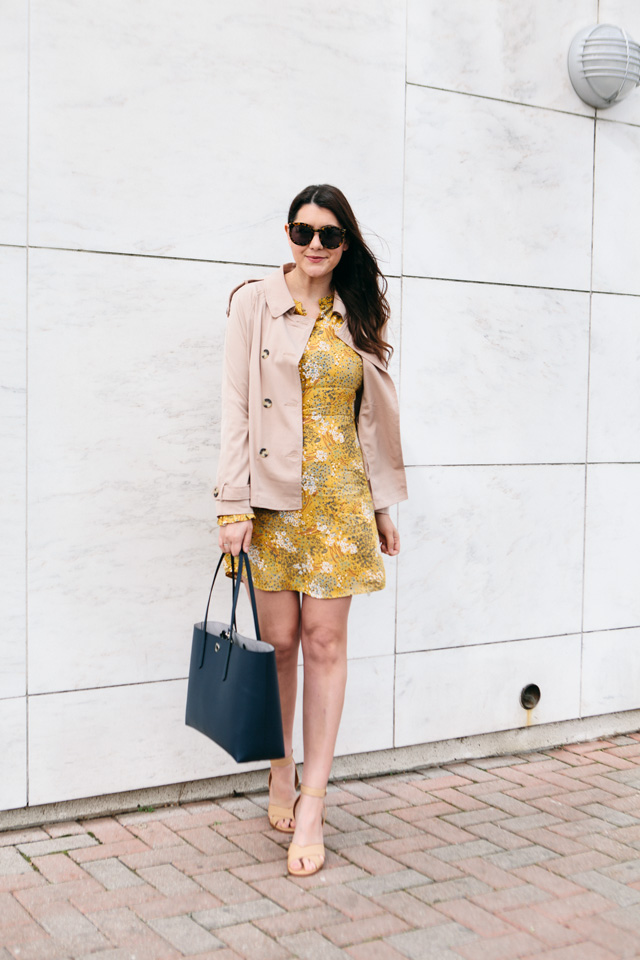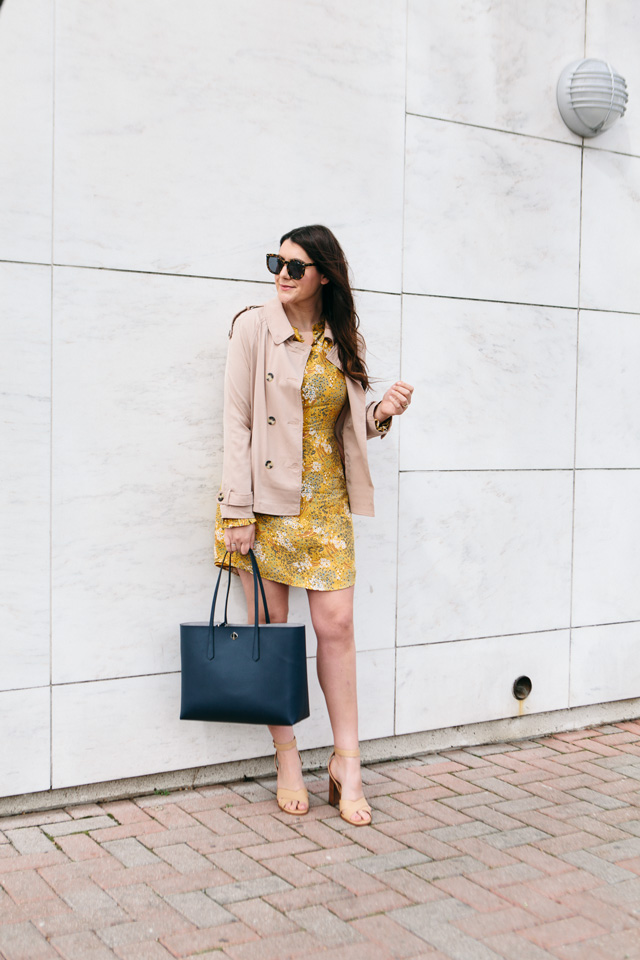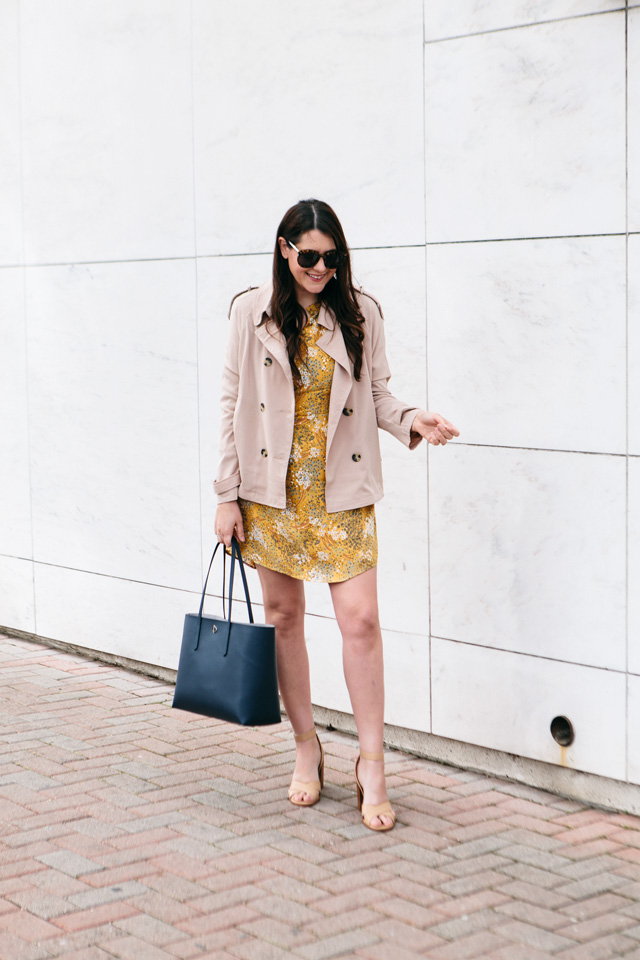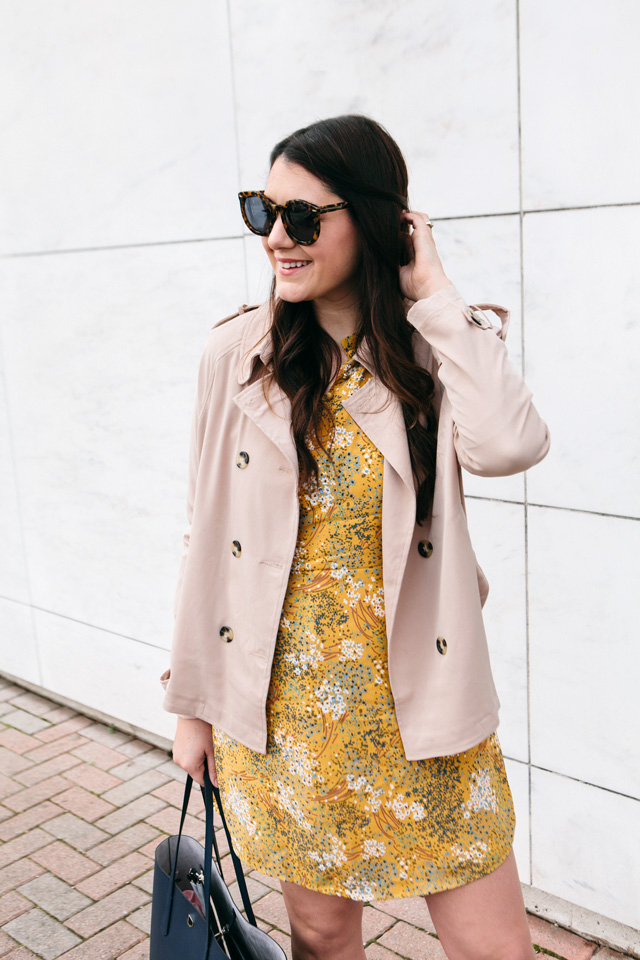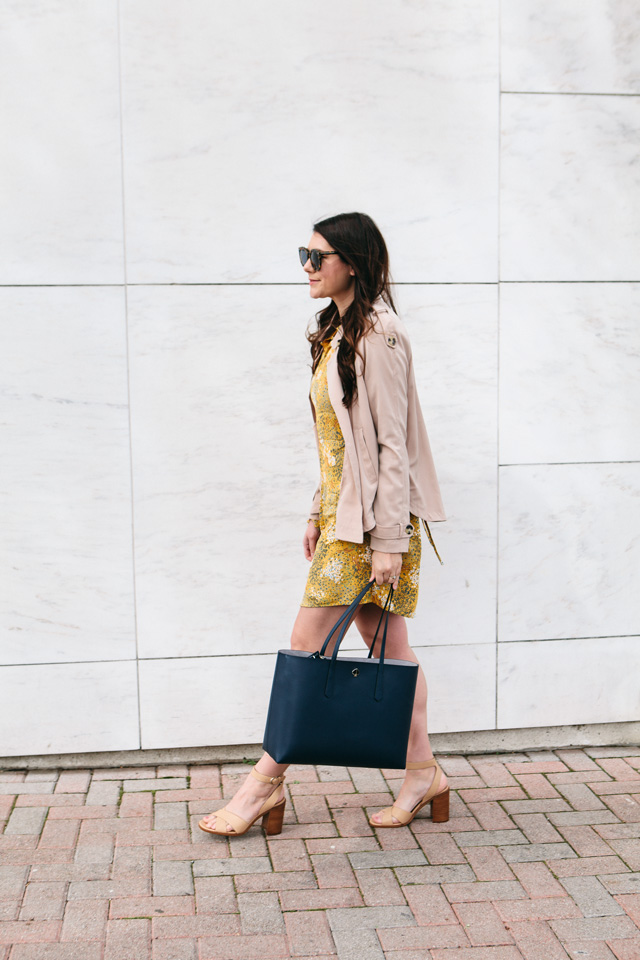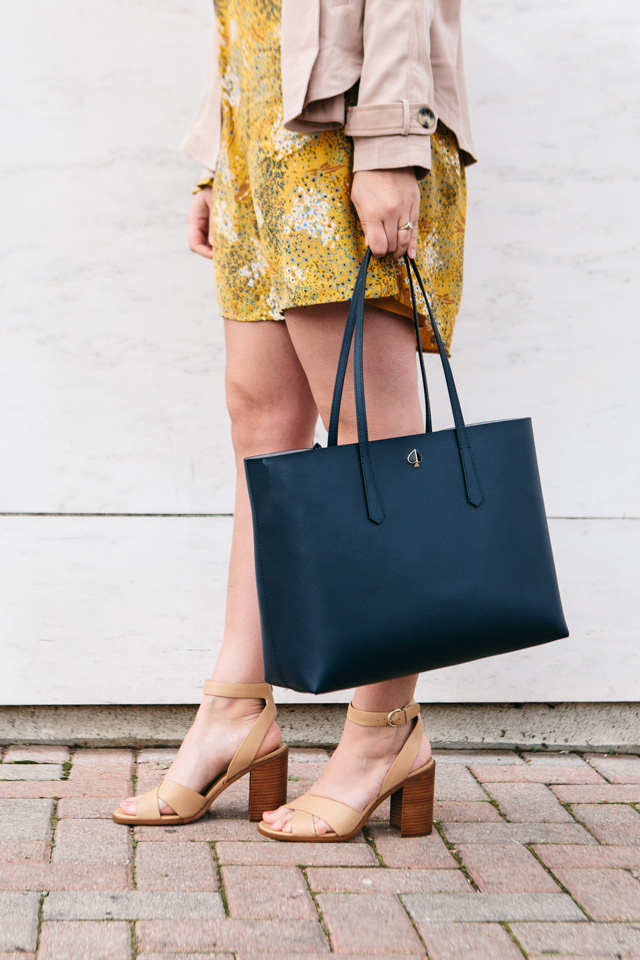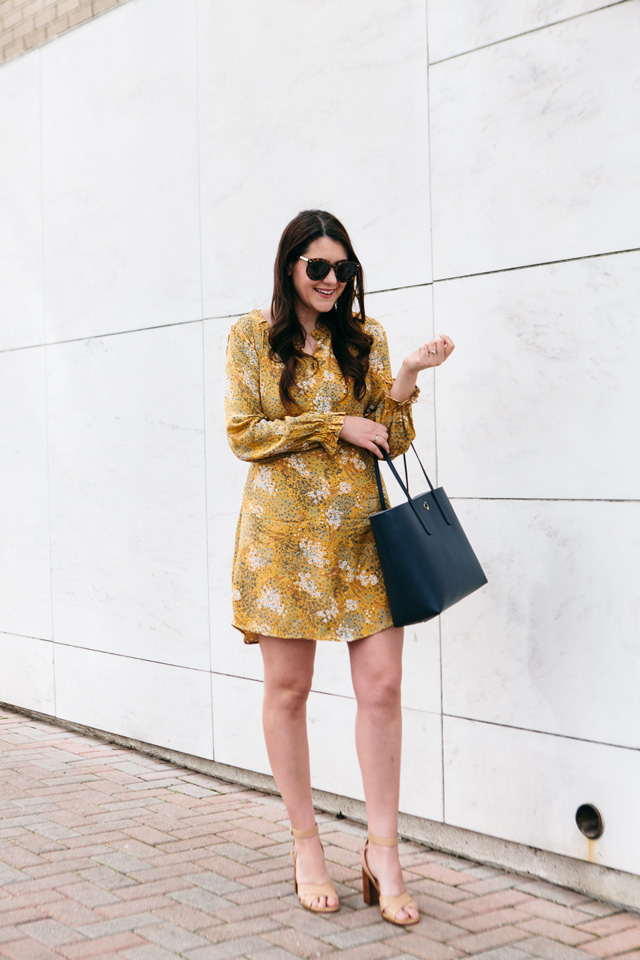 For one day only, spring decided to show up! It's warm out, it's windy, it's sunny. It's all the things spring should be. I immediately reached for this sunny, happy dress that I've been dying to wear! (It's 40% off right now!) I also got to slip into my new heels for spring. I've had these for a few weeks too, just anticipating better weather. I'm so glad I bought these heels ahead of spring and that I remembered I had them (lol, just kidding. They've not been placed in the black hole that is my closet right now.) I am trying to be ahead of the game on my shoes this year, instead of waiting until they all sell out. AKA what I typically do every single year. Oh! I also tossed on my favorite swingy trench from the shop! (We sold out and restocked and there are just a few left! You can find it here!)
If you are wondering why this dress looks a bit different than online, it's because I used a little style trick of mine! I wanted this dress to have more of a fitted silhouette, which is quite the opposite of it's flowy, shift dress nature. This dress is your typical Loft style dress — flowy, shift dress with a fabric tie. Sometimes I feel like dresses like this are one-trick ponies; which made me think — how can I change this dress up? While I do love a shift dress and a loose one at that, I wanted this to fit a bit tighter. Want to know the trick? I simply tied the waist tie in the back, pulling it tightly to create a flattering waistline. (See below!) Boom a different silhouette from a simple dress. It changes up the whole look, honestly!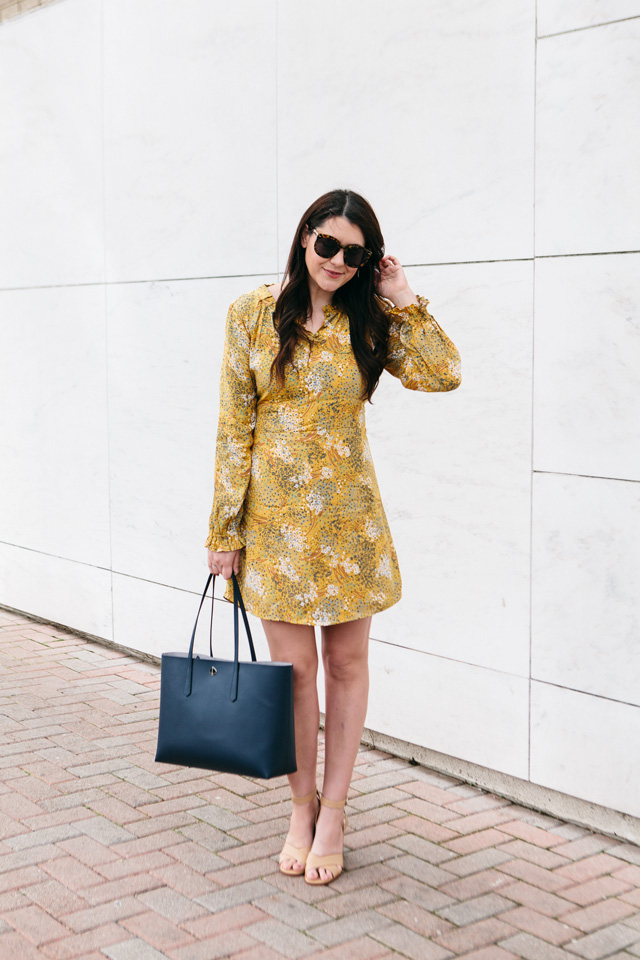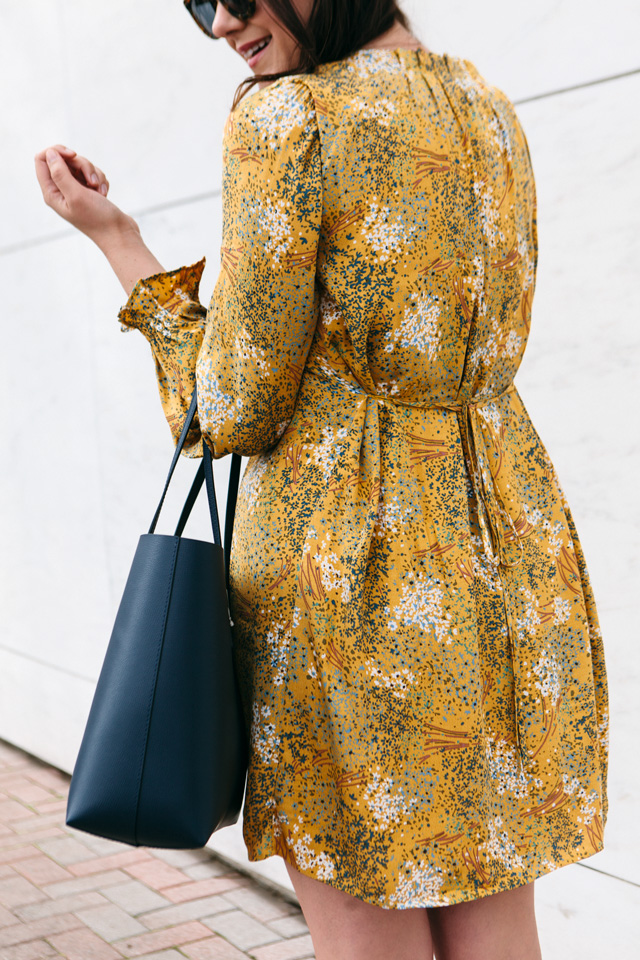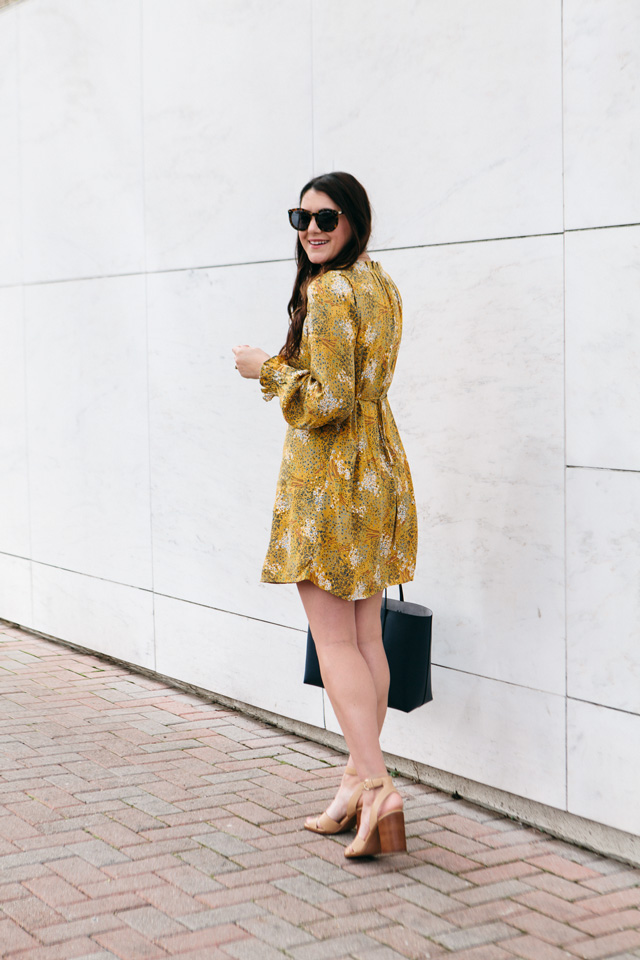 So when you are feeling like you want to give a dress a bit more structure and an updated, polished look give this simple trick a try and let me know how it goes! This allows the dress to live on it's on with a belt cinching the middle, which can also create a nice look, but this one is a clean, simple silhouette. A classic look for a simple dress.
Side note: say hello to my new tote. I thought I'd give this navy hue a-go for spring, instead of my usual neutral tone. Under $250 from Kate Spade — such a good price! You can find this tote in many more hues here! PS –The people have spoken! I'll try to get to LOFT this weekend for a try-on haul! The sale goes through Sunday! 40% off with code NEWNOW