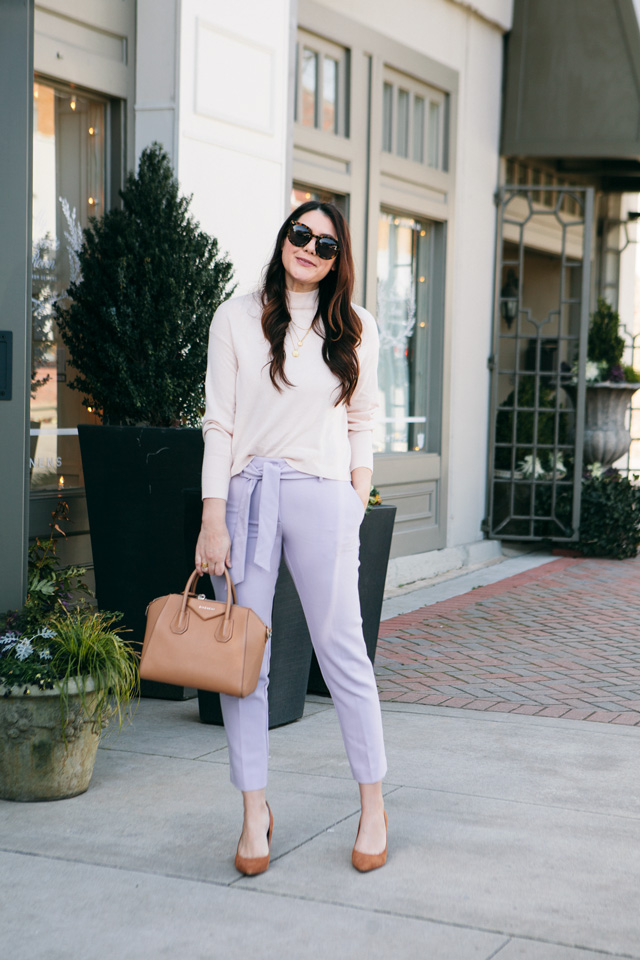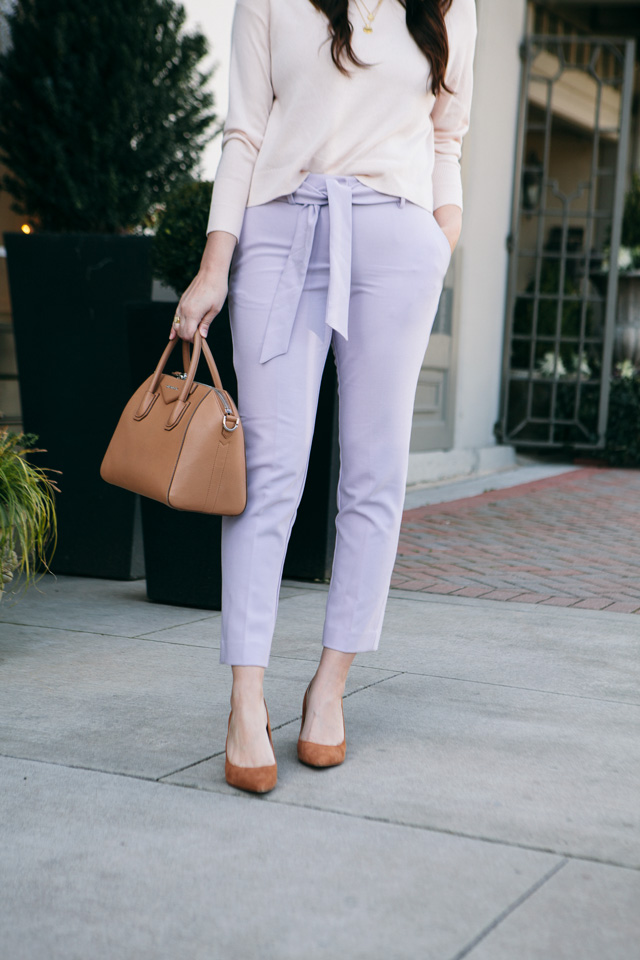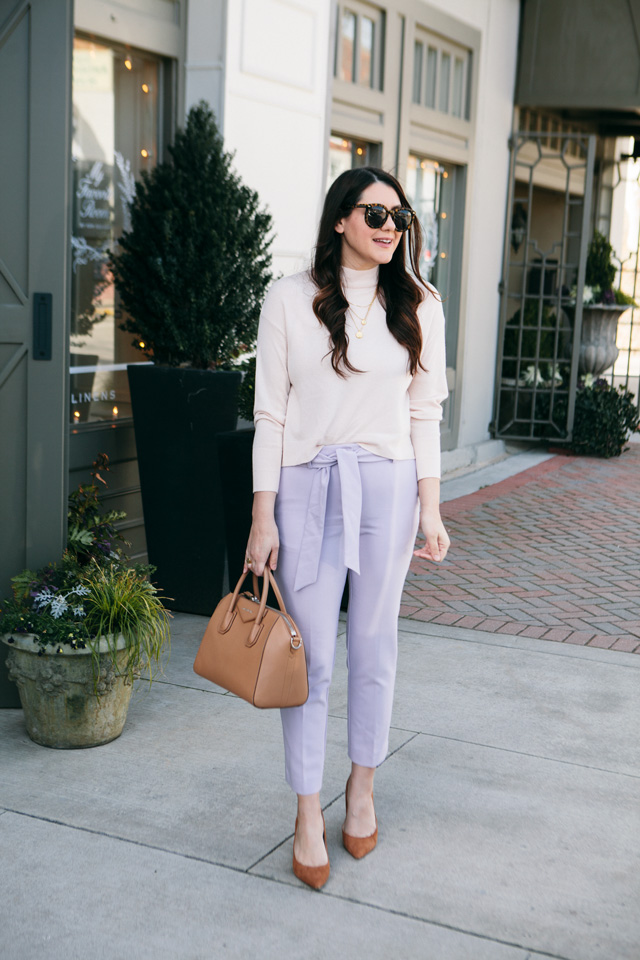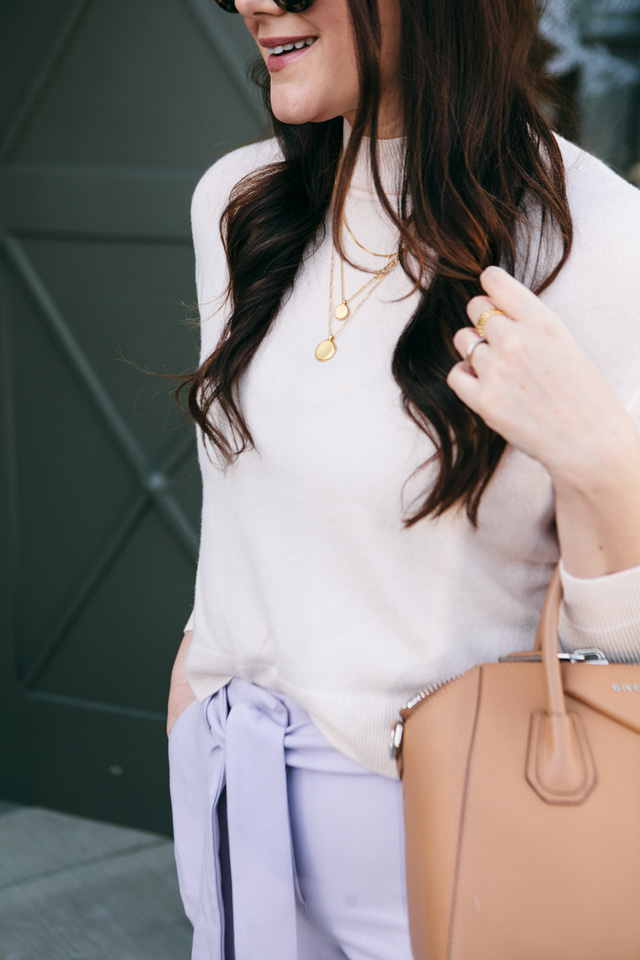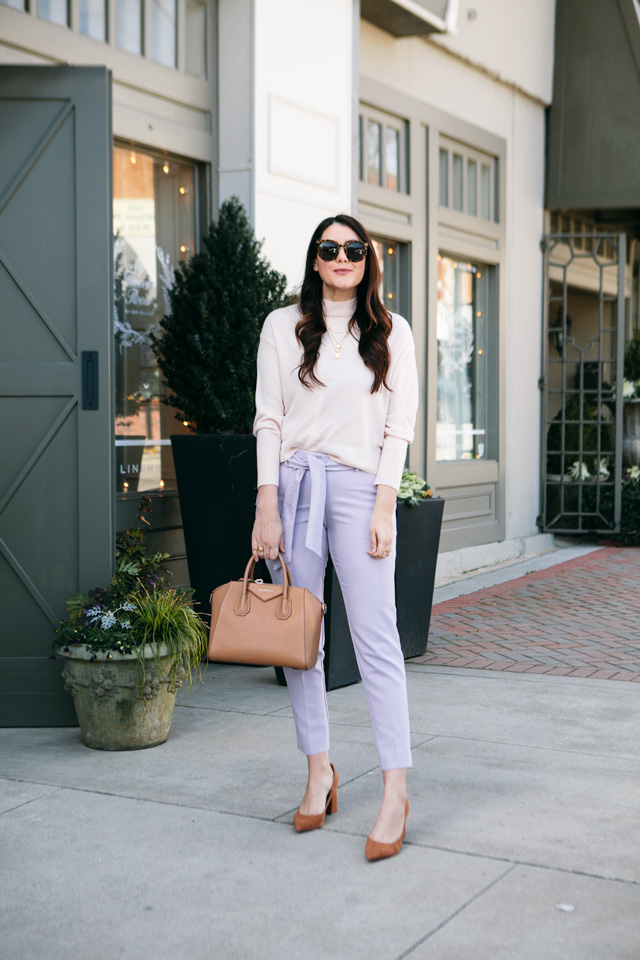 So I bought these lovely lavender pants a few weeks ago when Loft did a 40% off sale and guess what? They are 40% off again — like right now! I've not worn them yet because it's been stupid cold here and to me, they scream "spring!" They have literally been sitting in my Loft bag in my closet because I'm a garbage person at heart and I had not hung them up yet. I've been waiting for warmer weather to pair them with some spring tops but I just couldn't wait any longer. I was a little sad to be putting a sweater on but I figured this light pink Everlane sweater is spring enough right? (This sweater is a favorite from last winter! It's light enough for spring, though. I would say it's more of a spring weight than winter.)
When I went in to try on a few things, there was a pair of these pants in a more — let's say appropriate — blue hue. Blue pants can be worn with tops a bit easier than lavender, it's true. Blue is a no-brainer and truth be told, they are super cute as well. But when I saw the lavender next to them, in my heart I knew right away that the nice, appropriate blue pair was out of the picture. I'm obsessed with this color right now and now I've got a pair of pants to prove it. These lavender pants are the energy I want to bring into 2019.
No matter the weather, I wanted to wear these pants on here this week before the sale ends on Sunday! Luckily yesterday was perfect for this outfit and there is still time for the sale! You can find the lilac pants here or the full sale here. Use code NEWNOW at checkout.
I've been slowly cleaning out my closet (like so slow that even Marie Kondo on her best day would give up on me) and I've been trying to re-arrange a few things here and there. But in the midst of my clean-out, I've found a few pairs of shoes that I am EMBARRASSED TO ADMIT that I didn't know I owned. Like I was surprised to unearth these cognac gems I am wearing; may I note I was pleasantly surprised that I've owned them for a while but I also don't remember buying them. You are more than welcome to roll your eyes at this or give out a little grunt of disgrace. There is no wrong way to process this information that I'm actually a hoarder. You would think that this would make me excited to keep cleaning things out but in fact, I just took my newfound shoes and moved them to a better shelf. My five minutes of clean time was up anyway. 😉
All of that to say, I like really like this pair of heels from Marc Fisher! They are still in stock in a lot of shades and with over 300 4-star reviews, I don't think I'm the only one who likes them. You can find them here.