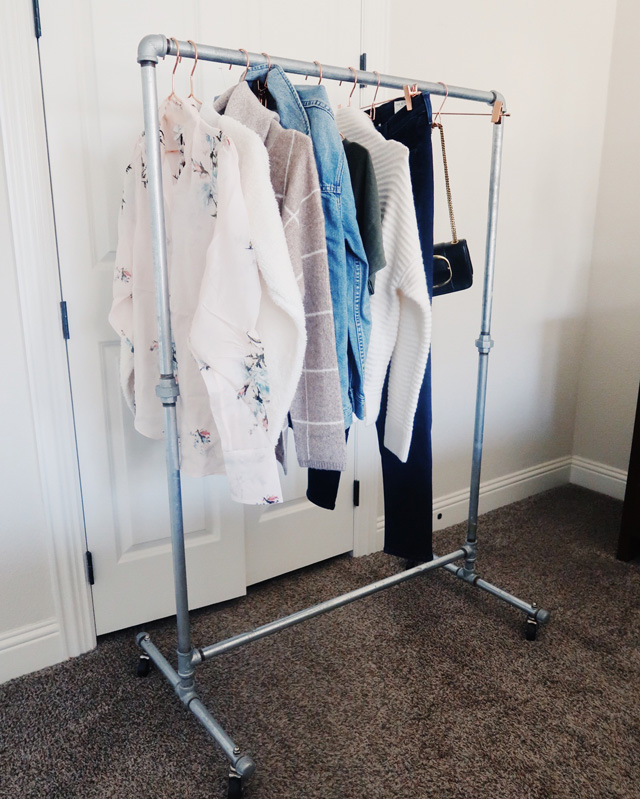 I mentioned earlier that I would do a Trunk Club unpacking of sorts for the trunks I get each month and here she is! This is the trunk from January, so I'm a bit behind but if you guys like these I can speed up my posts so that it better coordinates with the month we are in! I ended up dropping my phone in a toilet (I'll let you fill in whatever details of this scenario that you'd like including how I got it out of the waters…) and so I was phoneless for about a week. I won't even lie and say that I didn't know how attached to my phone I was until I lost it because I KNOW HOW ATTACHED I AM TO THAT THING. It's basically my third arm in everything I do from the shop to the blog to watching pointless youtube videos in the bathtub. So I ended up borrowing my sweet husband's to take these photos and he now has no less than 100 selfies of me on his phone. True love still exists.
Okay, so the Trunk! This trunk was pretty light, I didn't request anything so I think my stylist was just testing the waters. (I didn't keep anything from my last few trunks so it was nice to have one that I really liked a lot of the items.) The only things I didn't photograph were two pairs of shoes that were just hard no's. I didn't even take them out of their boxes because I knew to try them on would not change my mind. This trunk had a lot of tops and sweaters and a nice pair of jeans I didn't want to like but I put them on and never took them off, so guess what? I kept them. Without futher ado, let's get to the outfits I created with my trunk! (I added my own purse and white jeans and shoes to get a feel how each outfit would actually work in my closet, instead of just using the items in the trunk! I highly recommend doing this if you do any styling services.)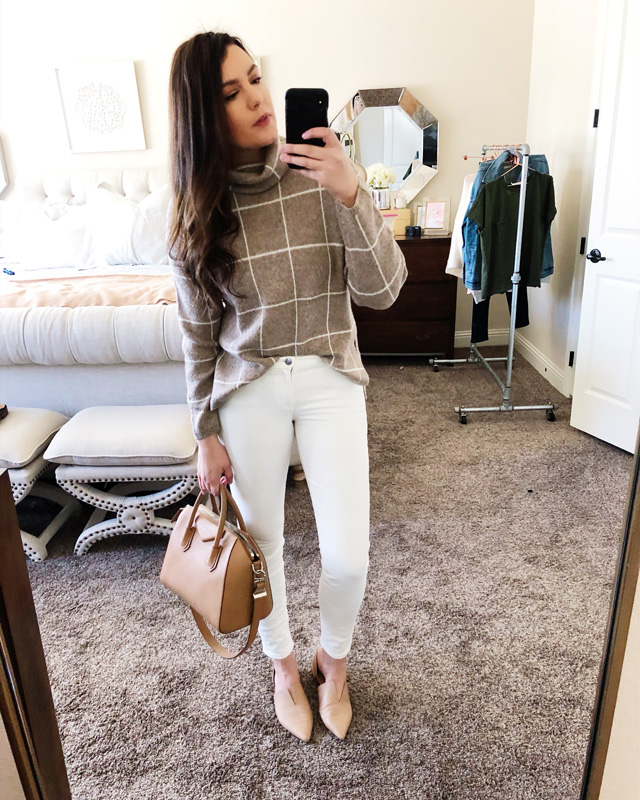 From the Trunk: Madewell Windowpane Sweater 
From my closet: Vince Flats / Givenchy Small Antigona Satchel / J.Crew Toothpick Jeans in White
Thoughts: I so wanted to love this sweater and I have to say it looks 100% better in this mirror selfie than it did in person. (Or so I thought.) It was just a tad bit bulky and for that I didn't love it. But I love the idea of it and the colors are spot on. Exactly how I want to dress this winter to spring.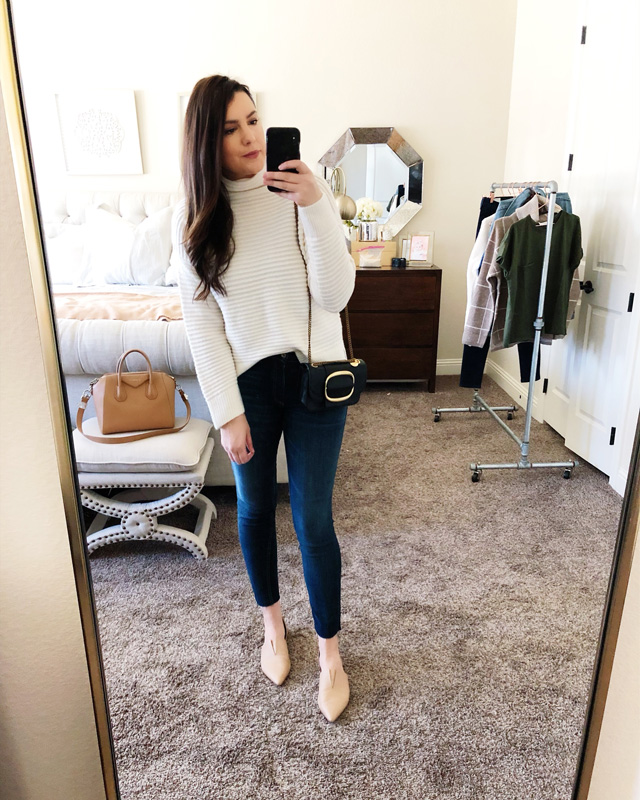 From the Trunk: Madewell Sweater / Rag & Bone Denim* / See by Chloe Handbag*
From my closet: Vince Flats
Thoughts: LOVED this sweater and kicking myself because I have the brown version of the same sweater but I like the white better! Ha! But I decided on staying with the one I already owned, but if you're looking for a super soft sweater in ivory, this one is so nice.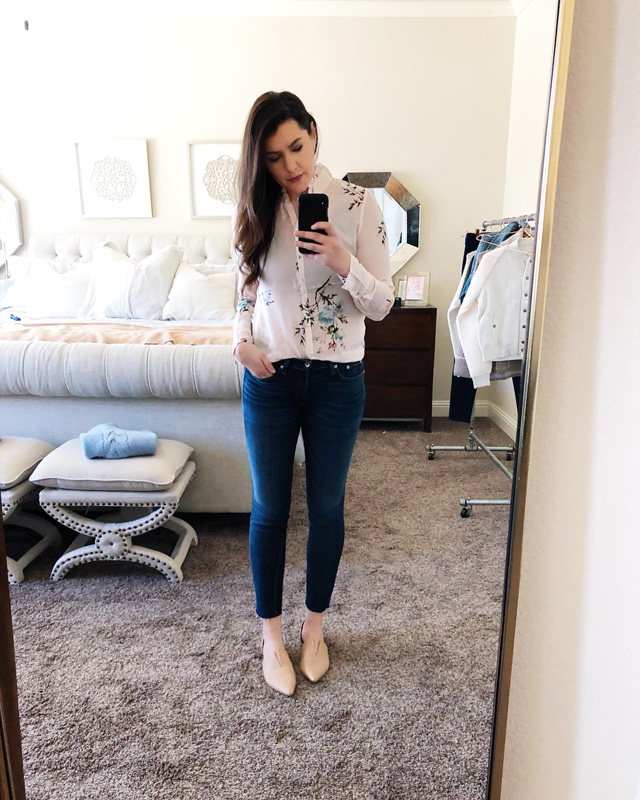 From the Trunk: Joie Floral Blouse / Rag & Bone Denim*
From my closet: Vince Flats
Thoughts: I loved this blouse but the fit was a bit off for me. My bust was just a tad too big for the medium but it fit everywhere else, so I knew sizing up to a large wouldn't fit the way I preferred so in the box it went! Such a pretty color though and I believe it's on sale now! (My favorite way to buy Joie silk, by the way.)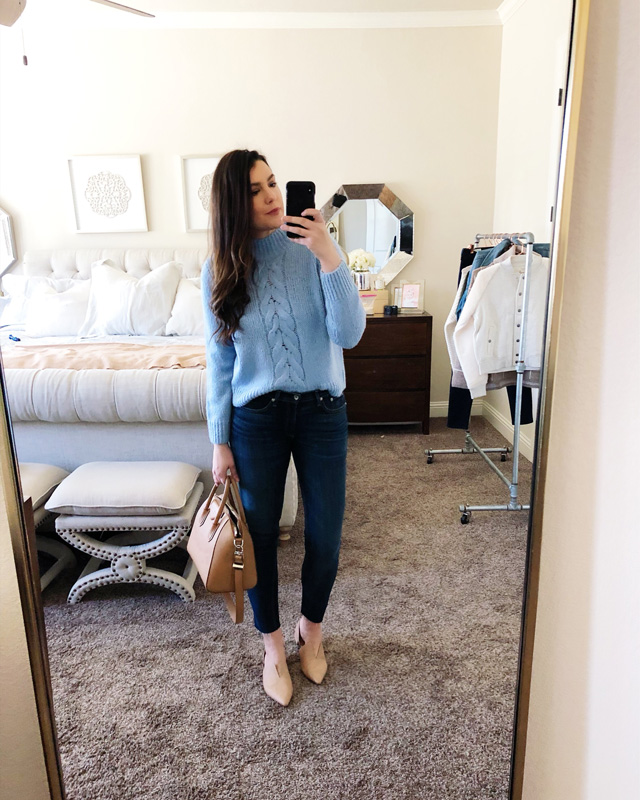 From the Trunk:  Madewell Sweater (similar here) / Rag & Bone Denim*
From my closet: Givenchy Small Antigona Satchel / Vince Flats
Thoughts: LOVED this sweater! I was actually going to keep it but on the day I packed up my trunk, I ended up putting this one back in. It's so close to spring that I just can't justify a big bulky sweater, but I loved this color and hope to find something lighter weight like this sweater this spring!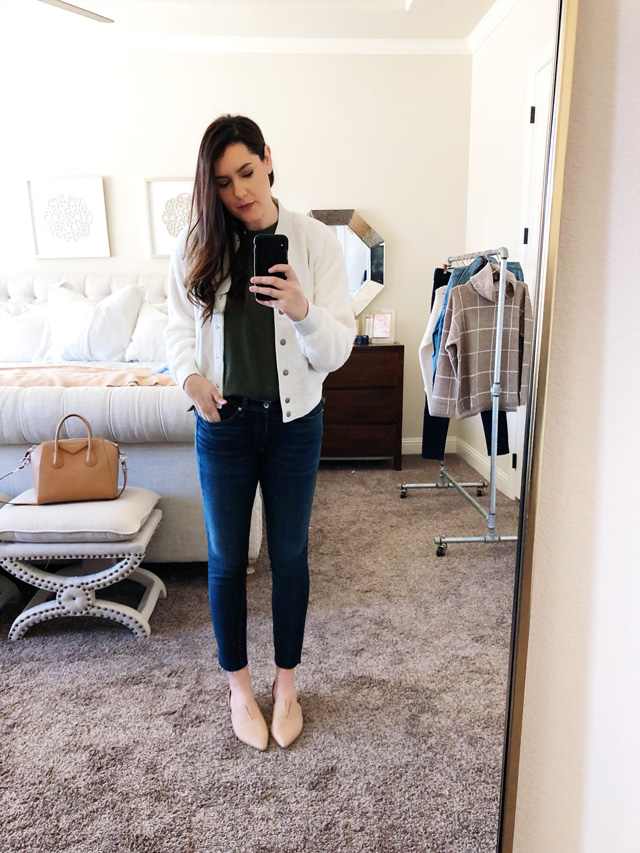 From the Trunk: Rag & Bone Varsity Jacket / Rag & Bone Denim* / Rag & Bone Tee
From my closet: Vince Flats
Thoughts: This jacket is ADORABLE but I just couldn't justify the price for the amount of times I know I will wear it. I love the look of it though and it was so soft and cozy. It wasn't meant to be but I did love the look / feel.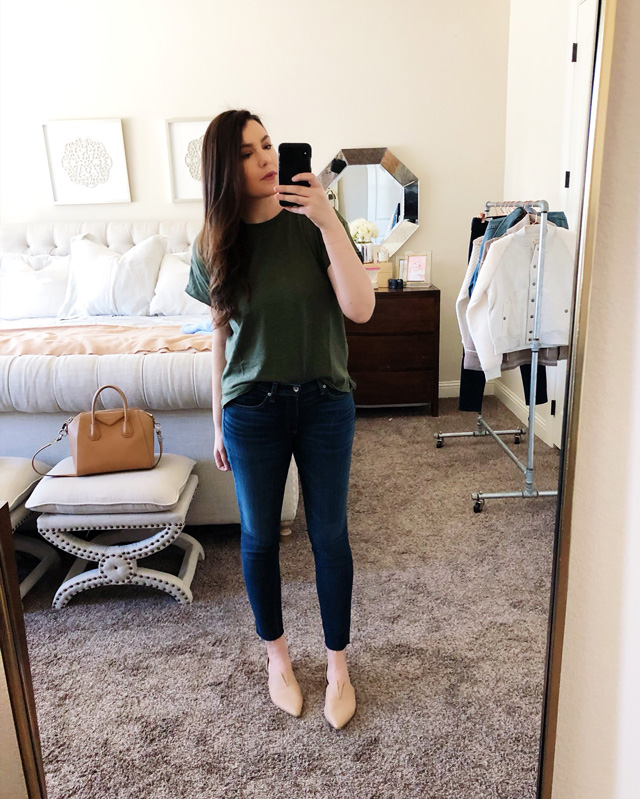 From the Trunk: Rag & Bone Tee / Rag & Bone Denim*
From my closet: Vince Flats / Givenchy Small Antigona Satchel
Thoughts: I loved the tee but I've got a lot of tees thanks to the shop! This one fit wonderfully and TTS, if you are a rag & bone tee fan! I just didn't need it in my wardrobe right now.
What I kept from this Trunk:
I need another purse like a hole in my head but I love how classic and simple this one is. It's timeless and I like the size; it can fit my phone, my wallet and a couple of toys for Gemma. Mission accomplished. This pair of denim is more than what I've been spending on denim lately. It's definitely the most expensive pair I've bought since postpartum and since I've been able to fit into other pairs of jeans, pre-pregnancy. But I love the fit, they are a mid-rise and not a high-rise which is basically 90% of my denim right now and I loved the ankle length for spring. In other words, I am my own best salesperson. I do love Rag & Bone denim as it lasts for years, so I felt like these were a good buy for spring. Even though it's still winter. Poor January, it never has a chance to even be liked because all I care about is getting through it to get to spring.
If you want to check out the process you can here. This post IS NOT sponsored but I have worked with Trunk Club before. Just not on this post!  And of course, all outgoing links have affiliates and I may make a percentage of a sale if you buy something.:)
Let me know if you like these types of posts! I can keep them coming!