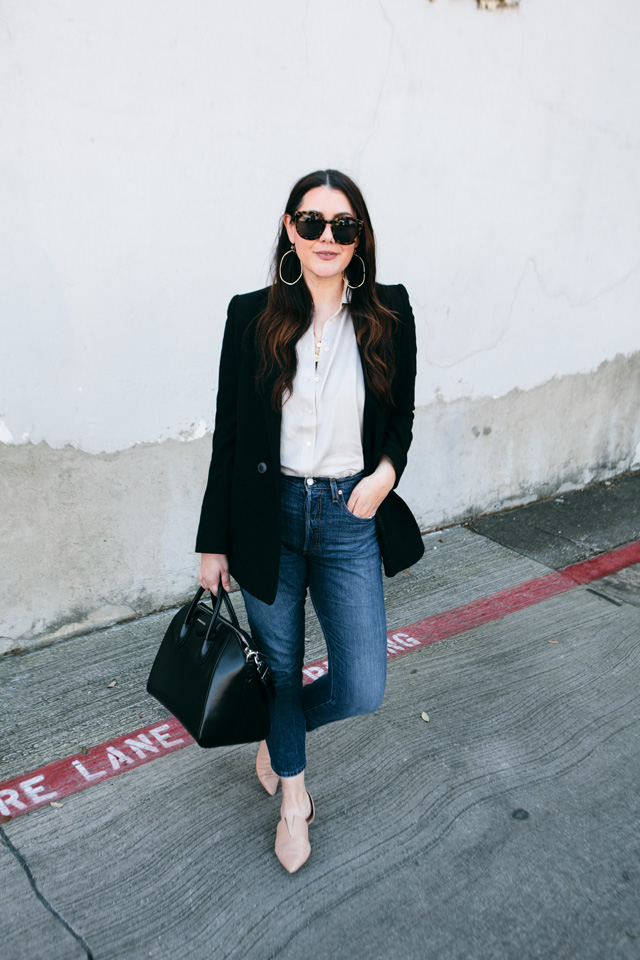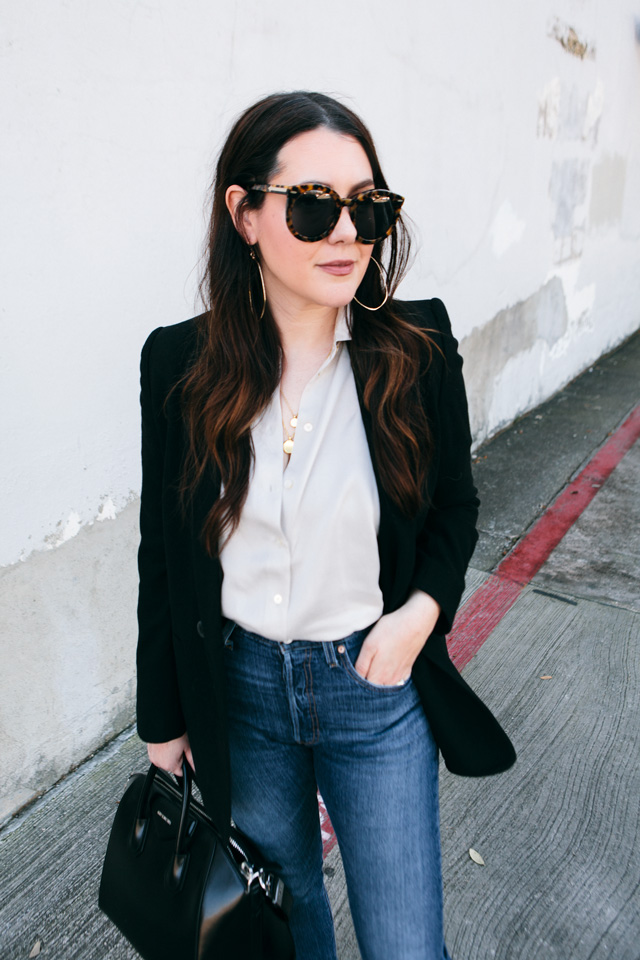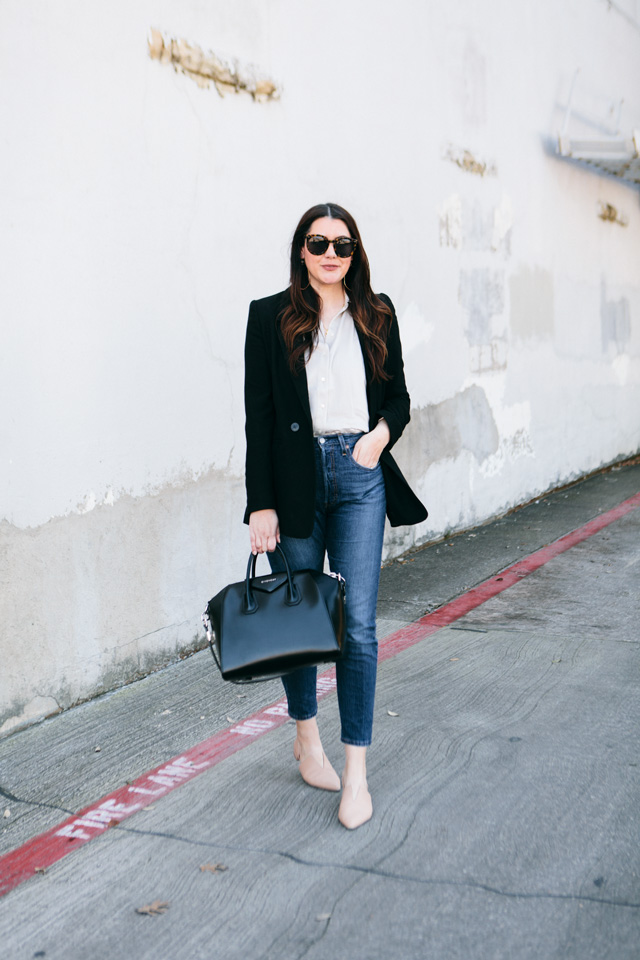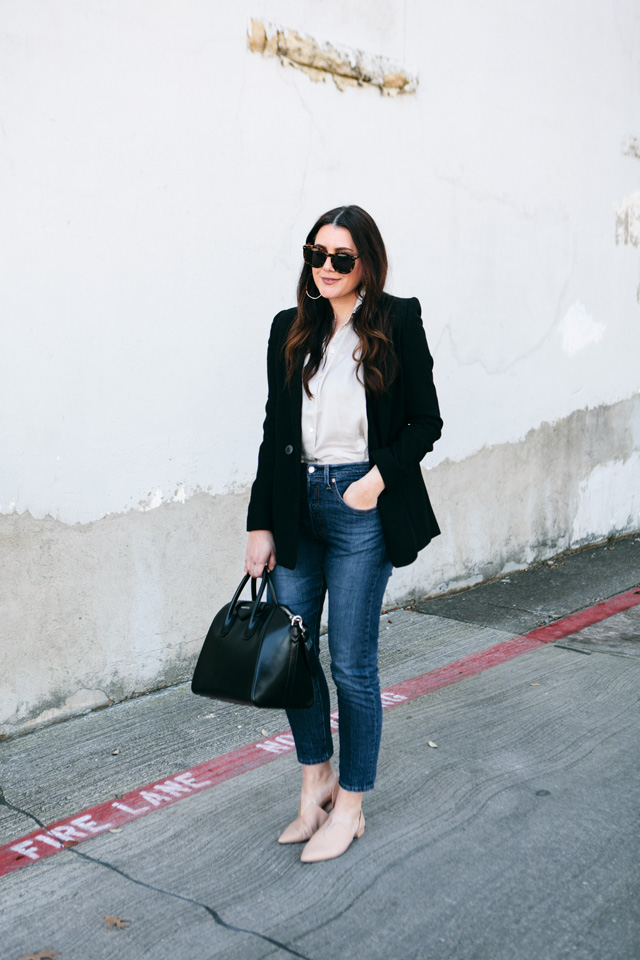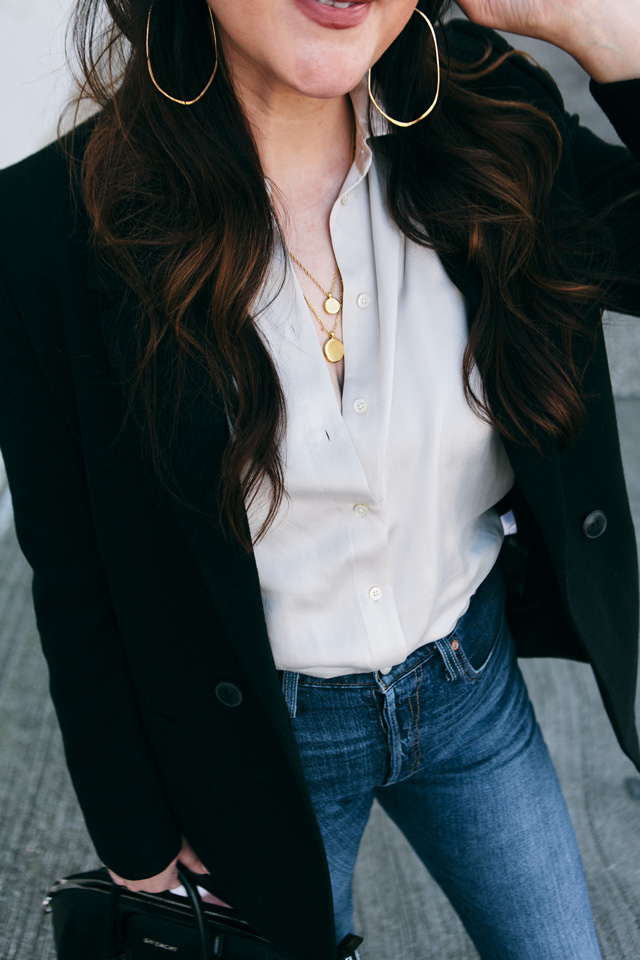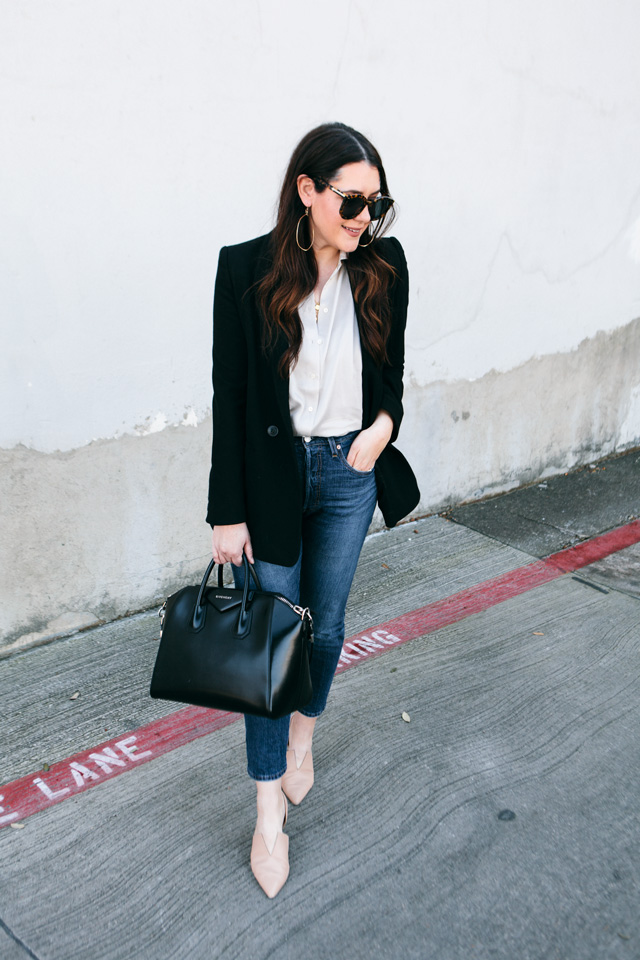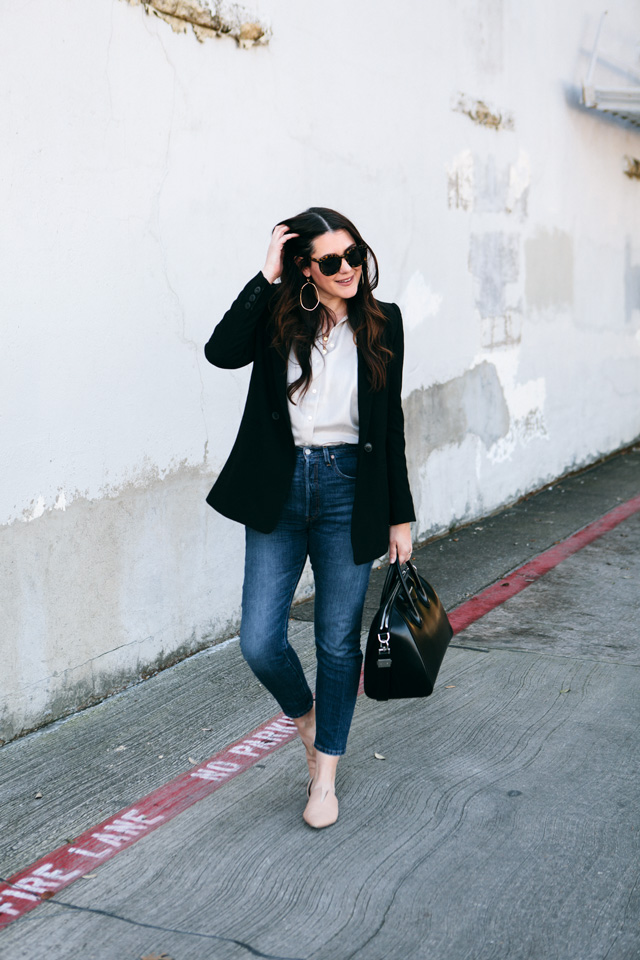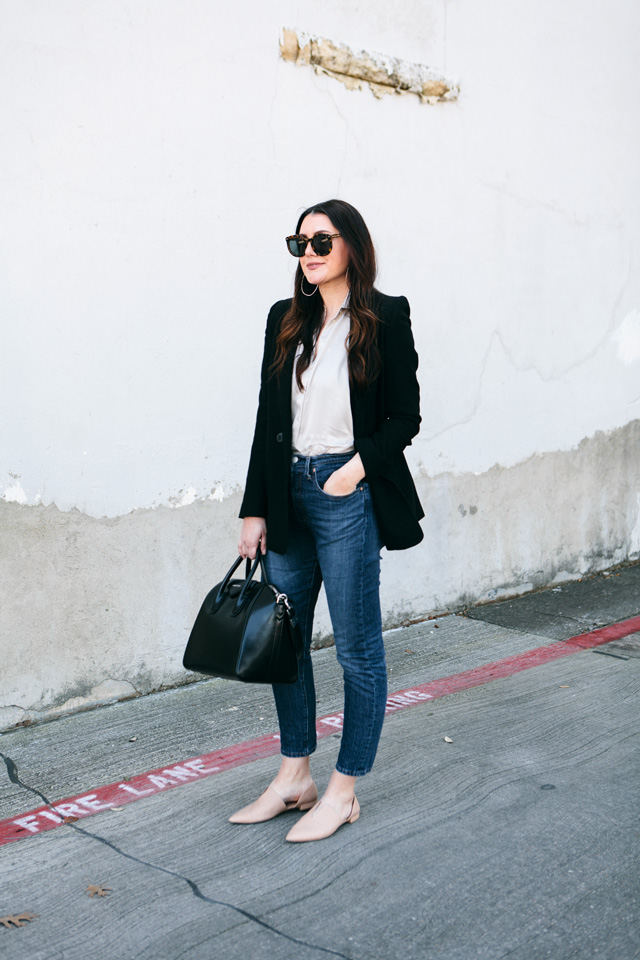 After we shot these photos, I thought how nice it would be to do a quick review on this Everlane Clean Silk Oversized Blouse I recently picked up. I realize now that I probably should have photographed this shirt without the blazer but hindsight is 50/50 and truly overrated. Did you know that I don't know what I'm going to write about until I sit down at my computer? It's true. Being prepared is also overrated. I may not be the blogger you want, but I am the blogger you deserve.
Okay! So let's get to it. I wondered over to Everlane as I do every once in a while when I saw that they released a new pair of black pants. I ended up buying the pants — I'm a sucker for email marketing. (I'll do a post on them as well! I feel like they are just a smidge tight but fit true to size for sure. Usually when a pant is snug in my waist, they are TTS for most of the population.) I ended up also dropping this Silk Blouse into my cart as well as these shoes. Which was a huge fail because don't they look exactly like my Madewell Mules I wear all the time? I don't know where my brain was when I ordered those. I laughed when I opened them and tried for a few hours to convince myself they were different enough because I hate returning things. So if you like my Madewell Harper Mules but want some without a heel, these are your best bet.
Color / Fabric: The color I selected is Stone. When I first got the shirt in I wasn't in love with the color. The thing is — it is absolutely the exact same color as it is shown on the site. I had to go back and double check because in my mind it would be a lighter beige, instead of a deeper beige.  I think I was just expecting it to be thinner silk and therefore a lighter hue, but this silk almost has a satin-like feel. [Hot tip: Charmeuse actually means a satin weave. So it was literally right there in the name. I figured this out 20 minutes ago.] I thought that the color was kind of dull and grandma-like (not current grandma's but like 1980s grandmas.) But once I put it on, I loved it. It's definitely a greige (grey-beige) and it is a thicker shirt, seriously like a satin. The thicker silk gives the shirt more structure and it lays really well. It was a nice surprise since I was expecting a more transparent like silk. (Again Charmeuse. Right there in the name, Kendi.) 
Fit: I bought the size 8 and I think that it fits slightly big. I wouldn't have been surprised if this was a size 10 I was trying on, so I know for sure it's meant to be worn oversized. I am usually an 8 in tops, my bust is a 34D and I have broader shoulders.  For these reasons, I love a boyfriend fit, as I find it to be flattering to my shape and this one fits the description. It's definitely a loose fit. Bryan thought that it looked too big but I loved how it fit (without the blazer — sorry for now photos! We will shoot this one again!). I would say that if you are more petite, then try to size down one. This one fit me TTS BUT with the fit of a very loose boyfriend top. So keep that in mind! If you want thinner silk, this other one would be your pick!
Overall: Well, obviously I kept it. I ended up loving the color after pairing it with a few things in my closet from white denim to dark to black. It's a really versatile color and it was super comfortable to wear all day. It is a thicker weave of silk, think satin like but I loved how it wore all day. (Bonus I didn't sweat through it like I sometimes do with silk tops! TMI FTW!) If you're looking for a year-round silk top, this one is a great value! You can find it here. 
---
PS: My Anine Bing blazer strikes again! I've linked another option from Nordstrom to the side as well!