LOFT is having a 40% off sale through the weekend and I ran up there over lunch yesterday to see what I could find! Our store was a little bit understocked in my professional LOFT shopper opinion (ha) BUT I ended up with three things that I absolutely LOVE and am so excited about for spring. I went and looked through the site after and found lots of other goodies, so if you don't see anything you love on this post, don't fret there's a ton more online. Let's get to it! (You can find the whole sale here.)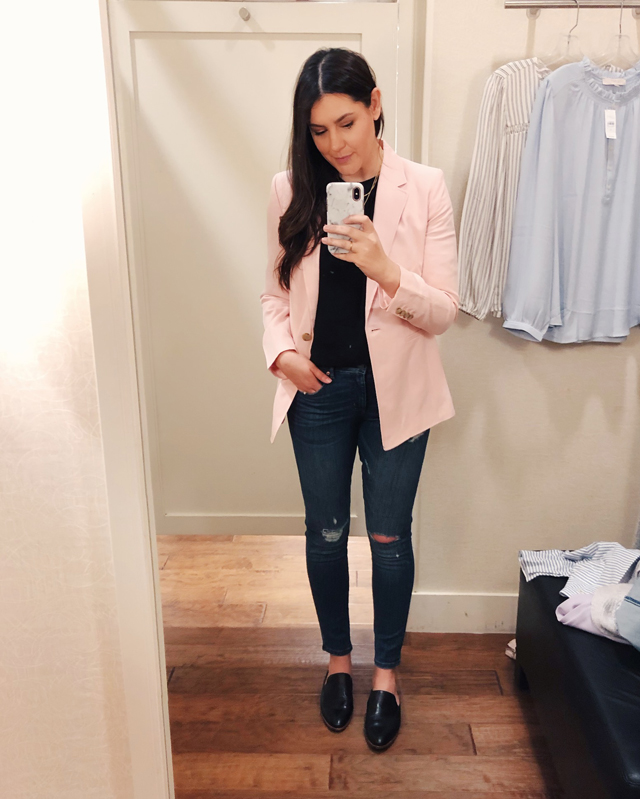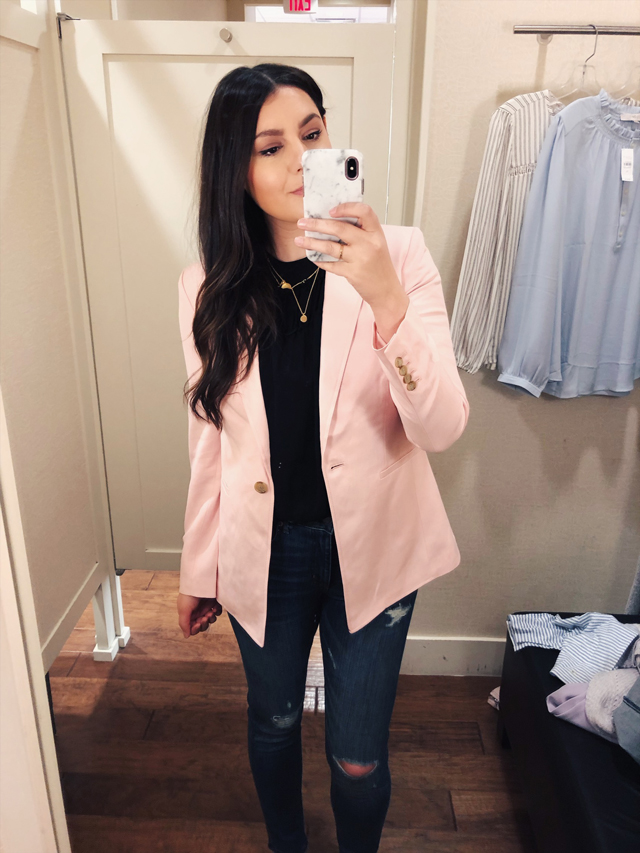 Ya'll. THIS BLAZER MADE MY DREAMS COME TRUE YESTERDAY. We walked in the door and it was there, just whispering my name. (Soft pink never yells.) I grabbed my typical size in jackets — a size 8 — and it fits like a dream. I would say if you're a little bit more narrow in your arms / shoulders / bust, then you could size down. I'm a true 8 so this fit me true to size. And it is the spring dream.
The distressed denim I was on the fence about the whole time. I'll say this: they look really good in the photos here but they were a bit snug in the tummy. They are a mid-rise, a thicker denim so I do think they would stretch out with wear but the 20 minutes or so I had them on in the dressing room they stayed pretty stiff. After I thought about it, I wondered if I had tried on the Curvy fit of this same denim if it would fit better. Just another reason for another try on 🙂 I didn't end up with the jeans because I didn't need them and the fit was just okay! But I do recommend if you're looking for denim.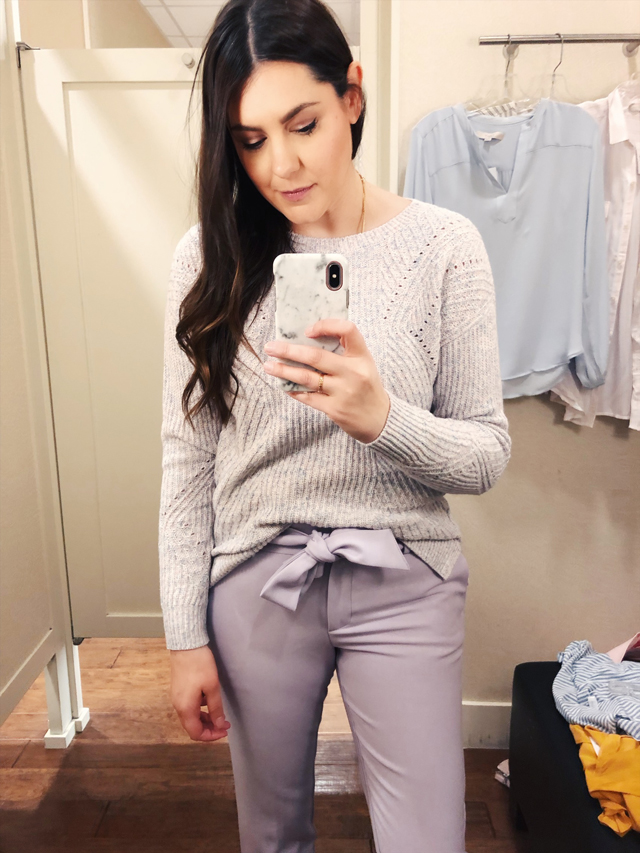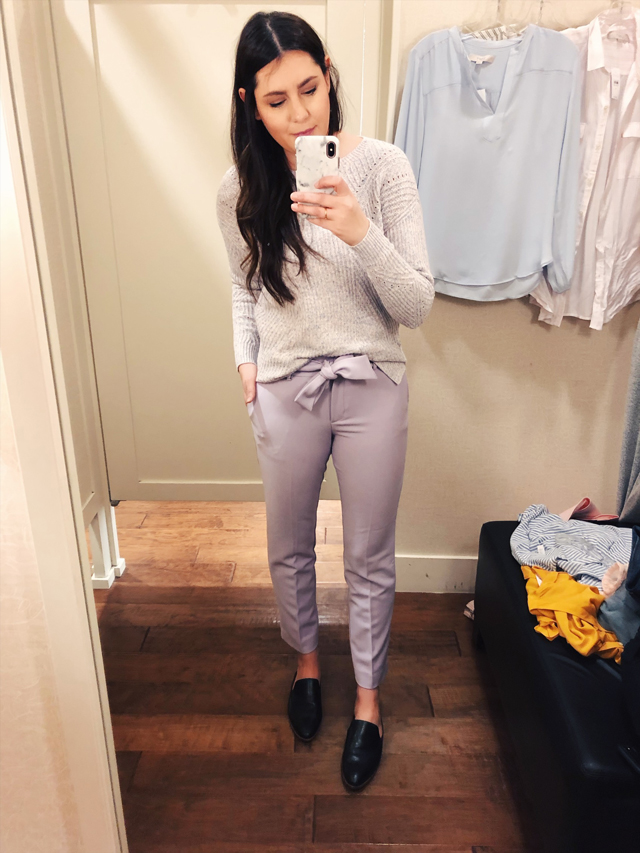 This sweater was adorable, very grandma chic. I loved it but being so close to Texas spring (AKA everyone else's summer) I decided not to make this purchase. It's adorable and the color is a multi-pastel. If you are in need of a sweet spring sweater, this is a perfect one. You can find this sweater here!
I am in love with these trousers as they are the most adorable with their tie waist and spring hue. I was so excited that they fit! I initially thought I wanted the blue version but I saw the lavender and I was SOLD. I can't tell you how excited I was when they fit perfectly. This is TMI but I will wear different undies — the seamless kind — when I wear them in real life. They weren't agreeing with my cotton undies 😉 I would say the fit TTS. I am in the 8.
You can find these here. (PS I bought these!)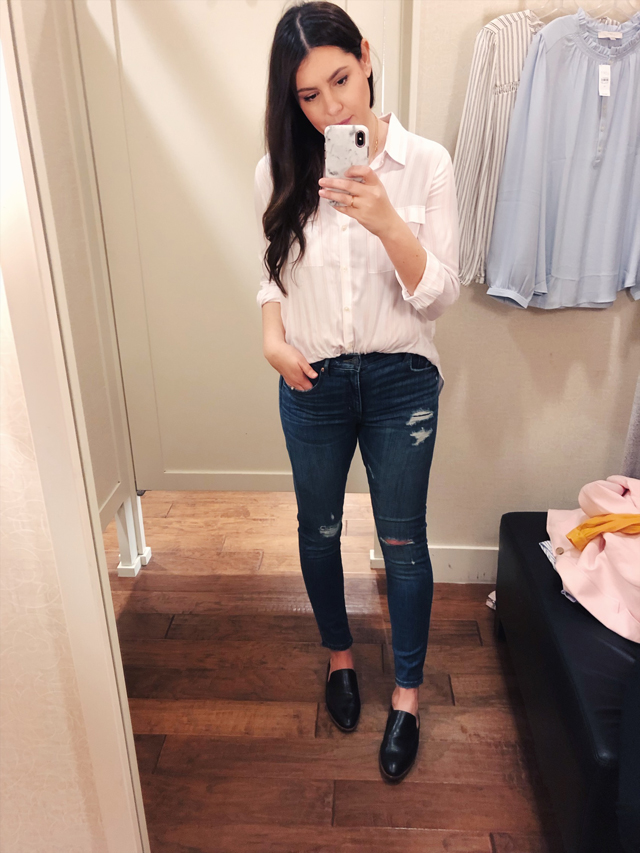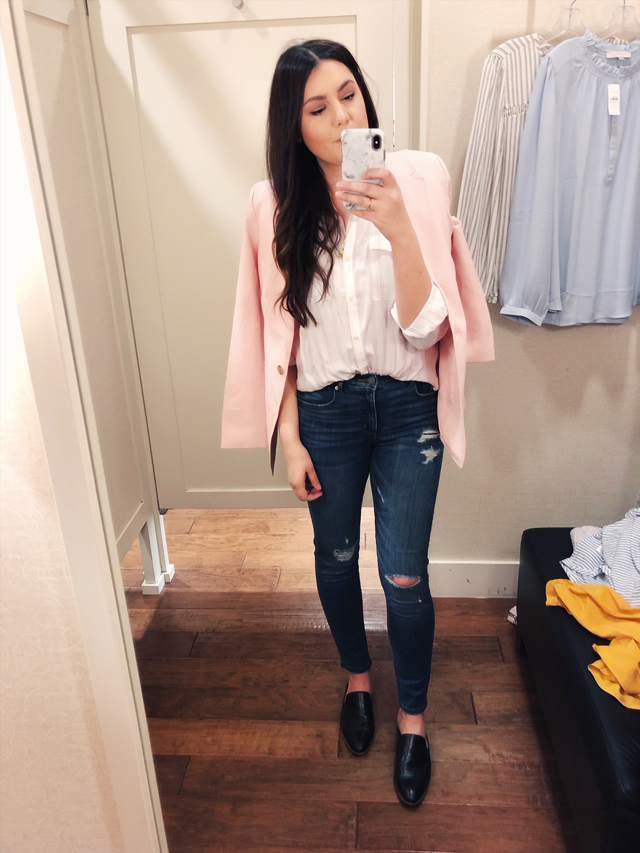 This striped button down was shown tied up at the hem in the store and it was so cute on the hanger. I couldn't get it tied quite right on me and it was a wrinkly mess after messing with it so much, so I just tucked it in like I do. I was pleasantly surprised that it wasn't just made to be a tied shirt, that it can go either way. (Some times when shirts are shown as tied, they are only meant to be worn one way.) It's true to size, but if you want it to be slouchier I would size up. I am in the medium. You can find this shirt here!
Bonus: it looks amazing with the blazer!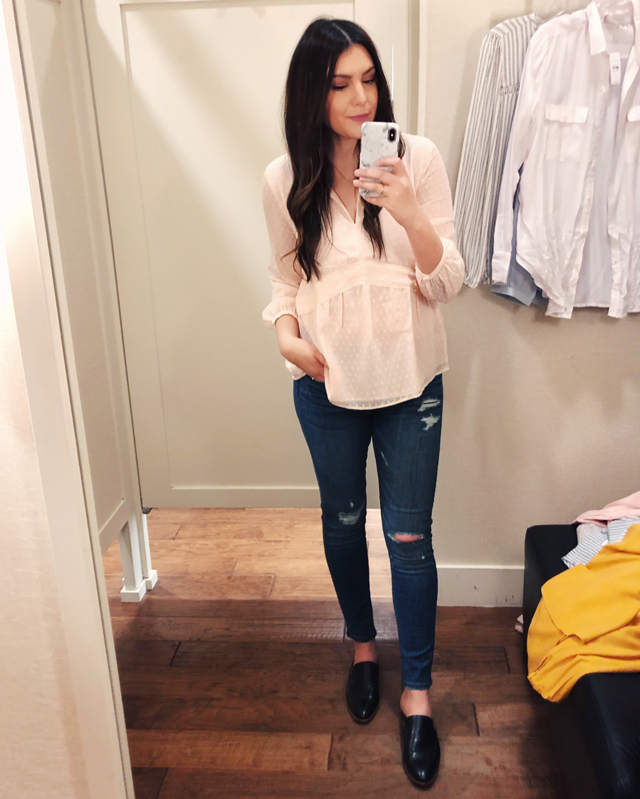 These next two shirts might just be the shirts that got away. This is a baby doll top with a swiss dot fabric in a light light pink. It's lined so I didn't need a camisole under it as well. I walked away from this top but I'm kind of kicking myself about it now! I am in the medium, I found it fit but is a bit loose. Size down for a closer fit.
You can find this blouse here!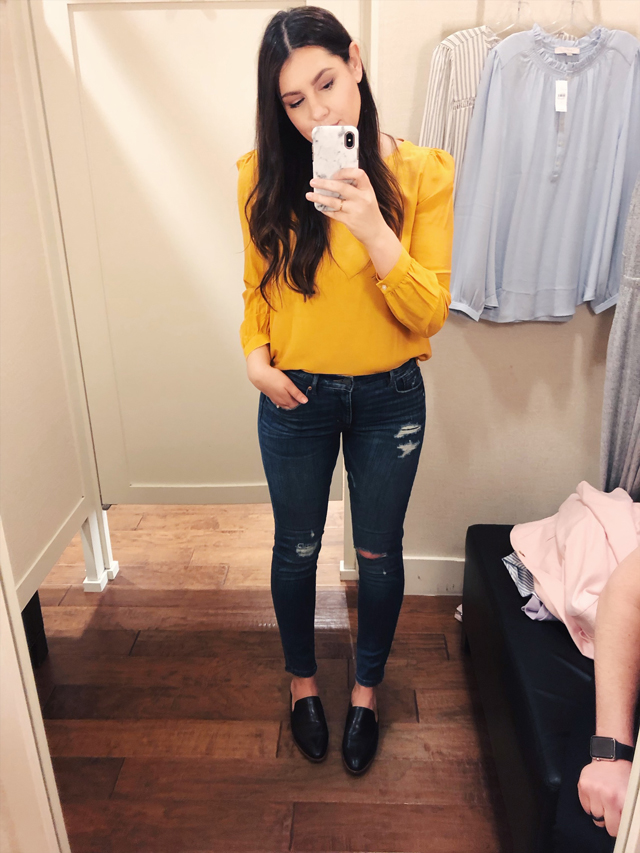 (lol to Bryan's arm.)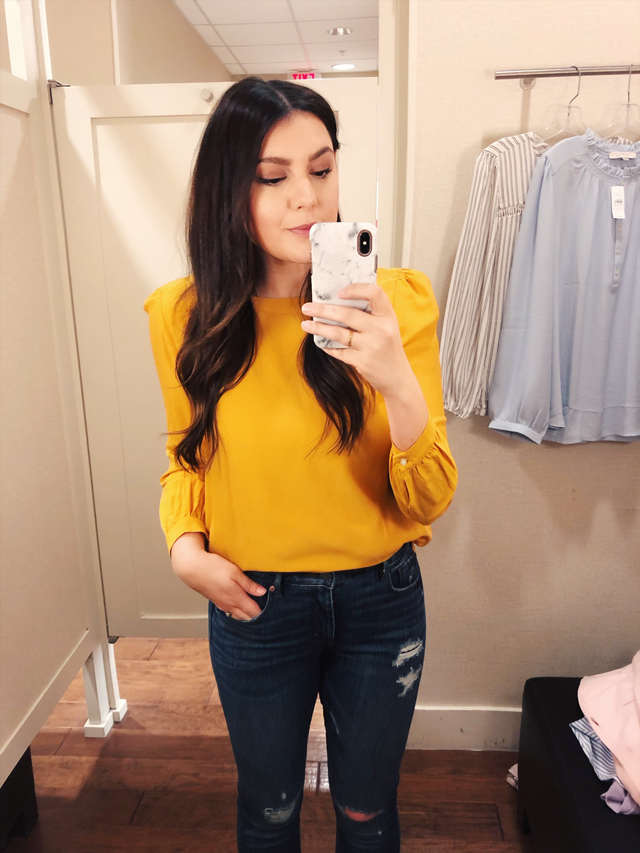 I loved this top and especially the fit with the puff shoulders. The yellow color is so pretty and an easy color to pair with most of my denim but I just couldn't get fall out of my head with this hue. I love yellow and now I'm kicking myself for not picking this up because it's such a versatile body style. I think had it been in white or a pale pink I would have been all over it. What are your thoughts on yellow for spring? Yes? Or is it more of a fall hue? Which leads me to my next purchase…
PS: Find this yellow blouse here!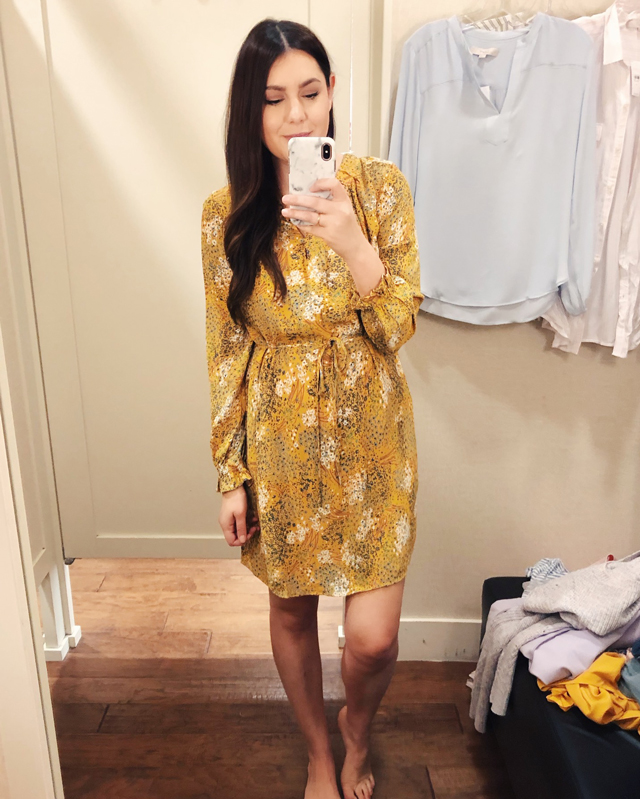 How lovely is this dress? So after asking your thoughts, I'm obviously very into yellow for spring. This is the most LOFT dress silhouette, no? It's a tunic like fit with a tie waist. if it's hard to tell from this photo. I am in the medium and it fits great! I would defiitely size down if you're in between sizes. You can find this dress here.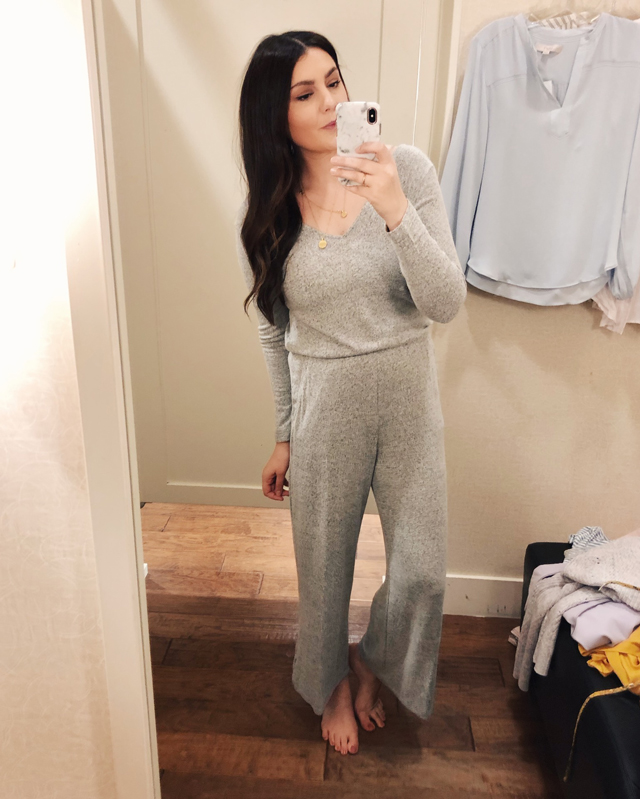 And last but certainly not least, the fancy sweatshirt jumpsuit you've ever seen. It's a french terry / brushed knit soft soft soft fabric and it's fabulous. I did end up buying this but I truly only have intentions of wearing it around my house looking fabulous. Although it's definitely not just loungewear, as this would be adorable with white sneakers and a denim jacket thrown on top. This is LOU & GREY brand found here! ( I got 40% off of it in store though! Not sure if this is true for online as well!)
The other top I found online that I didn't see in store which caught my eye was this puff sleeve chambray! Isn't it adorable??? (Apparently adorable was my theme word through this post.) You can find the whole sale and use XOXO on full price items for 40% here.