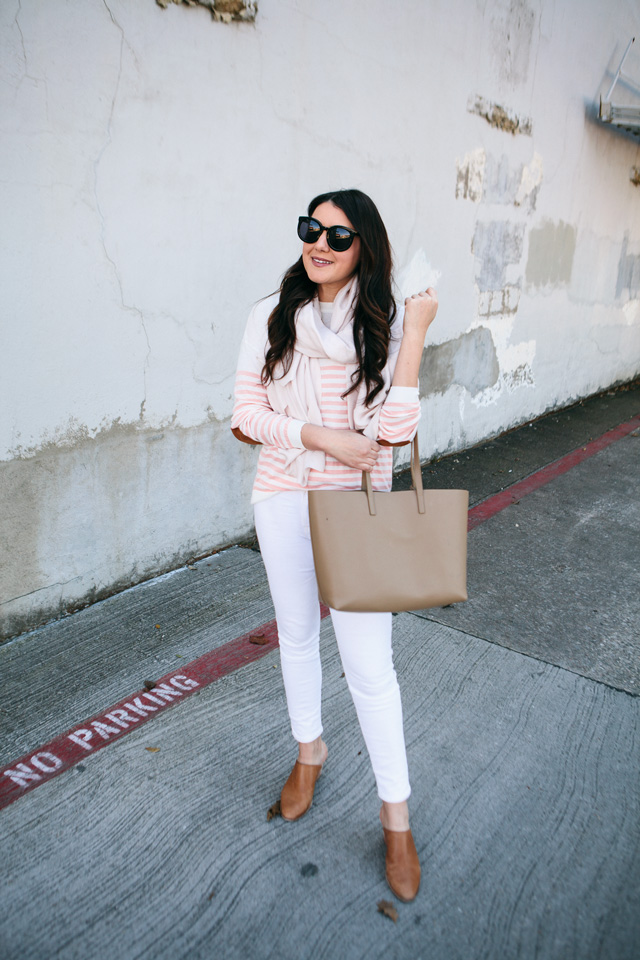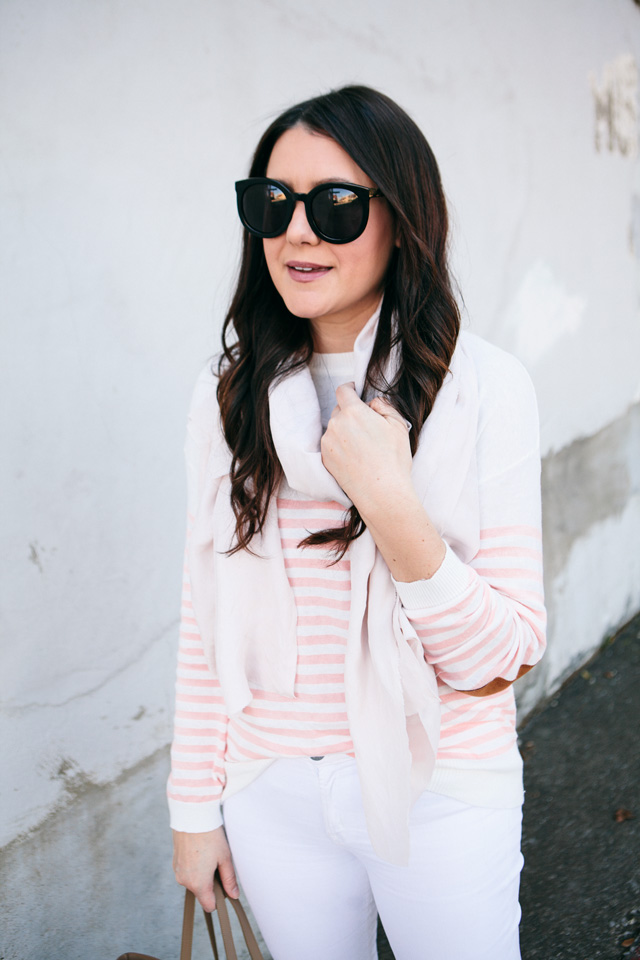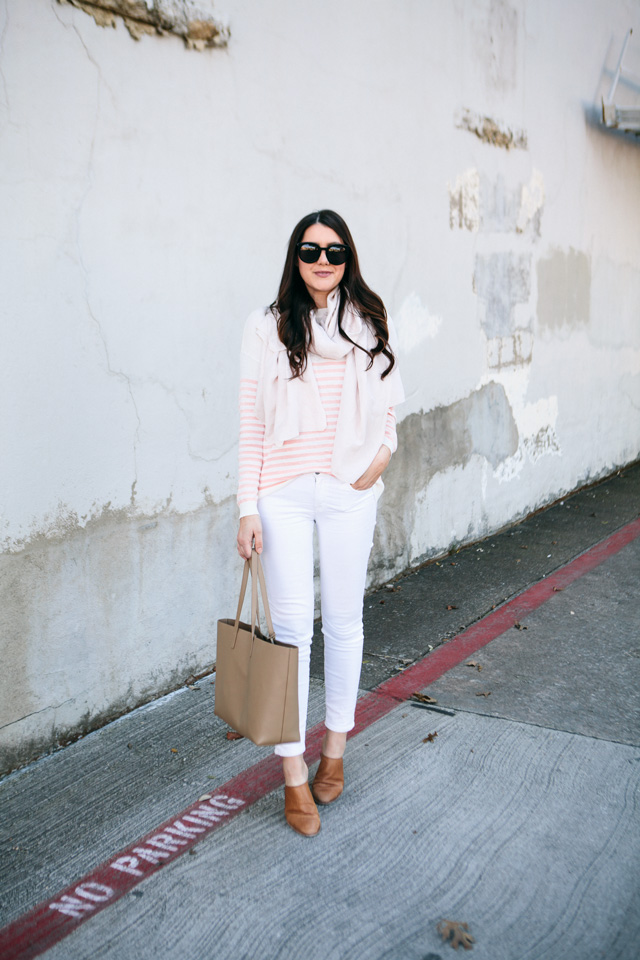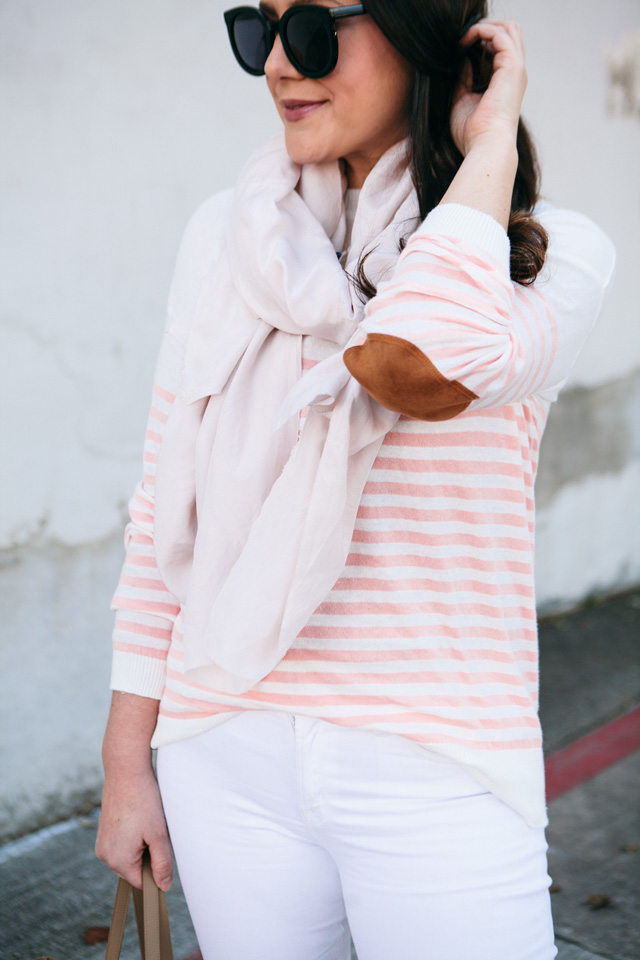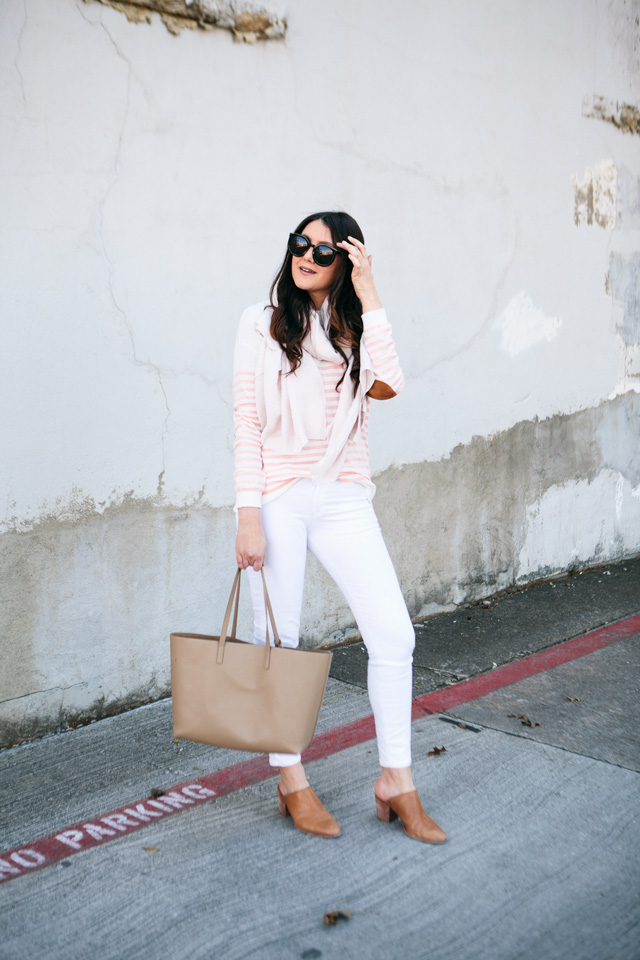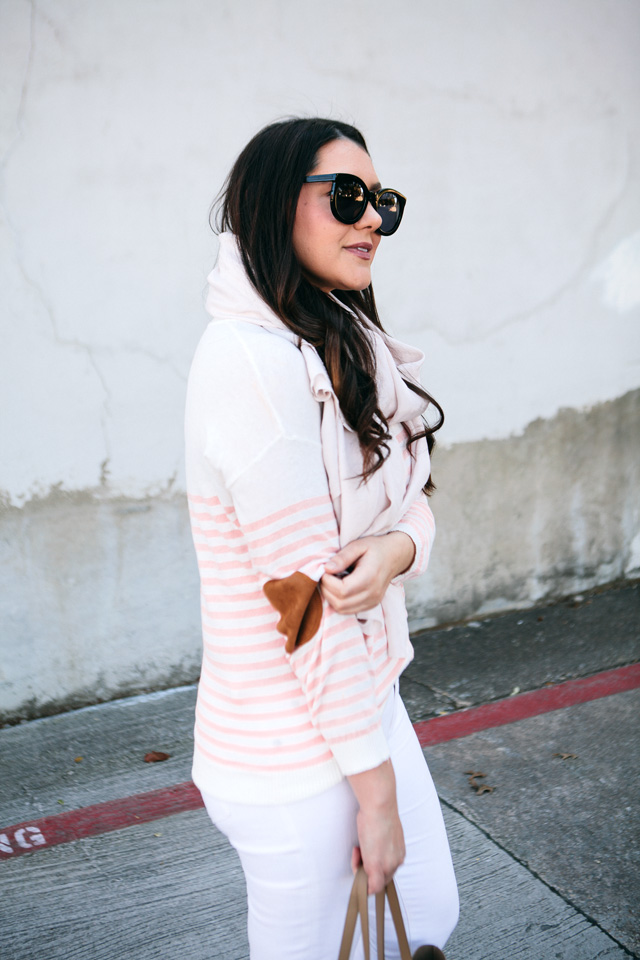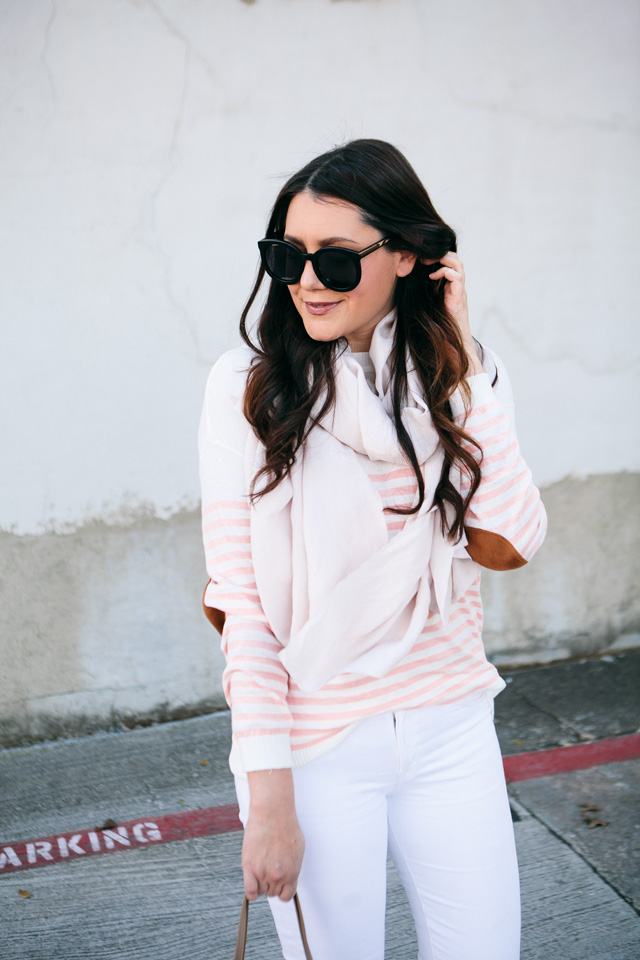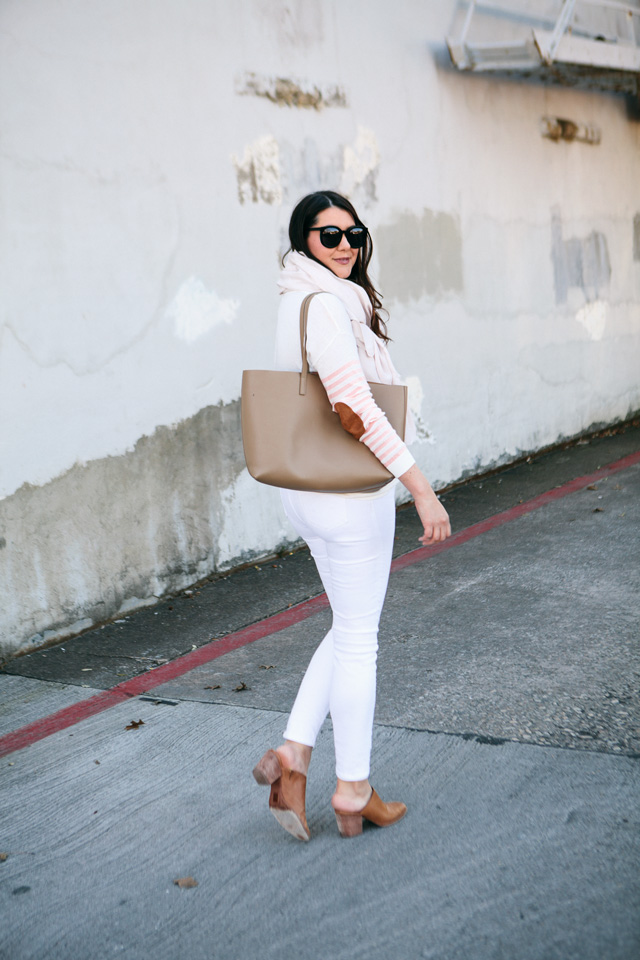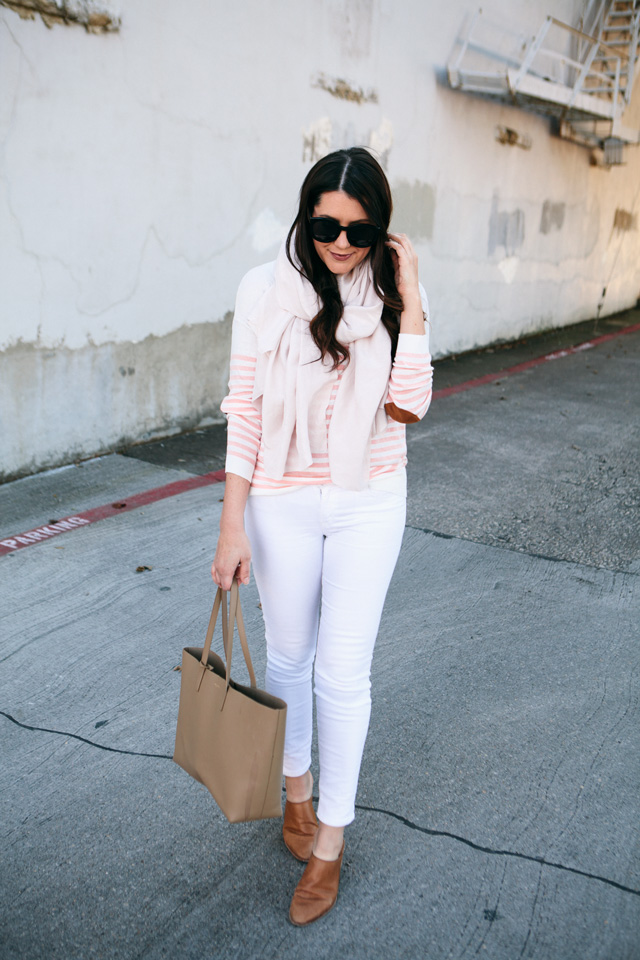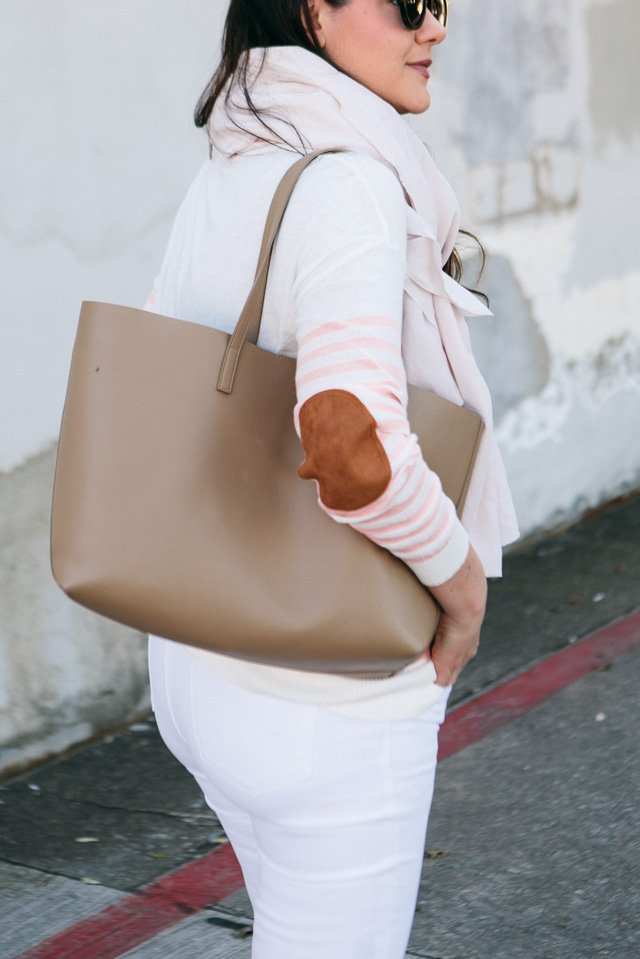 With March just a few days away, we are officially in the in-between. It's not quite spring and winter has overstayed her welcome by a lot. I've had the door open for her to go for a few weeks now, even though that's preemptive of me. But it's been grey and dreary here for far too long and I need some sunshine. Since sunshine won't come by way of the sky, I find myself finding brighter and lighter pieces in my closet to pull out. I've been loving white denim lately too which is weird for me. Granted, I love white denim but I've not reached for it as I have lately. The white jeans against the gloomy light out just make me feel a little bit brighter. Plus this sweater is a spring darling in the best way — how many ways could I pose up there so you could see the elbow patches? LOL. I hope you envision me saying to Bryan 'Get the elbow patches' to him over and over in a bossy way. 😉
I thought of a few tips for dressing in what I think is one of the most difficult times to get inspired: the In-Between. We aren't finished with winter and it's not quite spring, but Lord help me if I have to put on another drab sweater again.
Find the Light:
Go for lighter pieces in your closet, i.e. white denim, to pair with the weather appropriate sweaters we are all ready to toss out. Or even a pair of light shoes, like these white mules I picked up. Pair those white mules with a darker outfit and BOOM you've got a little bit of a brighter look.
Find New Hues:
I like to start bringing in spring colors early, like this striped sweater in a pink-peach hue. I'm so drawn to light pinks and blues and lately lavender for spring, it's an easy transition especially if you find these hues in sweaters or layering pieces. I am a true believer in spring sweaters that can work through the first few days of summer. So picking up a few light colored or bright colored sweaters for spring is a great idea that works through many seasons and many more months. Mixing them with white jeans? An even better idea. But working away from the greys, browns and blacks of winter can really help pick up your mood during these last days of grey.
Layer Up:
Since it's still kind of cold here a few layers are still needed here or there. Outside of a jacket or coat, this scarf from a few years back has been working its angles lately. I've thrown it on over a couple of different sweaters and it instantly feels like spring but with more coverage. (If you are not a whiney Texan like me who hates winter and live up North and are still wearing a coat most days, brighten it up with a colorful scarf! Also, God bless you. I don't know how you do it.) Scarves are always a classic update to any outfit, so I like to keep a few basic colors on hand as well as a few bright hues, too. This light pink silk one (similar here!) has made it through several closet clean-outs because the color is so workable. I've linked some pretty spring ones below!
New Neutrals:
For handbags or shoes, I tend to lean more towards the new neutrals of spring: beige replaces grey, navy replaces black, a light tan replaces cognac. Switching up a handbag to a lighter hue can instantly make an outfit feel springier, or lighter. I love this tote from Kate Spade right now (I bought it in Navy! Just itching with excitement for it to come in!) Or this tan colored tote from Rebecca Minkoff. Both perfect neutrals for spring.