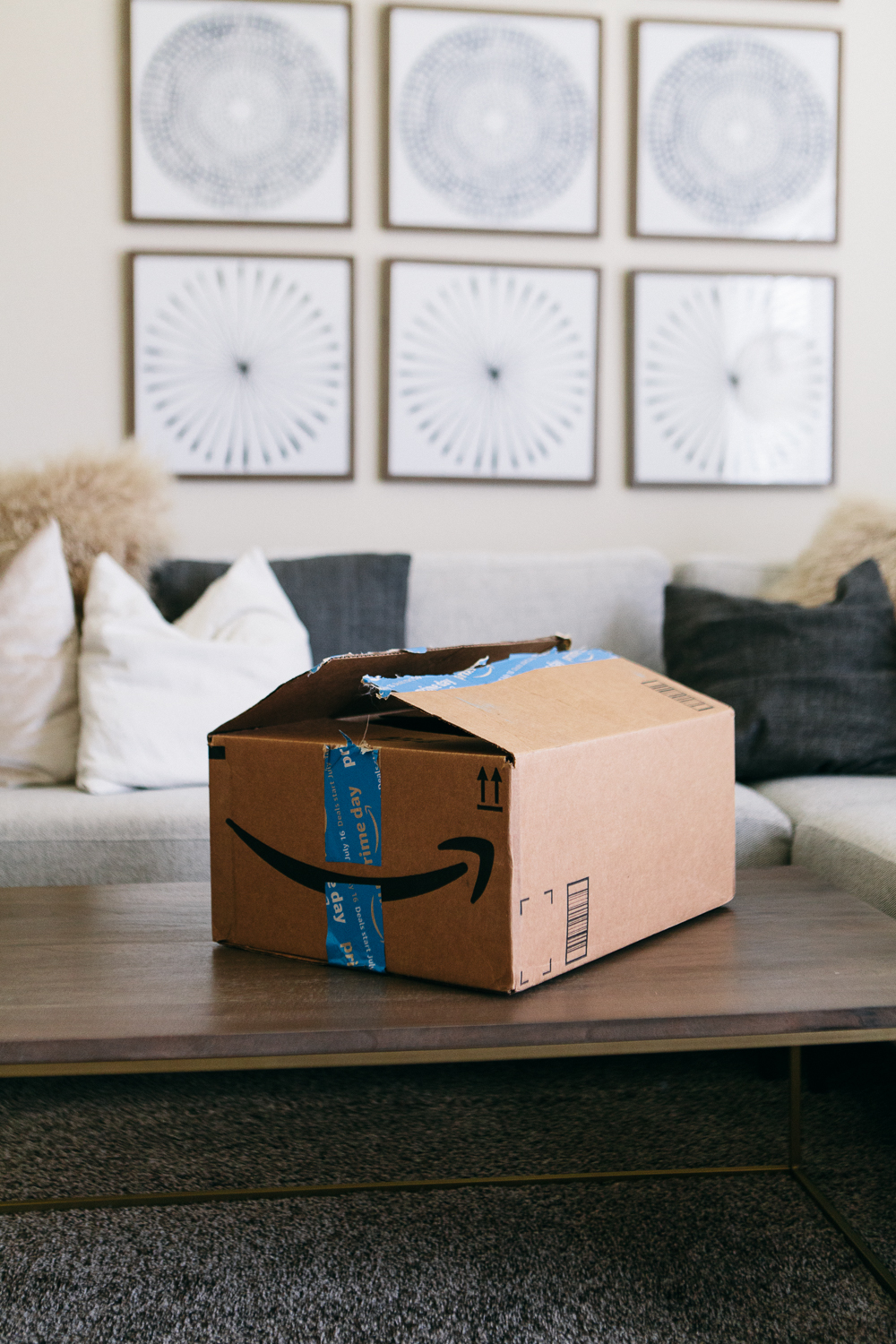 Happy Amazon Prime Day! The day where things you didn't know you wanted or needed are on sale and then some. Seriously though — we don't know what will be on sale until 3 pm ET so since I can't do a full sale roundup I thought I'd share a few things that I have bought and loved from Amazon. And by a few things, I mean a solid 15 items. I might abuse that Amazon Prime delivery privilege a little too hard.
Here are all of my favorite items I've ever purchased from Amazon (sans this maxi dress)! I've listed them below with a little review of each if you're interested! But if you just want to shop, I completely understand! I present my top 15 without commentary below. And WITH commentary below that. 😉
I'll be honest — I am terrible at opening most packaged items but wine bottles are my biggest nemesis. I was even a waitress in college and never got that skill down. (True story: I was struggling with a bottle so hard at a table one time that a patron offered to open HIS OWN BOTTLE for fear that I would break the bottle. How I didn't get fired from that job, I'll never know.) So when I found this little lifesaver, I was THRILLED. Someone who has broken multiple wine corks while still corked in the bottle, I can use this wine opener with zero effort. It's like such little effort that at first, it will freak you out at first. You just place it on the cork, hit the down button and that's literally it. It makes drinking wine possibly too easy.
If I had to tell you to buy one thing from the rest of your life from Amazon, it would be this wine opener. I mean, assuming you drink wine. If you do not drink wine, then I would not recommend buying this wine bottle opener. 😉
I ended up having the nesting bug everyone says you get while you are pregnant AFTER Gemma came along. And I ended up bulk buying these acrylic organizers and I use them for everything. I put them in our pantry for her baby food pouches and our packaged foods, I use them to organize her bottles and bibs in our cabinets, I use them in my bathroom to hold my makeup etc. I love that they are clear; it just makes everything look so much cleaner. I also bought this lazy susan initially for her baby food pouches but ended up using it on my counter for all of my beauty products.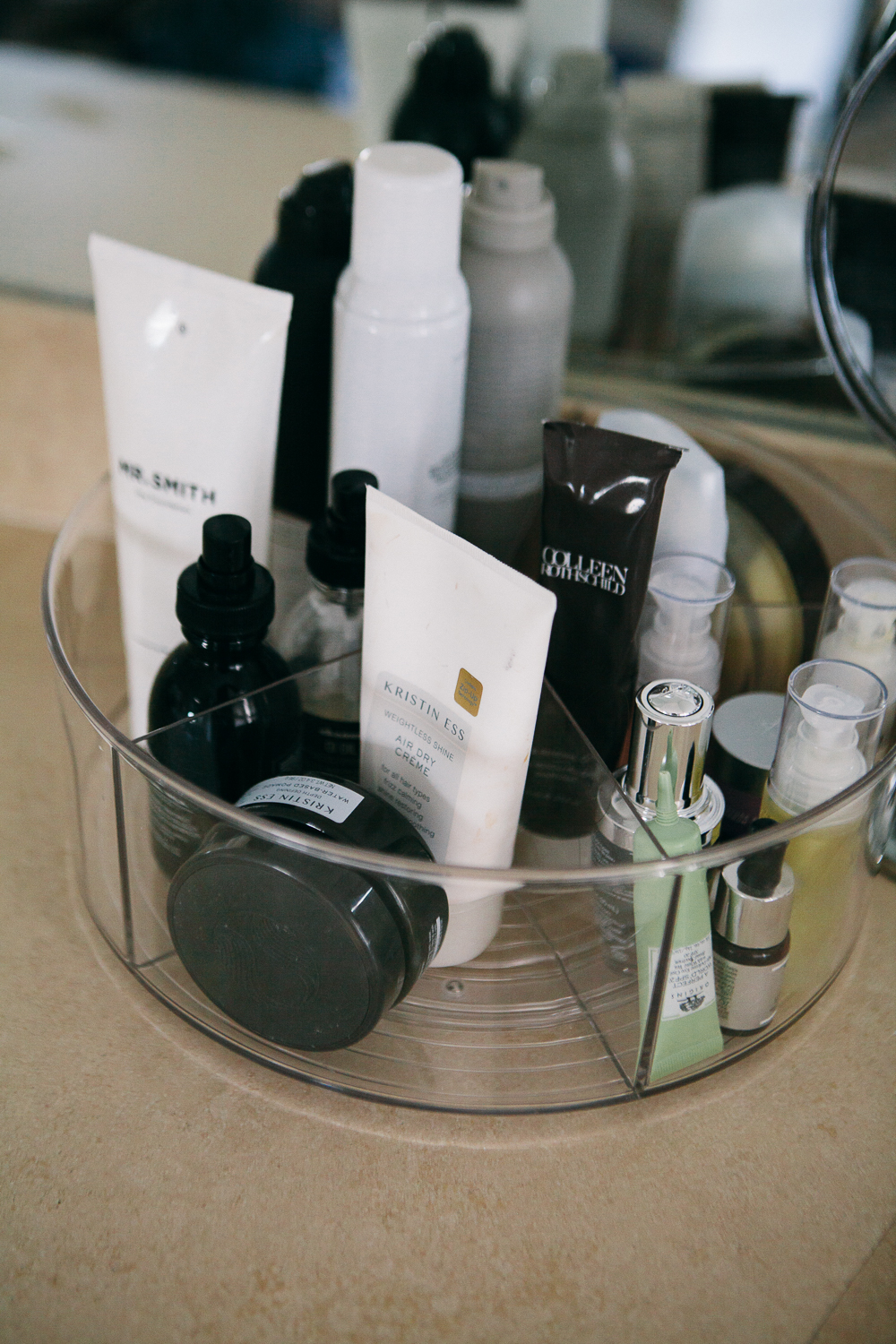 I hate when people leave their beauty products or makeup out on the bathroom counter. I HATE IT SO MUCH. I think it looks so junky. And guess what? I AM THAT PERSON. I am the person who leaves all of her makeup strewn about every single day. So since I realized I leave my products out anyways so I might as well have it organized. So I use the lazy susan for all of my products I use weekly. It works perfectly and looks so nice and neat. So if you too like to keep your products out on your bathroom cabinet, you are my person.
You can find the mDesign acrylic organizers here!
You can find the mDesign acrylic lazy susan here!
We basically use these all summer long because it is hot AF here and there is nothing worse than a too warm glass of red wine or rosé  They are easy to wash and they keep your wine at whatever temperature you started at. Perfect for summer!
Remember when I wrote about this guy on my Father's Day gift guide? No? That's okay I understand. But I took a chance on it for Bryan and he LOVES it. He can charge his iPhone, his Apple Watch and if he had them his Airpods. It's a really nice buy for under $30.
Fun fact: Ever since my mid-20s, I can't sleep unless I have complete darkness at all times! Being this high maintenance is exhausting, literally, because if there is even the tiniest bit of light I am wide awake. So I prefer molded sleep masks to keep as much light out as possible. I also need a lot of them because I lose them in our house or while traveling. Again, being this high maintenance is exhausting. I love this trio pack and the price cannot be beaten!
You can find this set of Sleep Masks here!
Remember when I said I'm terrible at opening packages? I'm also not to be trusted with sharp knives or razor blades. So when I found this ceramic pen cutter, it was not necessarily life changing but everyone can rest easy that I do not have a knife out every time we receive a box to open. So this little pen isn't sharp to the touch like a knife or razor opener, but it cuts through boxes seamlessly. Safety first around here!
I love baths and when I was pregnant I super loved baths because my back was always aching. But I felt like the water wasn't covering my big baby tummy and so I went to find a solution and came up with this handy-dandy tub cover! It covers the overflow drain so you can fill your bathtub a little more. I don't go ALL the way by any means but it bought me another inch of water and that was just lovely as a pregnant lady. Best $10 I've ever spent.
Little known fact — I love to bake. I was needing some new baking sheets and when I found some Amazon suggested these go along with them and I thought why not? After reading the reviews. Well, I am so glad I did! I was using parchment paper before and now I'm 100% converted to these silicone baking mats. They are A BREEZE to clean up (you can put them in the dishwahser, but I find hand washing is just as easy) and I feel like my cookies bake more evenly as well.
Technically this is a desk fan but I read enough reviews to realize it works perfectly as a stroller fan! It gets so hot so quickly here and a little bit more air is needed to cool miss Gemma in her stroller. This one runs on batteries and works perfectly for her stroller and car seat!
I've posted about this before but when we travel, I love having a portable steamer with me when we travel! This one is tiny, travels well and holds up for years! I'd suggest this one for mainly travel instead of everyday use, I'd go for a bigger one if you are looking for an everyday type of use!
We have an area in our kitchen that things just get dumped; sunglasses, keys, phones, electronics, etc. It just kind of happened over and over I just accepted that this is where we leave our things. I have a basket for our things and then I wisened up and found this USB Port Hub for us to charge our headphones, phones, iPads, etc. while we leave them there! It's so nice to just leave, plugin and when you are ready to leave again everything is charged!
I am going to be honest — I can not believe I am writing about the Squatty Potty on the blog. But here we are. I have a feeling this will be on an Amazon Prime Day deal, but I could be wrong. I am just going to make this short and sweet — this contraption is life-changing. I'll let you come to your own conclusions.
If you are anything like us, we are constantly needing longer phone charging cords that the ones that come with phones. I bought these a while ago and we use them all the time! They also work with the USB port too! (I prefer to use a shorter USB cord for the hub port just to keep things tidy.)
Technically I bought this for Bryan — not to shame him but he gets build up on his scalp and this really helps get his scalp clean and there are less dandruff and ingrown hairs. But then I ended up using it as well! I use it to get my hair really clean but also to massage the roots of my hair which can help with hair growth, especially post-partum. I shampoo my hair first then use this little guy to scrub away!
Okay, this is the second thing I'd say to buy if you haven't already. We initially bought this for our little baby doll but now we own one for every room because we can not sleep without it! We use it for Gemma at nap time and bedtime but we also travel with it because B and I love it. The noise is the best I've experienced from a white noise machine. I'm getting sleepy just thinking about this angelic machine.
---
You can find all Amazon Day Deals here!  If you find anything great or have your eye on a must have, let me know in the comments below!