Well, everyone. I have a secret.
And that secret is that I haven't finished Gemma's nursery yet. She's nine months old. My name is Kendi and I'm a procrastinator. This is my story.
Exhibit A: blank, blank walls.
When I was putting Gemma's nursery together last spring, I started with the essentials: crib, chair, changing table and dresser. Then, of course, her bedding essentials….and then I just kind of stopped. It was a mental block for me and while I know this may sound crazy to you, I didn't actually know Gemma yet so it was hard to decorate a room for someone I've never met. I know that sounds crazy but you should have heard some of my other thoughts while pregnant — this one was benign. Now I'm actually glad I waited to finish her nursery until now. My pregnancy brain was right — I'm glad I waited to meet her before we start decorating. My other excuse is that Gemma is nine months old and I feel like we are just now getting the hang of this thing called parenthood. I can focus my attention on other things, like decorating a nursery, now more than I could in her first 6 months. (Those days are still such a blur.) I'm also not as sleep deprived which is a very important part of making a good decision.
And of course, the other reason I'm glad I waited? West Elm and Pottery Barn Kids have collaborated on a kids + babies collection and THIS is my dream come true. Early birds may get the worm, but procrastinators get West Elm.
Don't you worry, lovebirds. I've been stalking this collection since it was released last week. Some of us sleep, others online shop and I've picked out my favorites below!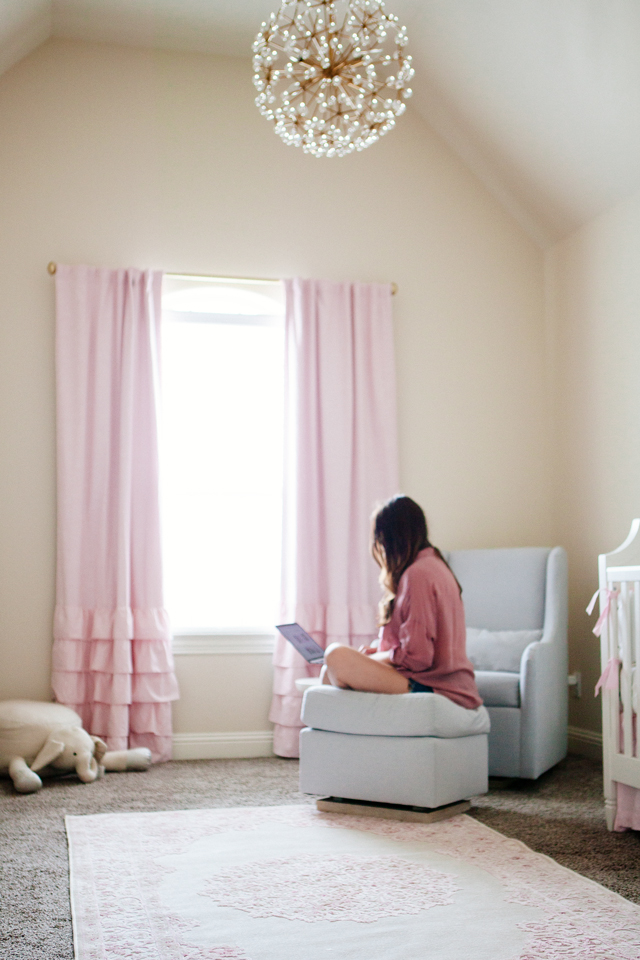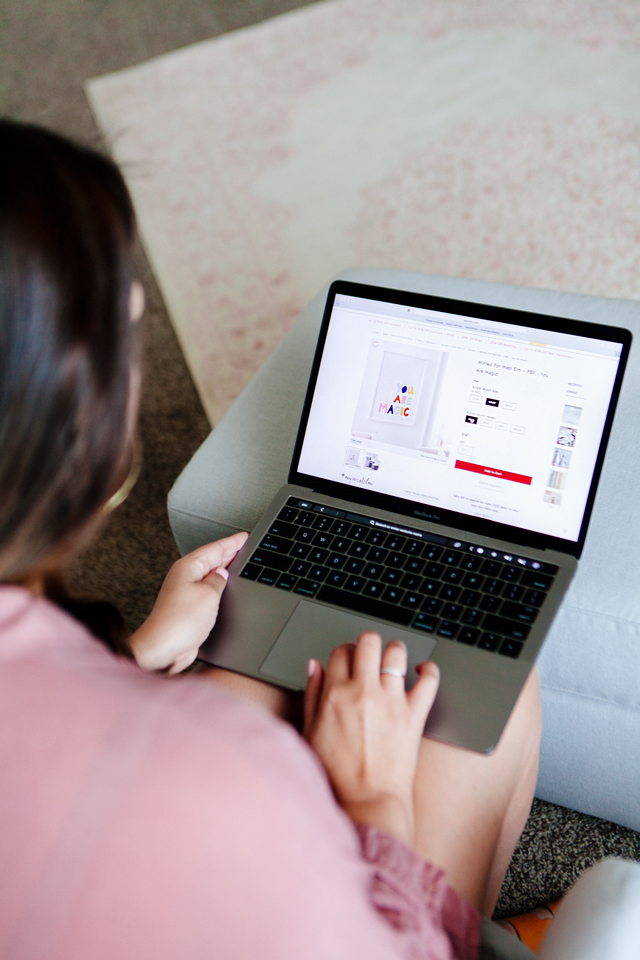 All of my favorite picks from the newest collection are below. Scroll down for tips on how to shop the collection!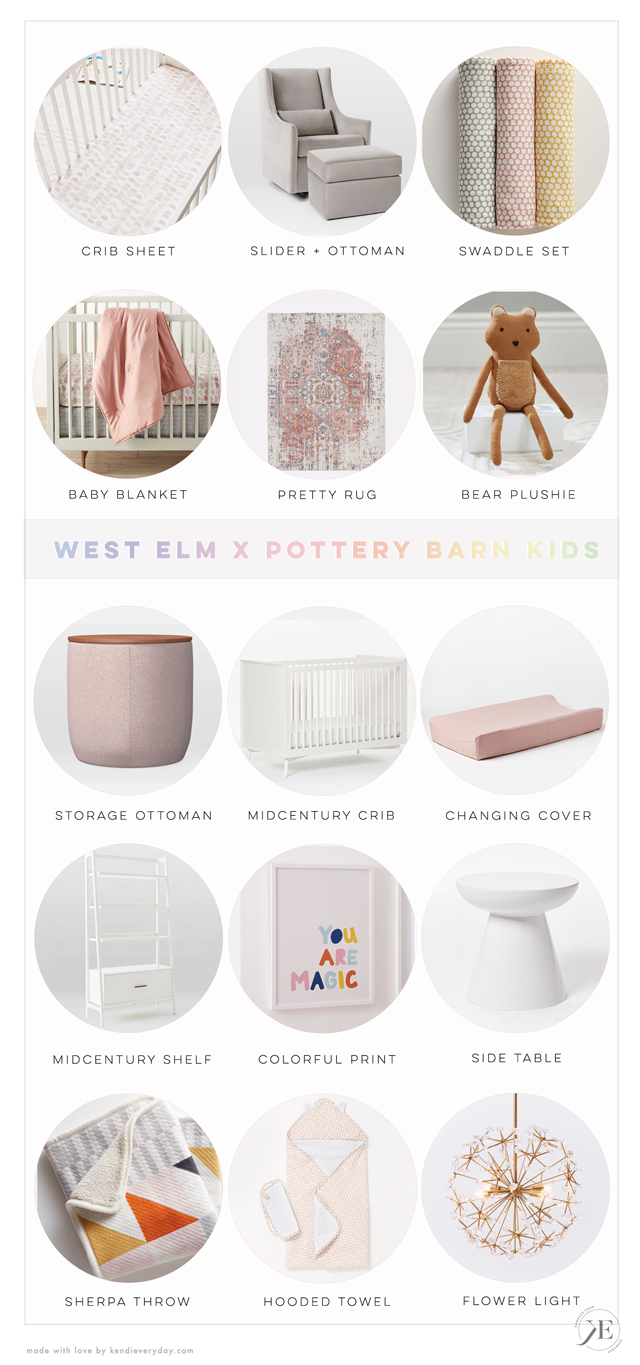 all products listed top to bottom left to right:
---
#1 / mix and match your colors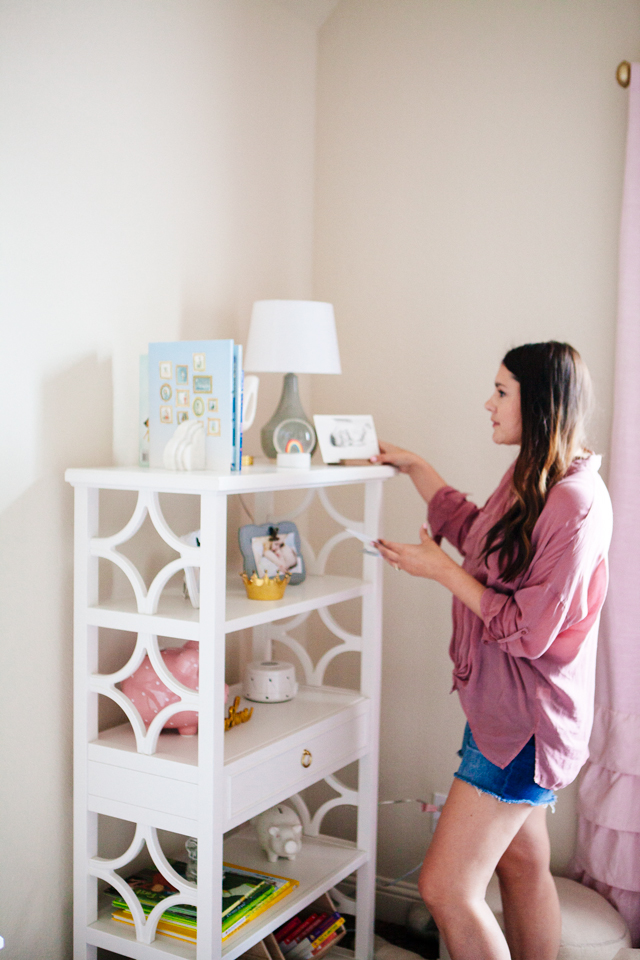 If you choose your primary hue for the nursery, ours is obviously pink, then you can mix and match prints, solids and complementary colors to your heart's desire. West Elm x Pottery Barn Kids collection does a great job of keeping most of the colors interchangeable with each other, so you can find a subtle shade and find their complementary counterparts. For example, I love this pink toddler quilt mixed with either of these crib sheets — this pink half moon or this multi-color sheet. I like that I could switch out a patterned crib sheet but keep the same quilt. Having that one solid color as my primary makes all the difference!
TIP #2 / Buy for more than just a nursery 
See that chandelier? I didn't just buy that for Gemma's nursery but her room. I see her keeping this for MANY years to come because this light works for a baby all the way to adult. Adult seems a little much. Let's say all the way to teen. 😉
A lot of their furniture can be used in different areas of your house but can also grow with your little one. Besides a very essential crib, most of their pieces aren't limited to these few short years which is probably my favorite reason for this collection. This bookcase, this dresser, this chair can be used for years to come. It can grow with your little one.
TIP #3 / bring color in with prints not paint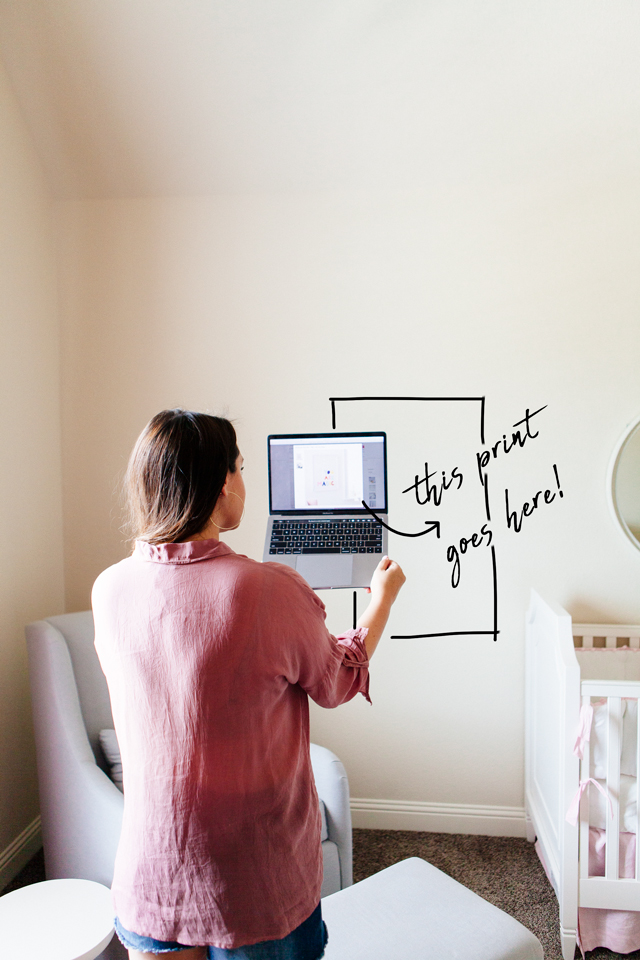 I'm too wishy-washy to commit to a paint color. That's why every single one of our walls is a nice shade of boring. I can not commit. And Gemma's room was no exception. I wanted pink, then it was grey, then it was wallpaper, back to pink. Then I realized maybe I like to add color in other ways! A few colorful prints could do her walls some good. I love this 'You are Magic' print and I love this yellow print as well. They both just bring in a touch of color for her room without committing to a whole can of paint. (Side note: if you're dying to paint but can't because of landlords, they also have removable wallpaper!)
Pillows, quilts or blankets are also an easy way to add a splash of color to an otherwise white room.
Tip #4 / Make a plan
Look at that concentration up there, eh?
I probably should move this tip up closer to the top, but here we are all the way towards the bottom at number 4 — make a plan. I know that sounds extremely logical, but you'd be surprised by how many people go shopping without a list of needs, wants and most importantly — measurements! Measure everything! Make sure before you buy that what you want will fit. If it's a mirror or art piece, tape it out with painters tape on the wall to make sure you like the size. I get click-happy sometimes and I don't' measure and then I get heartbroken when something is too big or small. Map out your baby or kids room as to exactly how you want the furniture to go and find the pieces that fit your room. Don't try to make the room work without a plan, because of spoiler alert — it won't.
Tip #5 / Go for multi-purpose pieces!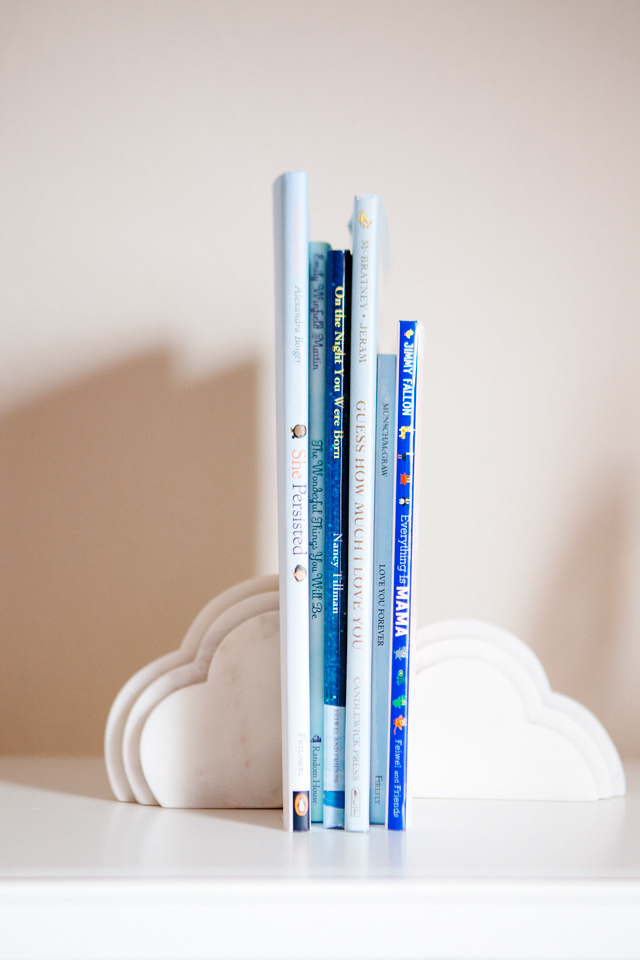 Technically speaking those are bookends (you can find them here!) and they've got about one use — to hold up books. But they can be used for years to come or even in another room of our house. But what I'm really talking about is thinking creatively with pieces of furniture to maximize their use. Like these storage ottomans — basically genius. I'd love two on either side of her dresser, I can keep toys inside and she can climb all over them if she pleases. They can also double as a seat later on and again, even be used elsewhere in the house.
For example, the changing table can be converted to a dresser once you're not using that function anymore. Then it's just a regular dresser and not JUST a piece of baby furniture. Or like this side table, which we use in Gemma's room by her glider, it can be used for years to come.
You can find the FULL collection here online! It's kids + babies and it's amazing — if you didn't pick up on that already. 😉
Side note — not necessarily a tip but you can sign up for their rewards program called The Key and earn rewards without a store credit card! When we bought our couch from there we used this and I ended up being able to get basically free pillows to go on said couch. You can find more on the rewards program here.
Oh — If you are wondering where Gemma was during this shoot…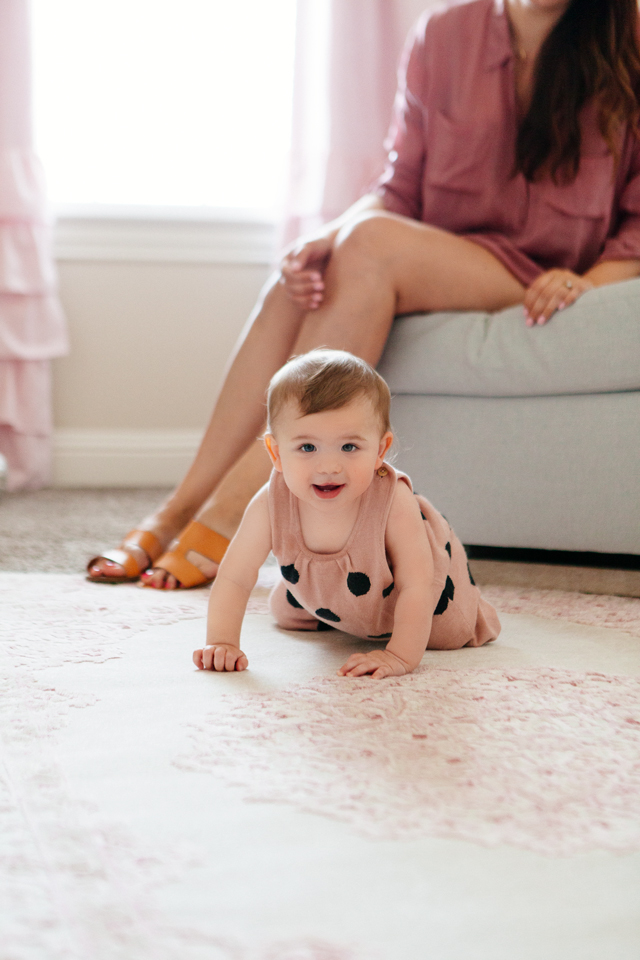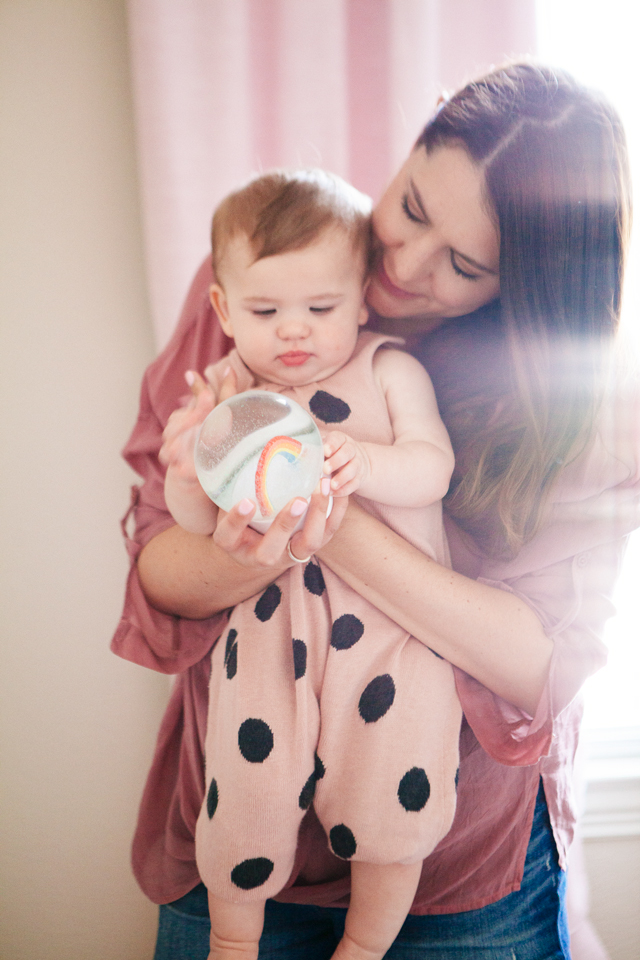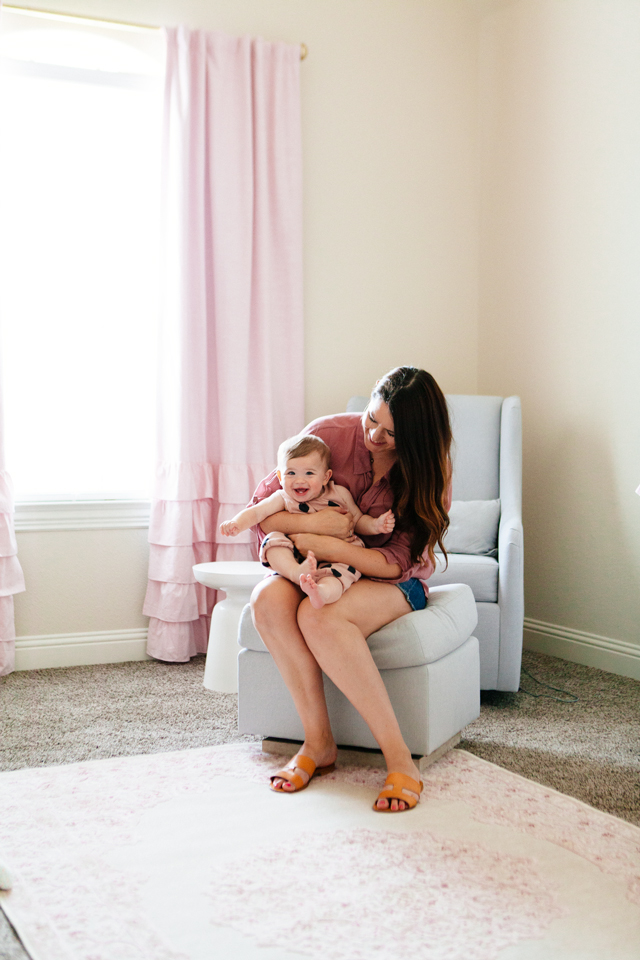 Going everywhere and into everything. We don't even pretend to keep up with her. And it's just the way it should be.
---
*Special thank you to West Elm for sponsoring this post! All thoughts and opinions expressed are my own.