First off, how is it already April?! I swear the months seem to be flying by, which makes me kind of sad because spring is my absolutely-tootly favorite. (Side note: If you aren't adding 'tootly' to the end of 'absolutely', you are for sure not living your best life.) Besides the perfectly sunny spring days with temporary temperatures that don't scorch the life out of us, I also love all the spring fashion. It's a new year with new trends and it's my favorite parade of new products. When looking back on my posts and into my closet, I realized that I have a few products that stand way, way out for this spring. So here are my top 10 purchases I've made this year! (Besides denim, because ya'll know I love denim and that would take up all 10 slots, probably. So denim company excluded for fairness.)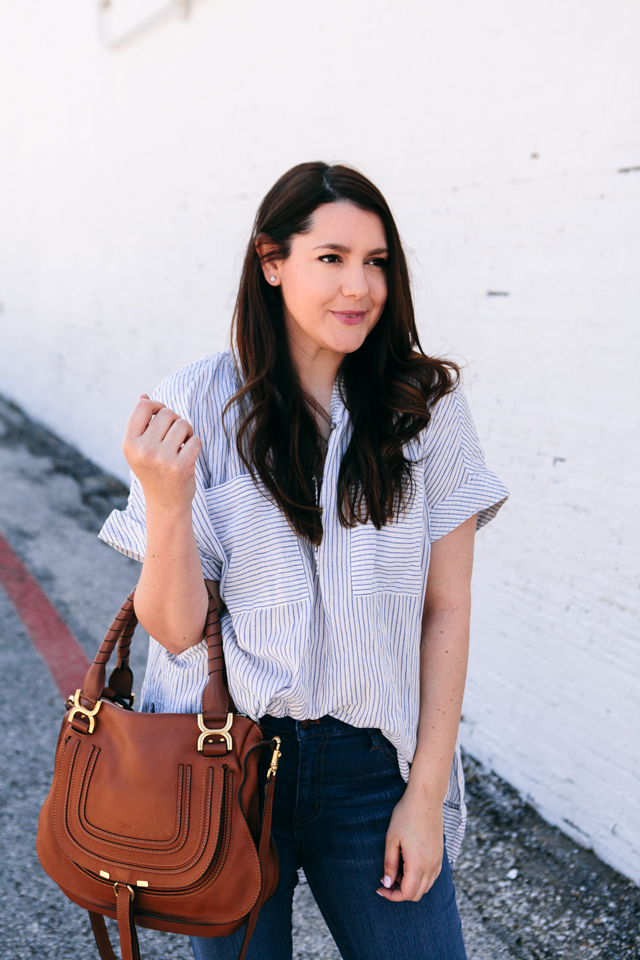 I LOVE this top and it just keeps giving. It's so lightweight and I just love this fit for spring. And by fit, I do mean loose and free. Nothing better than fabric that doesn't touch any part of your body. 😉  You can find this top here and more sizes here.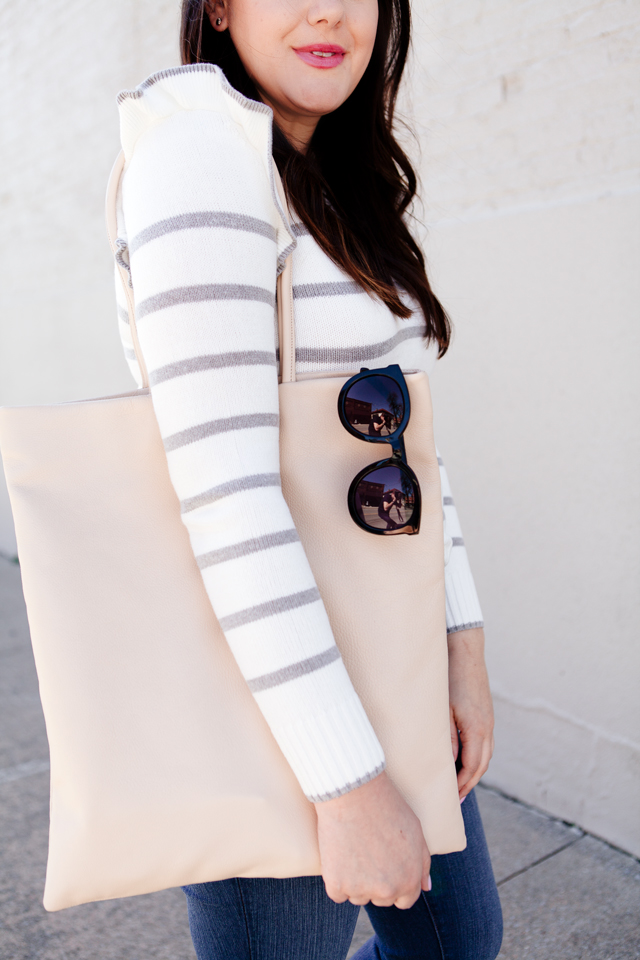 This tote bag is really big, like when I got it I thought 'whoa, this is bigger than I planned for' BUT in the best way possible. I can fit ALL THE THINGS in here. I specifically use it for my laptop et al that working at a coffee shop needs, but when I'm running out the door with Gems, this is the first bag I reach for. The bone color goes with everything and again, I could fit a spare tire in here if need be. You can find this tote here.
Honorable mention to this adorable sweater, though.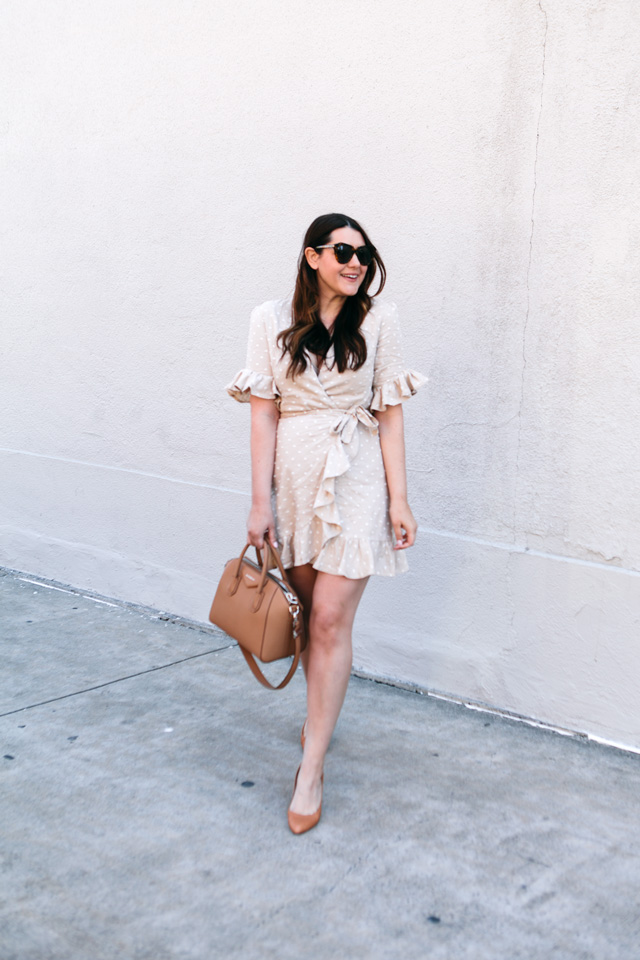 Every once in a while a really, really perfect dress comes along and that is this polka dot dress. It fits true to size and if you are nursing, it's nursing friendly! I suggest adding a camisole underneath for a little bit of extra cleave coverage. But maybe you don't want a camisole and that is just fine, too. You do you, honey. You can find this dress here.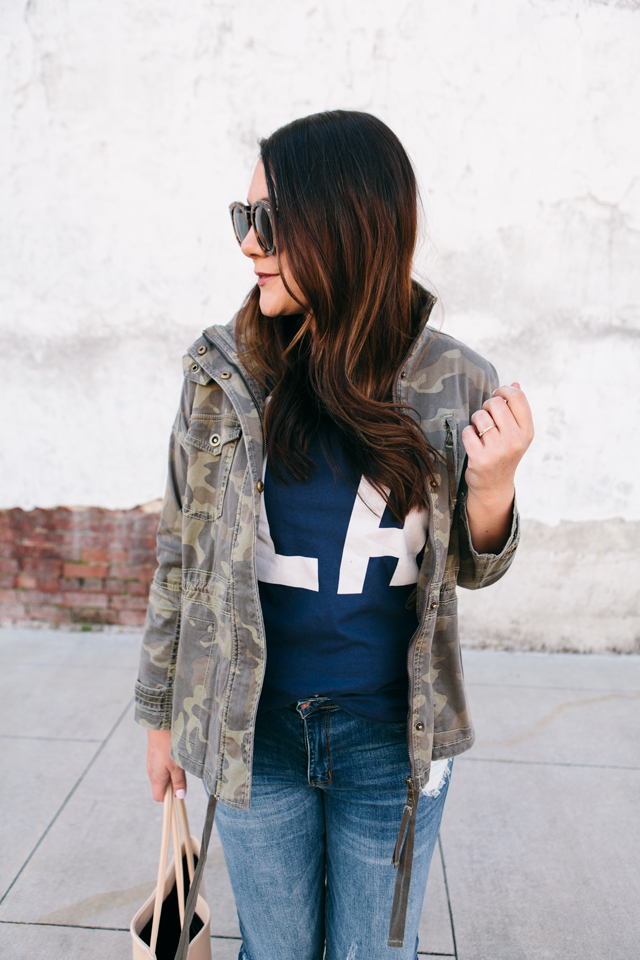 This jacket was one of those unusual purchases for me but I have worn it non-stop. It's a perfect neutral to just toss on when I'm running out the door. Or it looks effortless with yoga pants and a white tee on the weekends. Trust me, I've worn this look one too many times. You can find the jacket here.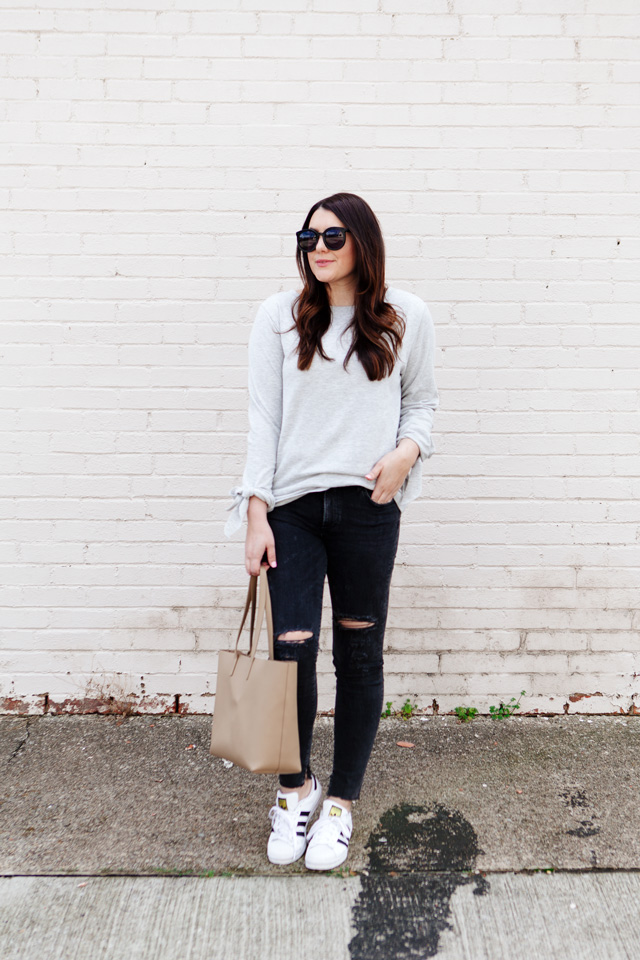 Speaking of weekend staples (or let's be honest some weekdays), this sweatshirt is one of my very, very favorites. Sure it just looks like a normal sweatshirt, but a) it's super soft and b) it has tie sleeves. Therefore that makes it the best sweatshirt ever. You can find this sweatshirt here!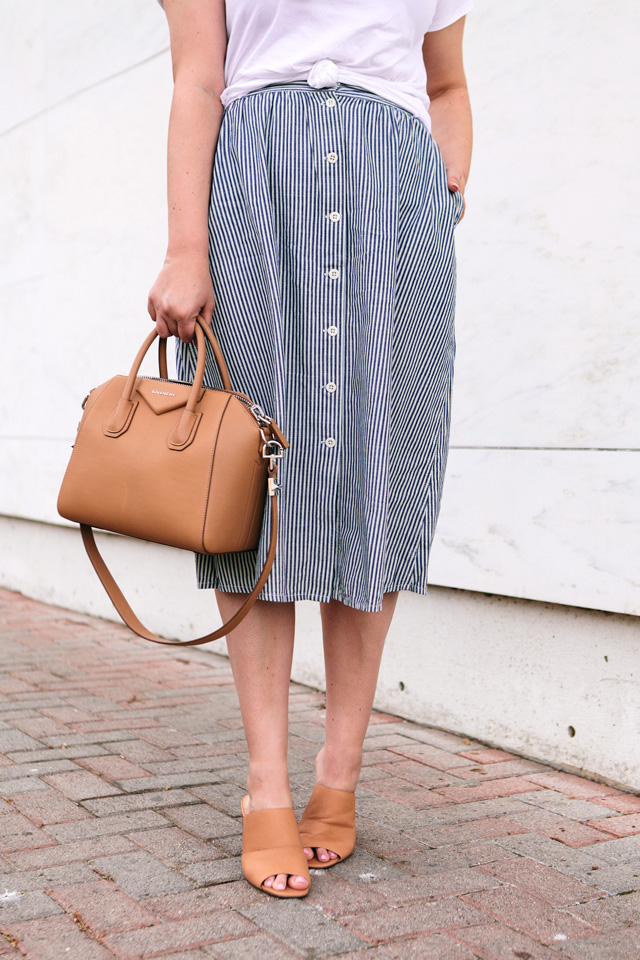 I have basically been living in these mules this week while we are in Austin for a few shoots. AKA next week my whole feed will feature me in these mules, so just be prepared. They are EXACTLY what I was looking for this spring and voila! Here they are. They fit true to size and are very comfortable! You can find them here.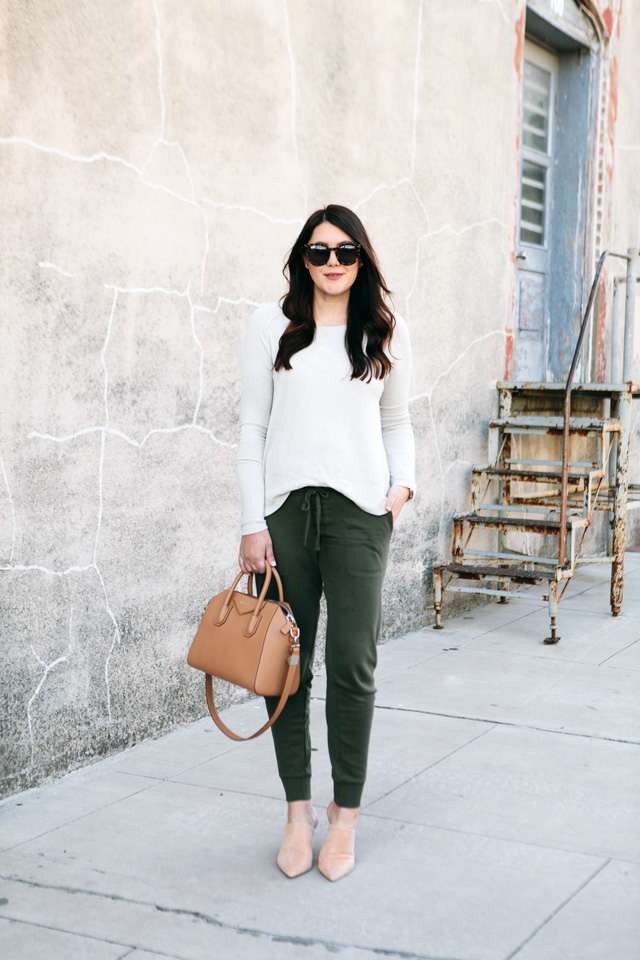 A lot of times I shoot something once and feature it on KE in the best way possible, so with these joggers, I featured it with this super soft top and these heels. The other way that I wear these joggers is with my flats or sneakers, same top or my white Everlance tee. So in other words, not the most internet worthy outfit but definitely weekday worthy. They are some of my favorite pants ever, they are so flattering and I can dress them up or down. You can find them here!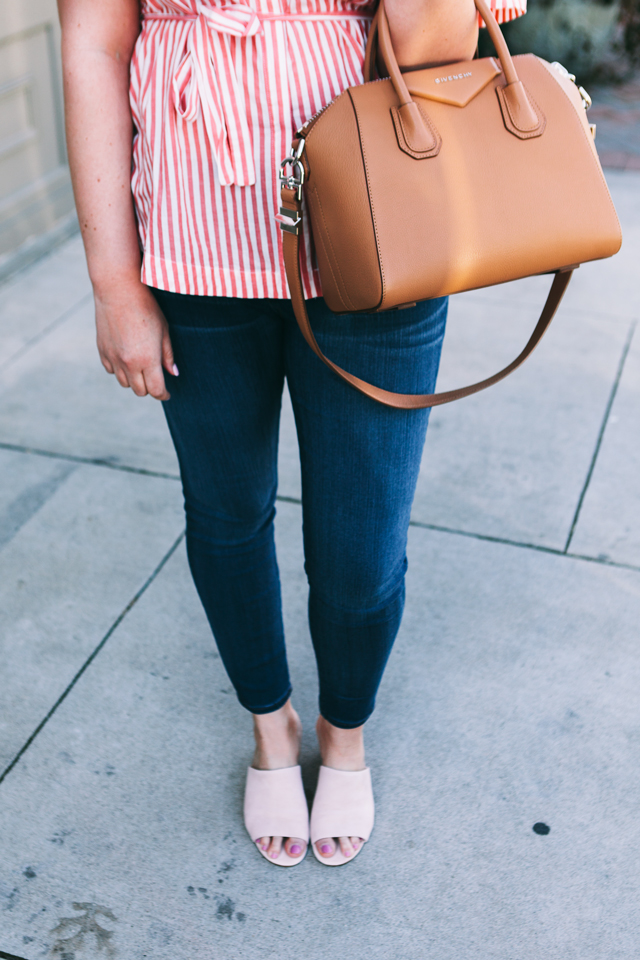 I accidentally ordered these slides in Gemma pink — or I subconciously ordered them — when I meant to get the nude color. Turns out, I'm so glad I got the pink. They are the softest pink and go with everything and they are oh-so-comfy! Can you really ask for more from a pink heel? You can find them here!
Here she is — my very favorite lipstick lately as if you haven't noticed that it is linked in every single post. Charlotte Tilbury Matte Lipstick in Pillow Talk has got to be one of the best pinks out there. It's kind of a moody pink for spring but I love that it's in between a nude and a mauve. Moody pink is my mood for spring by the way. Moody pink is my aesthetic. You can find this lipstick here!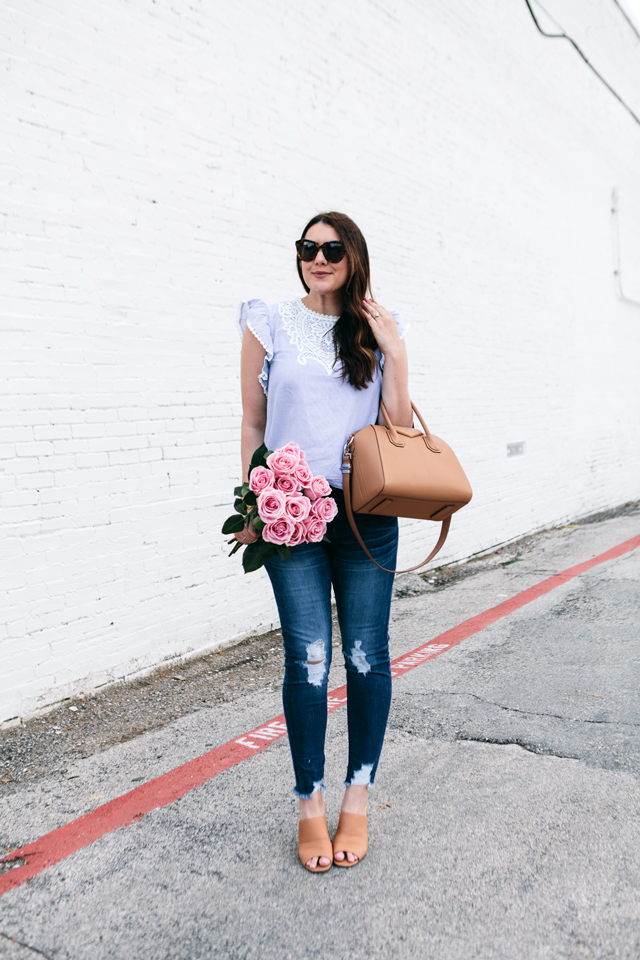 I have never received so many questions as to where I bought this then when I wore this top. It's just so darn springy and I love the flirty little sleeves. Plus it works with dark denim or white denim. That's the rule of spring tops — but does it work with white denim? If it does, it's a go. If it doesn't, then what's it doing here anyway? You can find this top here!
So that's my favorite for spring so far! What have been some of your favorite purchases??