Gemma is 6 months old and I'm answering all the questions you've asked! Let's get started. But first — look at this adorable face. Can you even?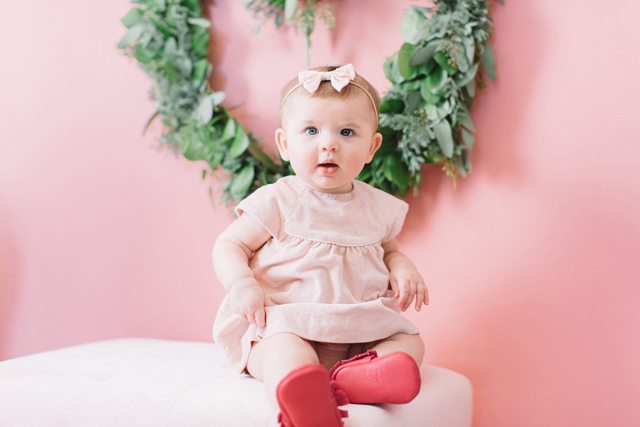 Fourteen is my new favorite number. You see, last year we decided to announce my pregnancy on February 14th, Valentine's Day. Little did I know at that time that exactly 6 months later she would make her arrival into this world on August 14th after 41 very long weeks of pregnancy. Flashback to last November when I was making her 6-month doctor's appointment, the nurse set the appointment on February 14th, exactly on her 6-month mark. It hit me — her half birthday is Valentine's day. If that is not the best holiday to have your half birthday fall on, then I don't know what is.
I wanted to set up her 6-month photos and of course, we had to do Valentine's theme! (Thanks to Cassie Lorree Photography for running with this idea!) She is such a big girl in these photos, sitting up and everything. Makes me tear up just looking at them.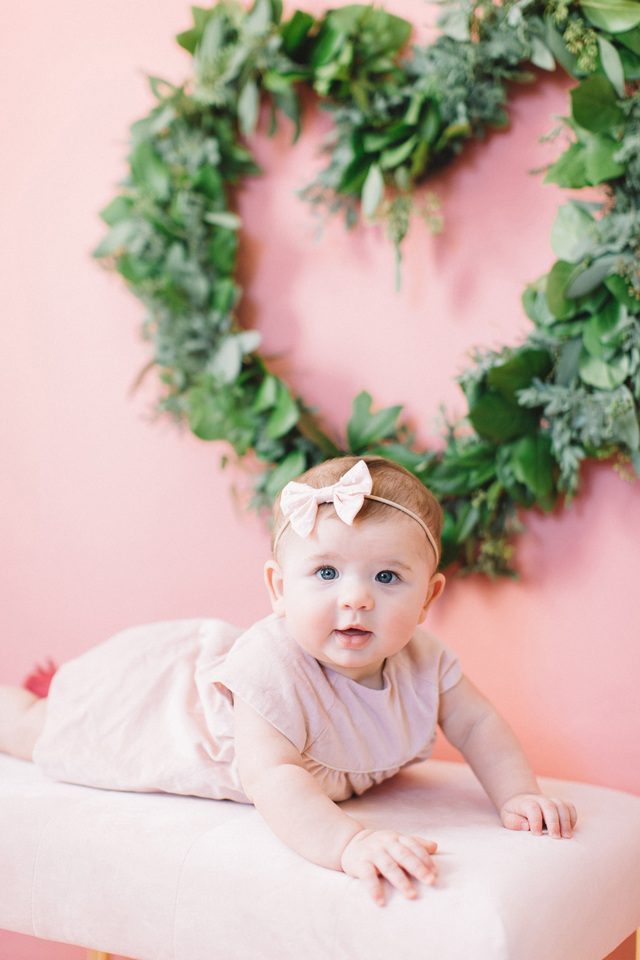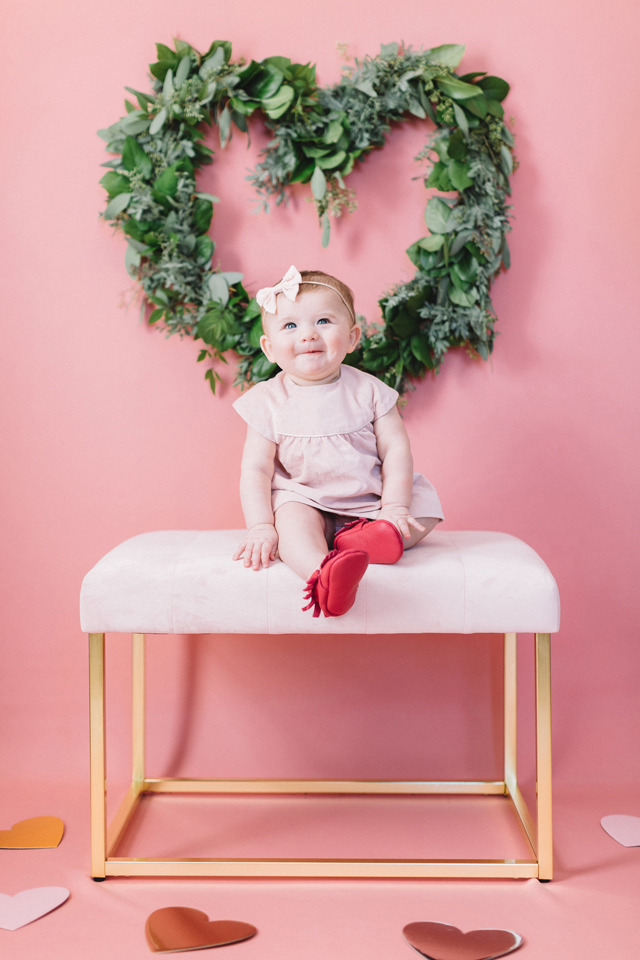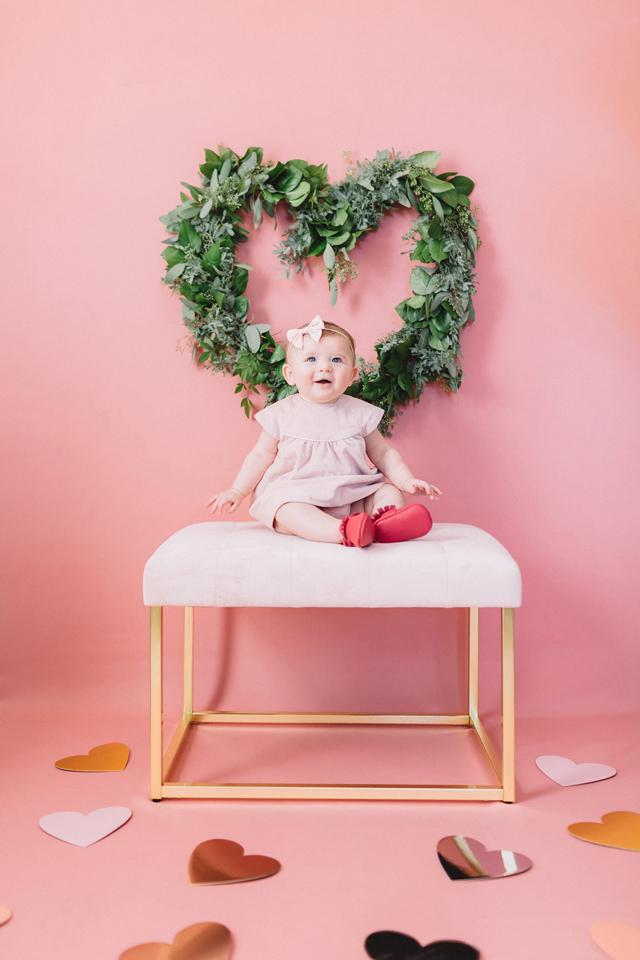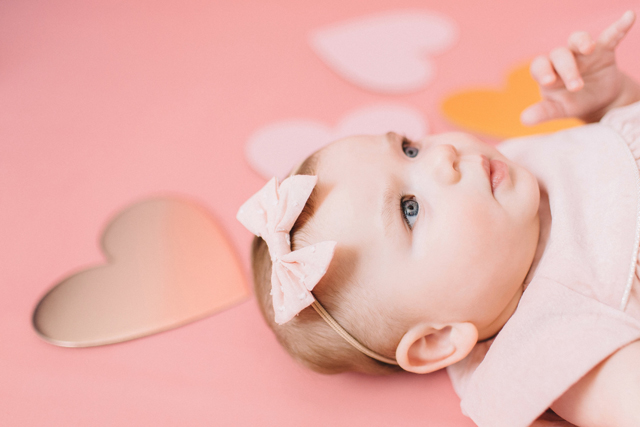 After this photoshoot, I looked at Bryan and said 'thank you for letting me the mom I want to be." AKA THANK YOU FOR LETTING ME BE EXTRA. He just smiled. I think he always knew this is how I was going to be.  I think we all knew this is how I was going to be.
SLEEP
So I went back and read my sleep update at 4 months and you know what? We actually have made progress since then! Sometimes you gotta go back to see that you are moving forward. Gemma has made friends with her crib and her room. It's really her sleep den right now as she doesn't really see it in daylight. (We play in the sunroom where all her toys now live. #thingsIsaidIwouldn'tdoIamdoing) So to her, the room means business and that business is sleep. She takes her naps in her room and she starts her nights off in the crib. She's doing really good! She is moving her naps to be longer and fewer ones during the day. She still feeds around 10 pm and 2 am most nights but besides that 6-month sleep regression where she was awake for like an hour in the middle of the night (GOOD GRIEF) she goes right back to sleep after not much bottle at all. I think before we know it those feedings will go away soon. She still ends up in the bed with me after the last feeding, but I will take half a night in the crib. Remember ABT — always be touching is this girl's motto. But we are all sleeping much better so I will take it!
Oh and thank you for your book recs last time! Always keep them coming!
EAT
Well, well, well. Guess who hated rice cereal? And I mean gagging hate. Look, I tried it and it was gross so I get it. But I've found some oatmeal cereal she likes, but I'm serious if you want to make a baby enemy you just try to give her that rice cereal. She does not forget. She checks the spoon to make sure it isn't rice cereal every time. Bless.
She really likes bananas and she is starting to like sweet potatoes as well. Kind of. It's a process. For some reason, I thought she would just devour food, but it's a slow process. We are going to try carrots next week. Big plans! We have figured out that if B and I both watch her, she will eat a lot more than if it's just one of us. And if my parents are around, she'd probably eat the whole pouch or jar if I let her. We've got a performer on our hands, my friends. Also when she finally started taking solids I almost cried out of pride. I told her "Gemma, if I'm this proud of you for doing normal baby things, just wait till you do something extraordinary." #iamthatmom
I've linked our favorite feeding assistants below! If you're interested. We LOVE these bibs — SO easy to clean up and I, of course, love the colors. And I've gone through a few different spoons but these are the most effective with Gemma so far! And this week her high chair gets here! We chose the Nuna ZAAZ highchair after reading a million reviews and finally settled on this one. I'll let you know how we like it!
Crowdsourcing, please! So the solids backed up her system like whoa at first and that's just about the saddest thing in the world. If you've got any remedies for baby gas/constipation, send them my way!
PLAY
Somewhere around her maybe 4 months mark I was thinking to myself when is she going to play with her toys? Well, about 5.5 months she really started to play because…she started to sit up on her own. That my friends was the missing piece; she needed to be able to sit to be able to play. So now we sit on a blanket and play with stacking cups that she knocks over, squishy blocks that she can grab and chew, and she loves what I call 'crunchy' books. There's just no other way to describe them. They are books and they are crunchy. Oh and I now know why all kids books like 80 years old. She chewed the edges off one of them the other day and it went from brand new to looking like I found it at a garage sale back in '95.
You know what else Gemma loves? Everything that is not a toy. In no particular order of preference:
the remote, the Aquaphor tube, my Starbucks drink, a sleep mask, the smallest, most beige and boring basket you've ever seen, my iPhone, his iPhone, your iPhone, the sharp corners of the baby wipes package. If I gave her a choice between her bright red toy and a remote, the remote would win every time. I digress.
Oh and the other favorite thing on Gemma's list? The dogs. Her love for them has come alive in the past month. I'm writing a whole post on this but she loves them and they…something her. Whatever they feel for her, they feel it at least 8 feet away.
Gemma loves to be swung by B and I onto the bed, she loves to be held upside down (for a few seconds of course), she loves to be tickled, I mean she just loves to be played with in general. Sometimes she looks at us like 'do it — make me laugh.' And we do. Challenge accepted.
A few of her favorite toys lately!
TALK
I know that you will probably not even believe this BUT. Gemma says hi. Ya'll she says it at the right time,too. She says it when we facetime family or are on the phone or when we go see her grandparents. Sometimes when I get in the car after putting her in the car seat I'll go Hi! and she will make that sound right back. You don't have to believe but we've got a social little baby on our hands. She is currently obssessed with blowing bubbles and making sounds that we mock. I, of course, am constantly saying 'mama' to her because I need that validation in my life. Come on, Gemma! Say Mama first!
Oh and how could I forget this milestone?! Gemma has her first tooth!! It's one of the pairs on the bottom. I'm not a dentist, I don't know what those are called. The cute ones in the front on the bottom. Yeah, you know. That's the one. It was a BEAST to cut. Teething sucks, if I can be frank. I honestly can't even tell you how many times I questioned why we even need teeth. But alas, she won't remember and eventually, she will get to eat chips and queso with a mouth full of teeth. So all is good.
Gemma is still loving Itsy Bitsy Spider — I mean it gives her LIFE. If she is happy, it makes her happier. If she is sad, it makes her happy. It's literally the best cure-all I've found.
WEAR
I am finally moving miss Gemma out of her sleepers 24/7 to actual outfits! I know this sounds weird but those first few months it just felt wasteful to change her out of her sleepers to a complicated outfit for her to just sleep. She didn't love being changed and so I just stocked up on sleepers and not really many outfits. But just this last month she has grown so much and is now where 6-9 month clothing so it's really fun to get her dressed. I put her in a lot of solid or striped leggings and more neutral tops. And by neutral you know that I mean Gemma pink. Her whole closet is pink, grey and navy. I'm aware of my obsession with pink and it will not change. Oh and we've also decided — if the sleeper doesn't have a zipper, I don't want it. Snaps can get on out of here.
I find 70% of everything she wears at Zara. I freaking love Zara, baby but as always with Zara things move so quickly it's hard to get anything specific linked here. But I do recommend Zara for cute but not over the top cutesy items. It's the right amount of cutesy, you know what I mean? I say this as I put my baby in a pig print onesie. I also like to shop at Old Navy, Freshly Picked for shoes and of course we love Kickee Pants sleepers. The love for those silly prints is strong. I just tried this brand, Owlivia from Amazon and really like the quality! It's cotton instead of the stretchy bamboo but it's still so soft! Oh and a zipper. FTW! PS — I just picked up these rompers for Gemma and I can not WAIT for spring. Can you imagine those with a baby denim jacket?! DEAD.
I've linked a few favorites below!
---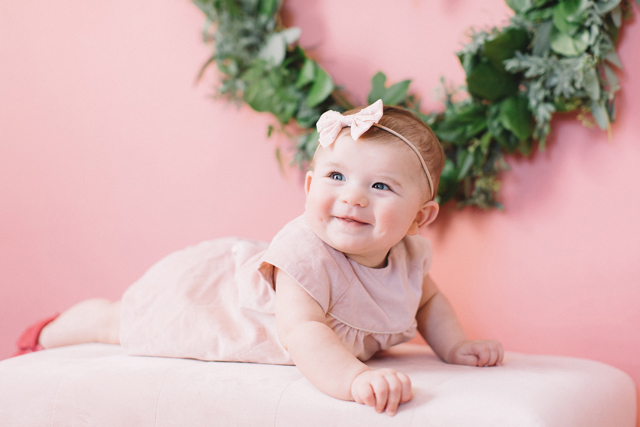 I had a friend who said that at 6 months the game changes. It really starts to be fun. I couldn't agree more. She is the biggest joy every single day. Happy 6 months, Gemma Rose!