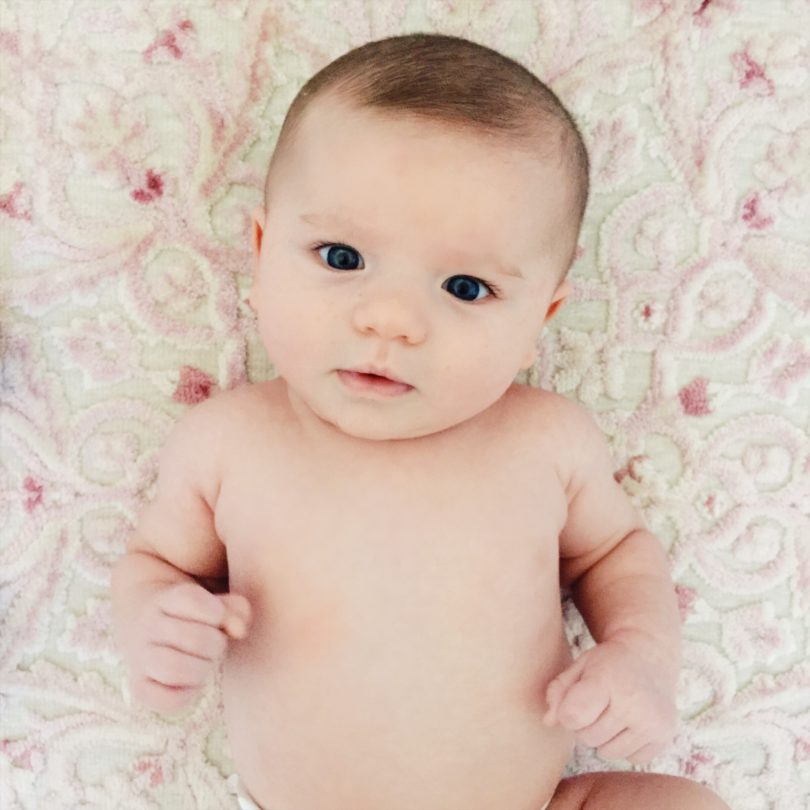 Miss Gemma Rose, 2 months old.
This month Gemma turned two whole months old. Can you even? I truly can't. This girl is a dream come true. I wish I could tell you how funny she is, but we would be here all day and I'm pretty sure you'd stop reading at hour 5 of my writing about my daughter. So how about I just give some quick updates?
baby stats
At her last doctor's appointment homegirl weighed in at 12 lbs 6 oz and is 23.5″ long. But now at 10 weeks, I'm pretty sure she is 24″ long. She is SO long you guys. We are in 3-6 month sleepers and those are getting tight in the legs. And her feet fill up the whole footie part. It's the cutest thing.
She is the HAPPIEST baby, especially in the mornings. She wakes up happy and ready to go. Our morning feedings take about an hour because we are just so darn happy. She kicks and coos and laughs. It's adorable. Even at 5 am.
Now she is not one for long periods of sleep, so if we can get a 5-hour stretch at night we are so excited. Usually, it's closer to every 2-3 hours of waking. Surprisingly B and I have adjusted to this schedule and are no longer zombies from the odd sleep patterns. We also moved our iced coffee size up to venti, so that helps too.
Miss Gemma has discovered her tongue last week and she sticks it out all the time. She also likes to lick us and her hands. It's hilarious. I'll be holding her and before I know it she's licking my arm. When I say something to her she just coos and laughs. She already thinks I'm funny 😉
We bought her a swing this week in hopes of giving our arms a little bit of a break because she loves being held alllll the time — which I'd love to do but mama's got to work and sadly the laundry does not wash itself. And we also wanted something for her to sit up in, look around and enjoy! She is so alert when she is awake, so I try to keep her busy may it be staring out our ceiling fan and cooing at it (it's seriously her favorite thing in the world. We affectionately call the fan, 'Fanny'), her art cards or tummy time. She does really like the swing…but also likes it when we watch her in it. Ha! She prefers an audience but I tell her all the time we will always have front row seats to whatever show she is playing.
I rounded up  a few of Gemma's favorite things lately! I did an insta-story on these art cards a few weeks back (which by the way I haven't insta-storied lately because it keeps crashing because I refuse to update my phone. Why? because I am lazy.) I noticed she was fascinated with these prints we have in our sunroom that are black and white so I found these cards and turns out she loves them! I use them to distract her with tummy time 😉
And it took us all of two months to break down and by her some shoes. I know most people say babies don't need shoes but hey — no outfit is complete without shoes, ok? 😉 I got a pink pair of Freshly Picked moccs and a grey pair. They match everything she owns and should last us for a while!
A few of her other favorite things are below!
(oh and ps — a few people have asked how to correctly pronounce her name — it's like Emma with a soft g. G like a gemstone (preferably diamond). 😉