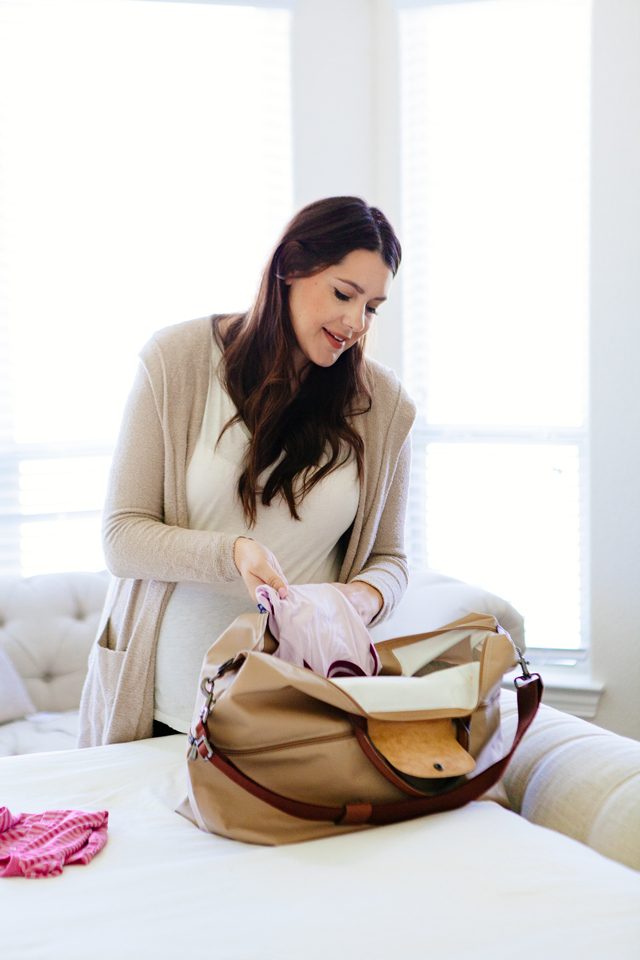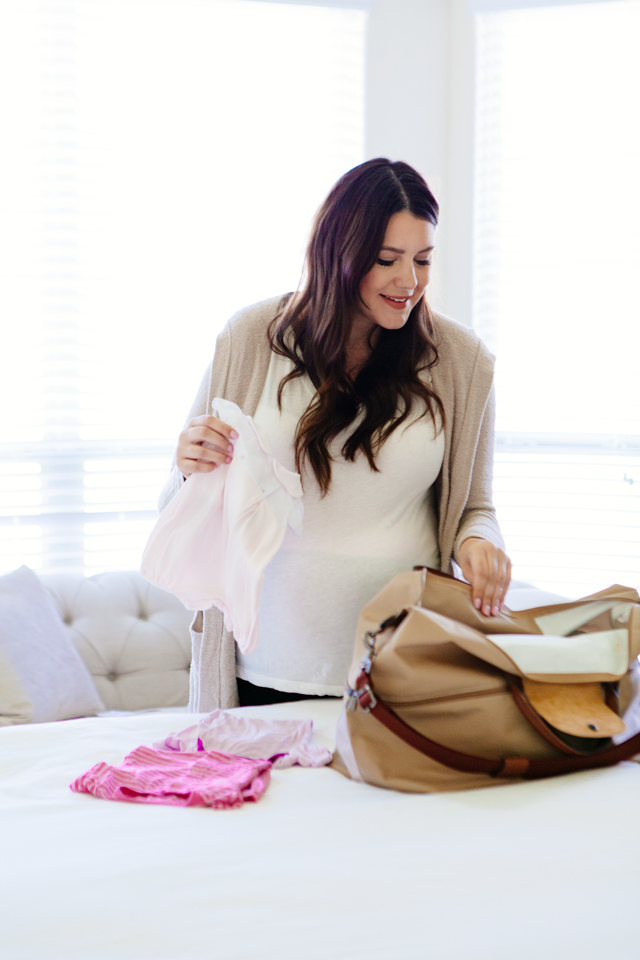 I have reached the point of full nesting. I've had my hospital baby bag packed for weeks now, her nursery has been done since early June. You guys, I've moved onto organizing my pantry like a mad woman who is actually an organized person. I don't know who I am any more — I literally buy these plastic container things at 3 am off of Amazon. But I will say, my dry pasta collection has never looked better. I can't say that I hate this part of pregnancy — it makes me feel like I'm a better version of myself. So when we were unpacking my bag to shoot it, I got all sorts of nervous but also excited. I kept thinking — how ironic would it be that I go into labor while the contents of my hospital bag is completely thrown about? I actually left it out overnight in hope of igniting that irony to send me to the hospital. (No such luck 😉)  The bag is packed yet again.
A lot of expectant mommas have asked me what I'm packing in my hospital bag and I'm more than happy to share! I started googling like crazy what to pack in my bag and quickly realized that it's basically a few things for baby and the things that bring you comfort, so there really is no right or wrong way to pack your bag, just preference. Then I texted my mama friends and they gave me their best advice. So this is an overview of what's in my bag but if you've done this before and you've got some great suggestions for us expectant momma's then please feel free to share!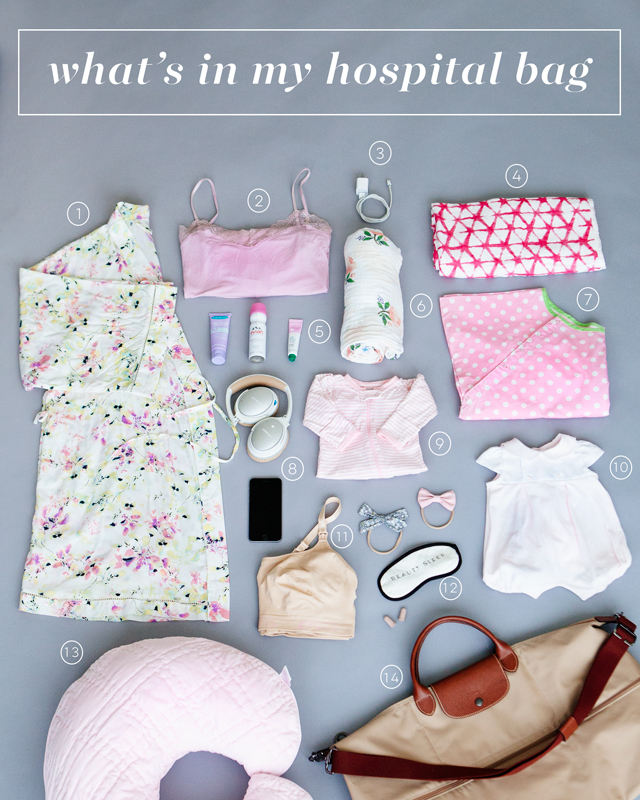 Robe and slippers: This one seemed like the most popular choice out there — must bring robe and socks or slippers. Apparently after giving birth they make you do normal things like walk around and shower and if you're gonna make me do physical activity, then you better believe I'm gonna look fabulous while doing it. I picked this robe up from Nordstrom back in the spring, but this is the same robe, just different patterns! I also love this one that's on Anniversary sale! As far as slippers go, it's probably too late to ship these now but I wish I would have bought these for the hospital stay. I'm also packing this Barefoot Dreams cardigan I'm wearing in this post! It's SO soft and it gives me a bit more warmth if I need it. You can find the cardigan here.
Nursing friendly gowns / pajamas: I've realized that most of my pajamas are nursing friendly, which I thank my past self for. This one above is from Target and is easily accessible. I also love the button down pajamas like these as well. I'm packing two pairs because I have no idea what to expect!
Chargers: We always tend to forget our chargers when we travel so this is definitely something that's on the top of our list! We don't want to run out of battery when this little jewel is born. There are pictures to be taken and calls and texts to be made! (Someone mentioned finding an extra long charger because hospital rooms aren't exactly set up for your bedside phone plug in convenience! I thought that was great advice!)
Receiving blanket: It's August here so obviously she won't be cold but just in case, I've thrown in this pretty pink blanket. Better to have than to not have. (But if it was winter, I'd pack a few other things to keep her warm!) Plus, this blanket will come in handy as she is being held / loved by family. Side note: Aden + Anais is SO soft. I was afraid after I washed this it wouldn't be as soft, but it's so buttery! I want one in king size, please.
Toiletries: Most of the things I am bringing aren't pictured because they just aren't that interesting, ha! But I am more than happy to tell you what I'm taking! I am particular about shampoo, conditioner, face and body wash, so those are already in my toiletry bag. I've also included makeup wipes, toothbrush, deodorant, and my makeup. Not my full routine of makeup, but enough to look alive if cameras are present — you know what I mean? Since I plan on nursing, I've also tucked in my bag some nipple cream and nursing pads! I've also packed a hair dryer and curling iron. Better safe than sorry 😉
Swaddle: Our hospital may also provide a swaddle but I wanted to include one just to have for her and to get some good swaddling practice in during those first few days! This one is Little Unicorn, so soft — a lot like Aden + Anais.
Hospital Gownie: Yes, this is a pink polka dot hospital gown. Yes I really am that extra.  This one has buttons down the back and also in the front that allows for skin to skin after birth and easier nursing access. Plus almost 5 star on Amazon. Was this a 3 am sleepless night purchase? Most definitely, but it's pink and I am here for it. (Also don't size up. It's huge.)
Electronics: I feel like we will just run out of the house and leave all of our comforts at home — AKA my phone. I've received a few suggestions that music helps with a long labor or just having something calming going on in your ears and many suggested headphones! They are easy to pack, so no problem in throwing them in, even if we never get around to using them. So I say whatever brings you comfort — your phone, iPad, a camera to snap those first few moments, etc.
Baby onesies / hats / bows: I've probably packed too many onesies but since her size is really a mystery until she gets here I have a few different sized onesies. They are so small, I didn't mind packing a few. She's also got quite the bow collection already, so I'm throwing in a few that match her onesies. (These are from Little Poppy Co!) Or a hat! I'm more of a bow girl, but I tossed in a hat for good measure. 😉
Coming home outfit for baby: The minute I saw this little onesie at a shop in Dallas, I knew it was her coming home outfit. I also envisioned in a shadow box and me telling her when she is 18 and could care less that I brought her home in this. This montage escalated fast for me in the store.
Nursing bra: I picked up this easy one from Nordstrom because it looked soft and simple for the first few days. (I've heard of the pain. I am not prepared.) I've given it a few trial wears and it fits really well and is easy to sleep in. Eventually I want to try the nursing bras from Third Love! I'm so excited they came out with some.
Sleep mask + ear plugs: I'm a light sleeper and light and noises bother me. So I packed my trusty eye mask and ear plugs, for me or for B. It can never hurt to have a few things on hand.
Nursing pillow: This is completely optional, especially if you don't have the room. But it was mentioned a few times in our nursing class to bring your nursing pillow so that the lactation specialist can help you figure out your best methods with what you have.
Bag: This is a bag I've used as carry on and it perfectly fits my stuff and hers and is easy to grab and carry. It's sitting by our back door ready to be grabbed!
Towels (not pictured): A good friend of mine suggested a few dark towels and washcloths to take with you to the hospital. Just a few comforts from home that you may need after the birth and for that first shower.
Snacks (not pictured): Another suggestion was to bring snacks to the hospital! I've packed a few of my favorite protein bars and granola bars for me and B.
Your own pillow (not pictured): If I can remember, I'll try to grab my pillow on the way out! Many people suggested this as to have something from home and — I mean who doesn't love an extra pillow?? It was also suggested to have a different pillow case other than white so that it doesn't get mixed up with hospital linens.
My Coming Home Outfit (not pictured…or picked out yet for that matter.) This category is empty. I may be coming home in that polka dot gown 😉
If you're thinking — diapers, Kendi! Diapers! Our hospital provides them (I checked) and also other essentials for post-natal mommas. But you should definitely check with your hospital to see what you can expect to receive or what you'll need to bring. In my experience, someone was always very happy and willing to answer all my questions. Okay now everyone send your baby dust this way — let's have this baby soon!