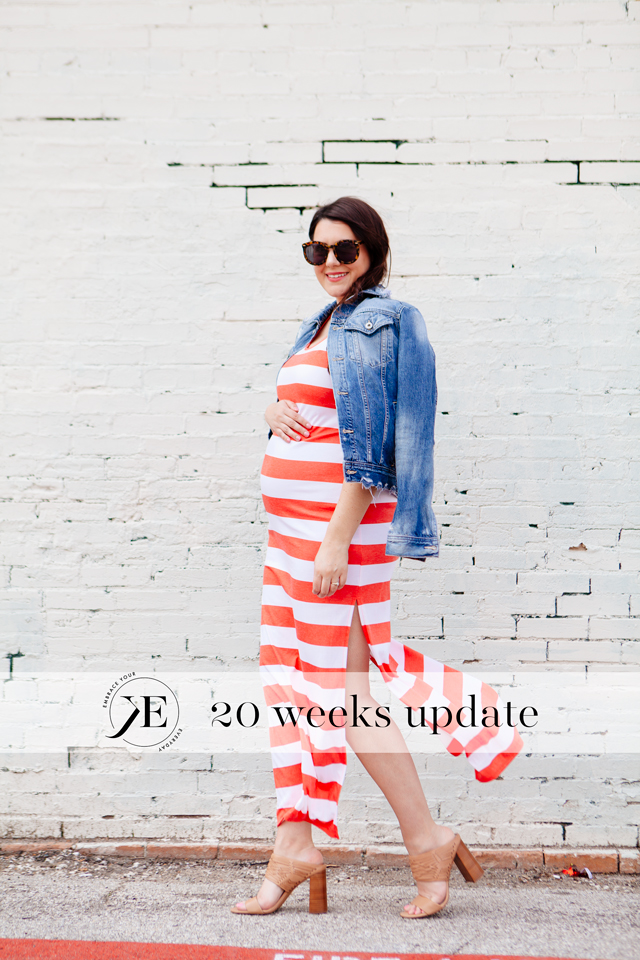 I thought since we made it half way and we've got an official bump I'd do a little post about my pregnancy so far!
Last December, when we found out I was pregnant, to use the word surprise would be an understatement. We got married at 23 and we knew we didn't want kids right away so our joke was always five more years…every five years. Turns out, our math was not that off. In the meantime, we pursued careers, a wedding photography business, our retail stores and of course, Kendi Everyday. It was never feasible for us to stop and think about having a child just yet. After we closed our shop last spring, we knew our 5 year rule needed to be shortened. We knew sooner than later would be best. But then we put it off again. Of course, little did we know our '5 years' would turn into just a few short months. Perfect timing, if I do say so myself.
I actually wasn't convinced I was pregnant even though I had two positive sticks staring back at me. (What can I say? I'm a hard sell.) So when we made our first appointment at the doctor's office, I was a bit skeptical, seriously. And then we heard the heartbeat and that's when it all became real, in a really good way. When the doctor said 'that's your baby's heartbeat' Bryan and I both looked at each other the same way I assume all first time parents look at each other. Somewhere in between scared and ecstatic.
My first trimester was not something I'd like to repeat ever again, thank you very much. I will not go into any details mainly for your sake but also because I'm trying to forget those memories faster than a bad date. I kept clinging to how everyone said 2nd trimester and you'll feel good again. I was counting down, you guys. Every day was one day closer to the promise land. Once my 2nd trimester hit…I got the flu. The mother freaking flu. You guys, I thought I was never going to feel normal ever again. But once the flu got through with me, a miracle happened: I started to feel like a human again. Well as human as a woman housing a small human can feel. But limited nausea and a full functioning brain again?? I. will. take. it.
So let's get to the fun stuff!

Little baby Skeen (LBS) is currently 11 oz and I think they said the size of a banana. Don't worry, I definitely pick up all the fruit at the grocery store and push it against my stomach and ask Bryan if he can believe that's inside of me.
LBS is currently kicking at all times. When we got the sonogram, he/she were all over the place. We still haven't been able to get that classic profile sonogram yet because this one is a tiny dancer. But we did get their feet and that's adorable. (And also comforting.)  They say that they can hear you in the womb. A few things this baby has heard: irrational crying about nothing, me singing really loud to the radio, me cursing when I accidentally sneeze and pee. This baby may be rethinking his or her placement in our home.
We do know the gender…but we aren't telling yet. Hehe. Let's just say it's a boy or a girl. That's helpful right?
People ask all the time about names but we are keeping mum on that as well. We've got it down to a few favorites but naming a human feels very important. I do think it's funny that complete strangers will ask gender and name when they find out I'm expecting. I'm always like — do you want to know my name first or nah?

Luckily I'm not craving crazy nasty things. (Except one. I'll get to that later.) I still like grilled chicken, sweet potatoes, basically all vegetables and fruits, fiber cereals and oatmeal, and black bean burgers. Randomly enough those are my favorite things right now. But you know what else is my favorite right now?
ALL THE SWEETS.
Look I love chocolate as much as the next person, but I've always been really restricted when it comes to sweets and desserts. SO this craving is out of control for me. I literally can not keep things in the house or it will be gone. Not in a matter of minutes, but definitely in a matter of days. The two things that I'm almost always craving? Chocolate chip cookies and…gummy worms. Thats the crazy nasty I was talking about above. I honestly don't think I've had gummy worms in 27 years. Seriously the last time I remember having a gummy worm was kindergarten and Im pretty sure I just dug them out of my dirt pudding and ate the pudding. Are these high quality gummy worms you ask? Nope. The cheap knock off brand from Target. I can't believe I just admitted that on the internet. Also, send gummies.
The list of things I hate right now is actually way longer than the love list. Pasta, pizza, fried chicken, bacon, Chinese food. What pregnant woman hates pizza?!?! I can stand it every once I a while but honestly no. I can't and I won't. Just typing it write now makes me grimace. So I guess most of the items on my aversion list are unhealthy so it's probably for the best. But damn, Pizza — I miss you, boo.

Besides the obvious questions up front, the other question I've been getting has been: what have you bought for the baby? I feel like this answer is going to surprise you.
Not much.
I am usually the fastest decision maker on all things. I'm not kidding. I walked into our house on like a Thursday and we bought it the following Monday. It does not take me more than a few minutes to make a decision. ( I contribute this to years of buying for the store. I am incredibly efficient at decisions on the go.) But with the baby I am at a standstill. Technically not knowing gender slowed a few decisions down. But last week I finally bought a few onesies but ya'll it took me longer to do that than buying a car. It's quite hilarious how careful I am with everything.
The other things I've purchased have been books. I loved books growing up and I having them be a priority in our house is important to us. So what the little baby does not have in clothing, bedding, or gear, they will make up for in books. 😉

Well no one warned me about the effed up dreams I'd be having. I mean my brain has turned into scenes from Inception and The Never Ending Story. Every night I go to sleep part afraid and part excited about what's going to be playing on my inner Netflix all night. I typically wake up fully confused the next day. I was trying my best to remember my weirdest ones but luckily those go into a folder in my brain that I'm pretty sure gets deleted at the end of the week. Whew.

I'm finally feeling 100% excited! ( I blame first trimester nausea for only feeling 99% excited before.) But also super ready to speed this puppy along. If you looked up patience in the dictionary, you would not find me there but instead a string of descriptive words that I have no time to read. I have always been this way — if we are going to do this, then let's do this. But nope, turns out human gestation does not abide by my impatient rules. I am so ready for August it's not even funny. And that is so not like me, I hate thinking ahead so far. But this baby has got me ready to push time ahead.
Body wise, I really had to come to terms with the changes that are happening and the changes that are to come. I've known this body for 32 years and to watch it change — and I don't just mean the ever growing bump — I mean the other things that happen while making a baby, it's a bit unnerving. Especially before you have a cute little bump to justify the weird things happening; it sent me into panic mode for a little bit. I feel like when you get pregnant for the first time people just expect you to understand the journey is worth the end result, but for me it took a lot of positive self-talk to understand all of the changes going on. Hormones are flying high, your body is just doing what it needs to do to make and keep a baby, and going from homeostasis to pregnant body within a few short months is a lot to take in. And what I've learned is that — that is okay. Realizing how temporary pregnancy is, was really helpful for me. When you've never been pregnant before, 9 months seems like the shortest amount of time to create a human. But it's quite different when you are in that 9 month countdown. I've learned to take many deep breathes and be grateful that my body knows how to do this without any advice or help from me. Deep breathes, positive self talk, gratitude and a few hormone fueled cries have been my therapy for those first few months of change. Oh and chocolate chip cookies make for great listening partners.
I think also realizing that while there are common threads with every pregnancy, almost everyone will deal with pregnancy differently. Some people love being pregnant, some not so much. Some gain a lot of weight, others don't. Some carry for not long enough, others are over due. Every single story is different from my friends and I appreciate hearing all of them and knowing that mine will be different as well. (AKA if you are pregnant too right now, try not to compare yours with anyone else. It will drive you insane.)

I think the thing I'm looking most forward to are those first few moments after delivery. I already envision my husband's sweet face holding our baby for the first time and I'll tell you if I wasn't already pregnant, that would do the trick.
I'm also looking forward to wearing normal jeans again. Lord knows I love me some maternity jeans with that full panel up to my bra. But I feel like I will have a new appreciation for my body and my waist line. Also, I miss front tucking. True story.
And I won't lie, I'm gonna be pretty excited when I don't worry about everything little thing I do. Every sneeze, I'm like 'did I pull something?? Are you okay in there, baby?? ' Oh wait. That get's worse  when they are here, doesn't it? 😉