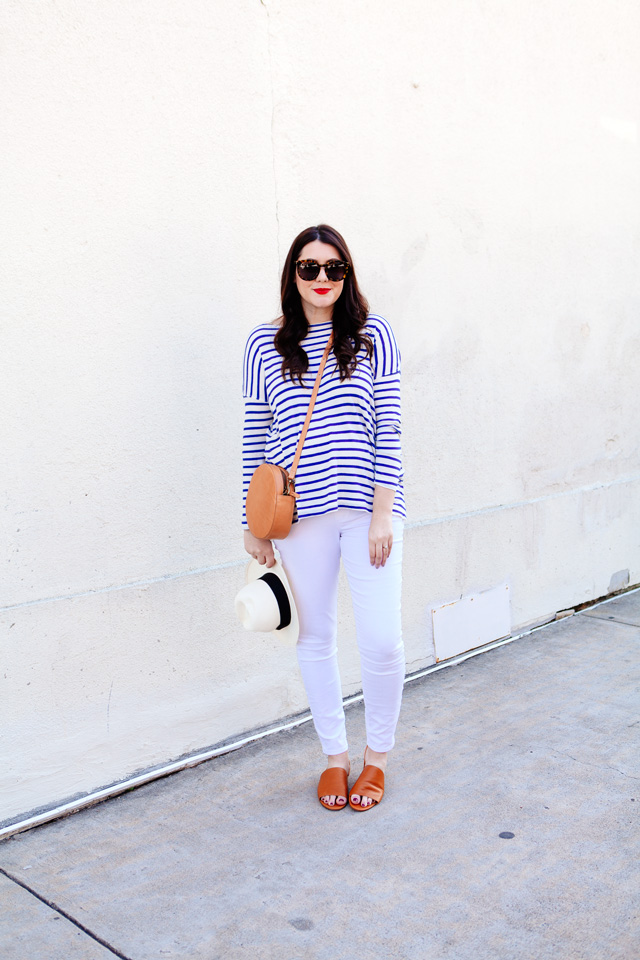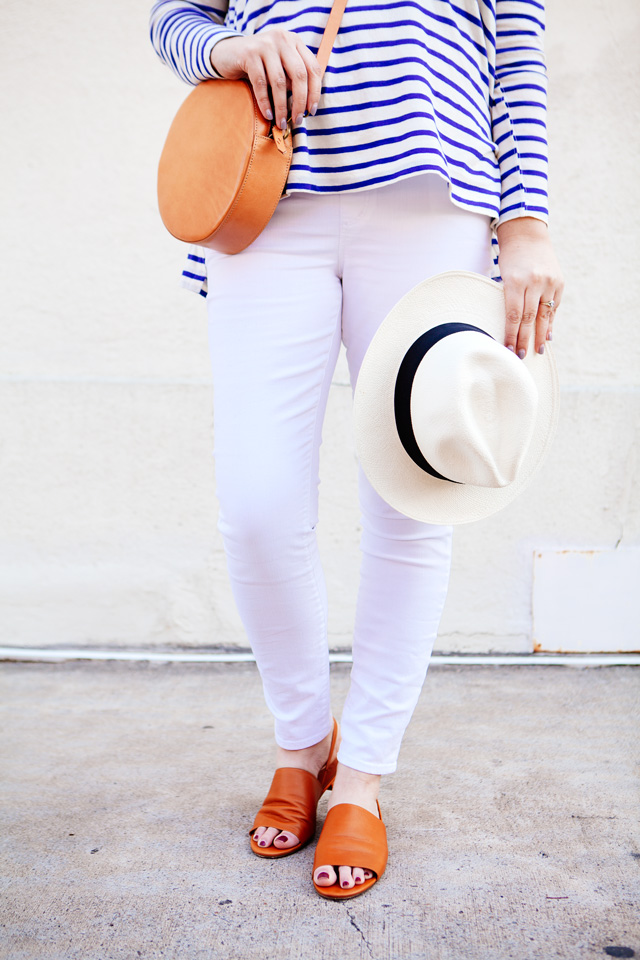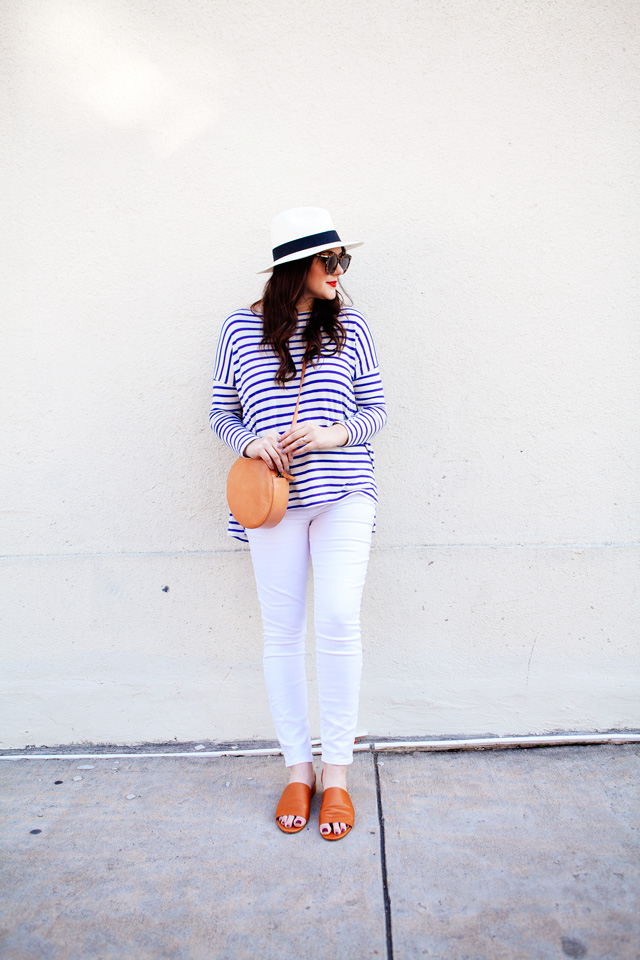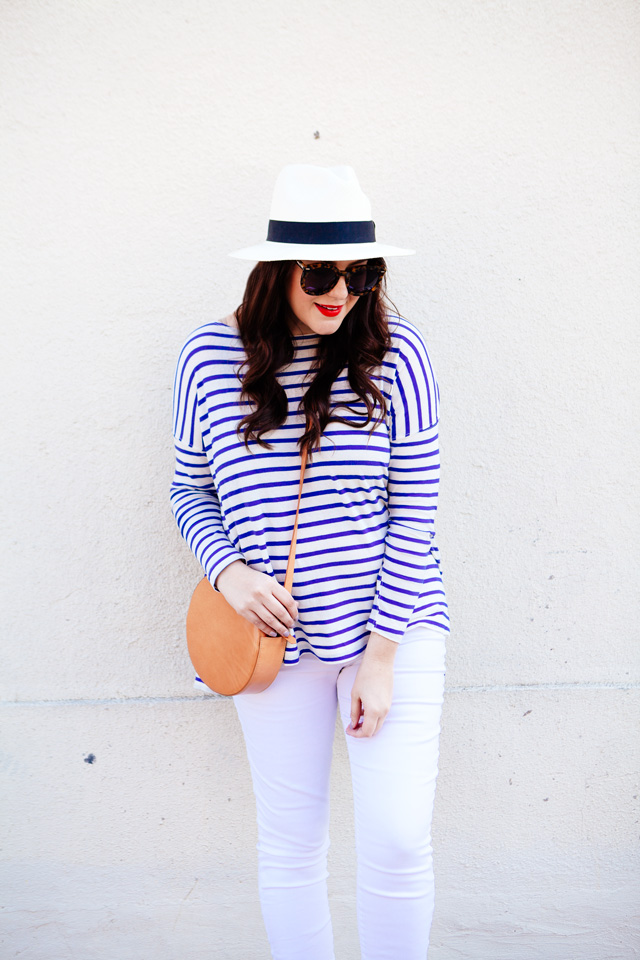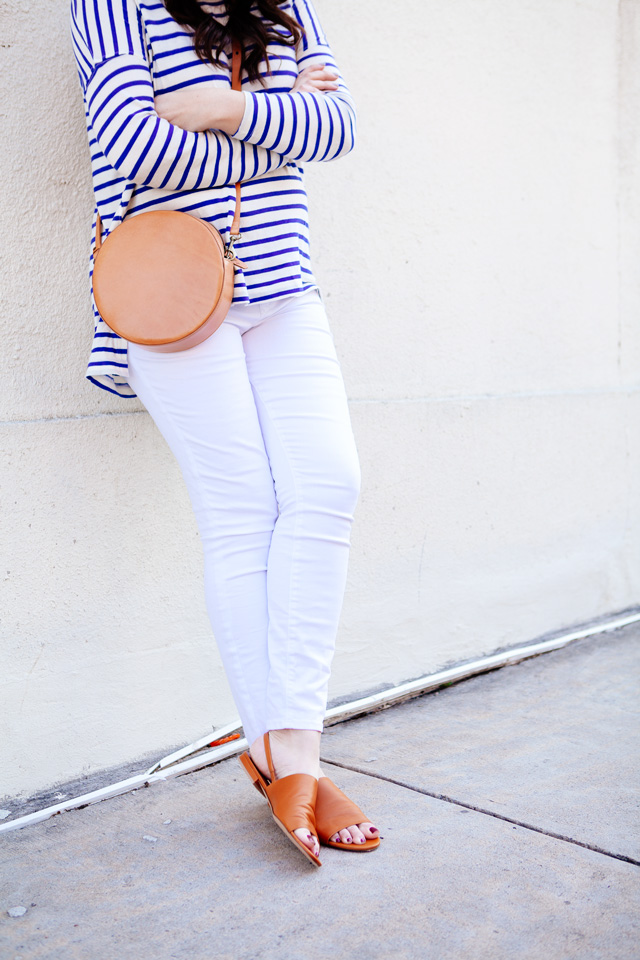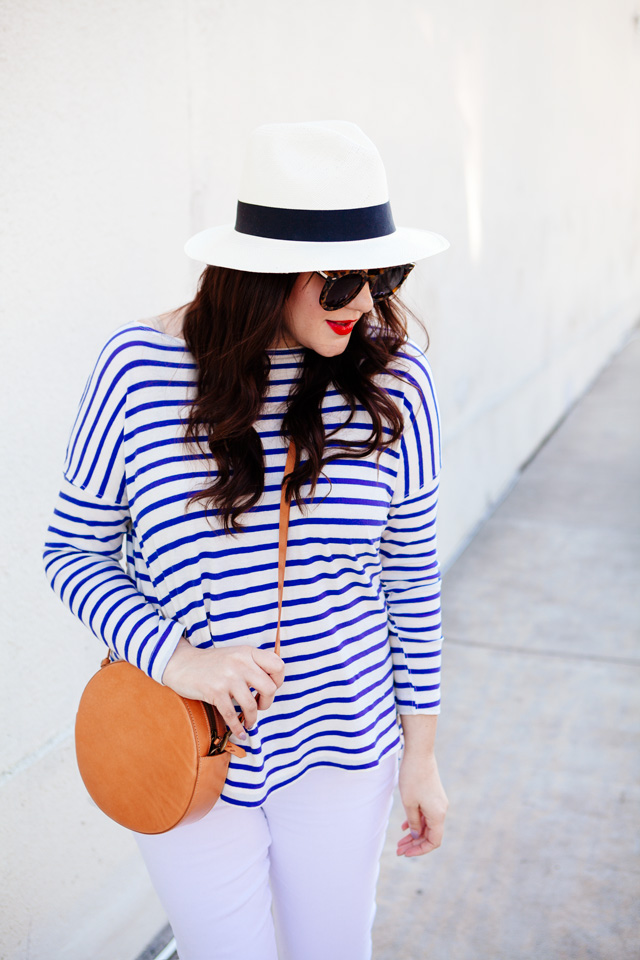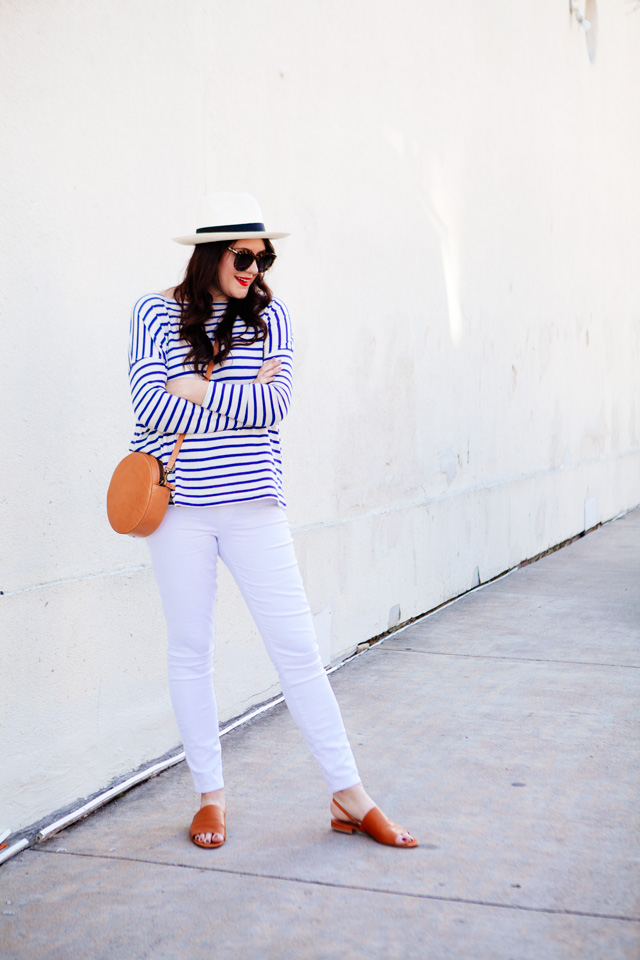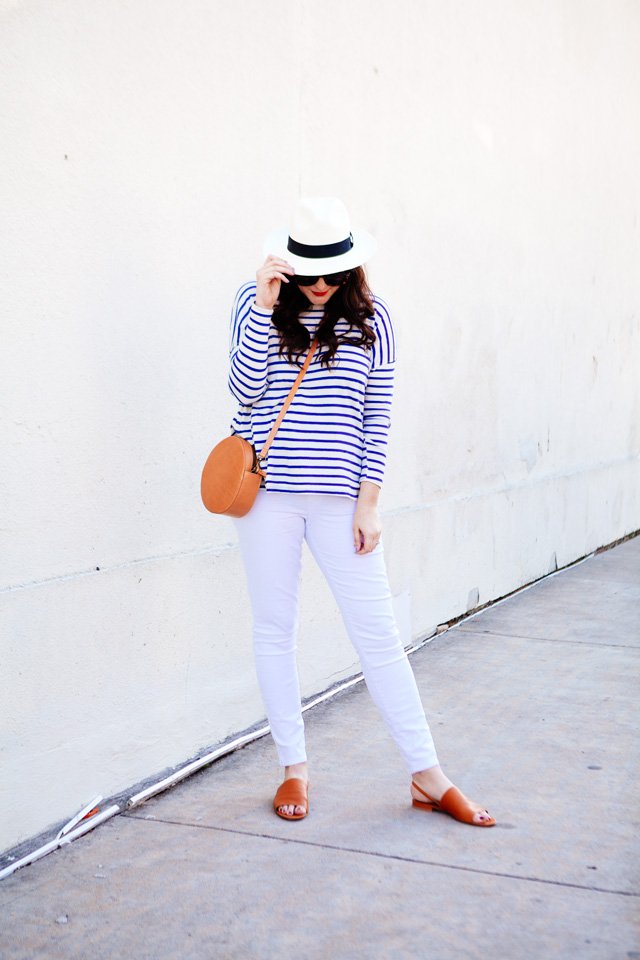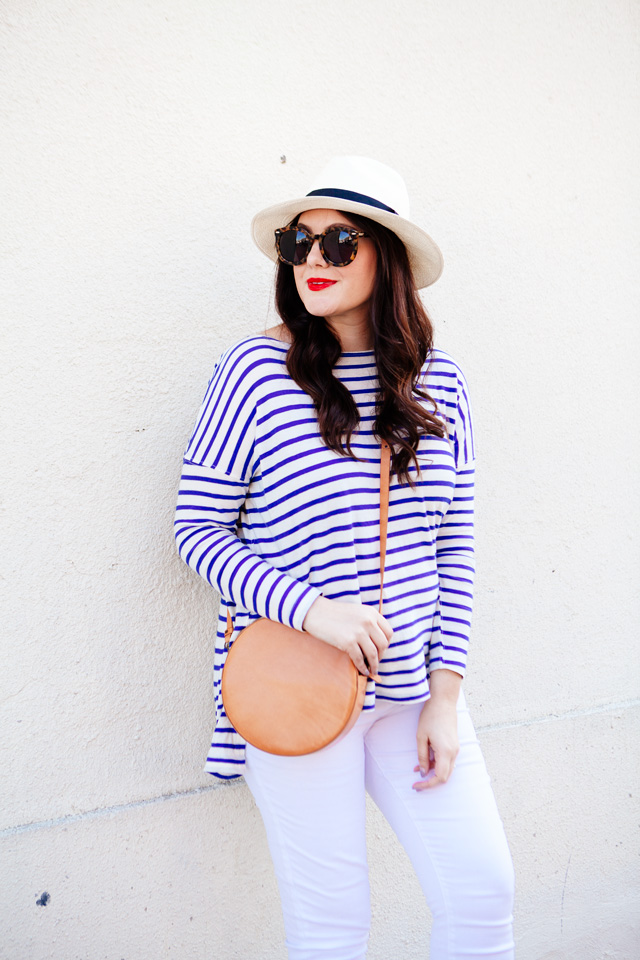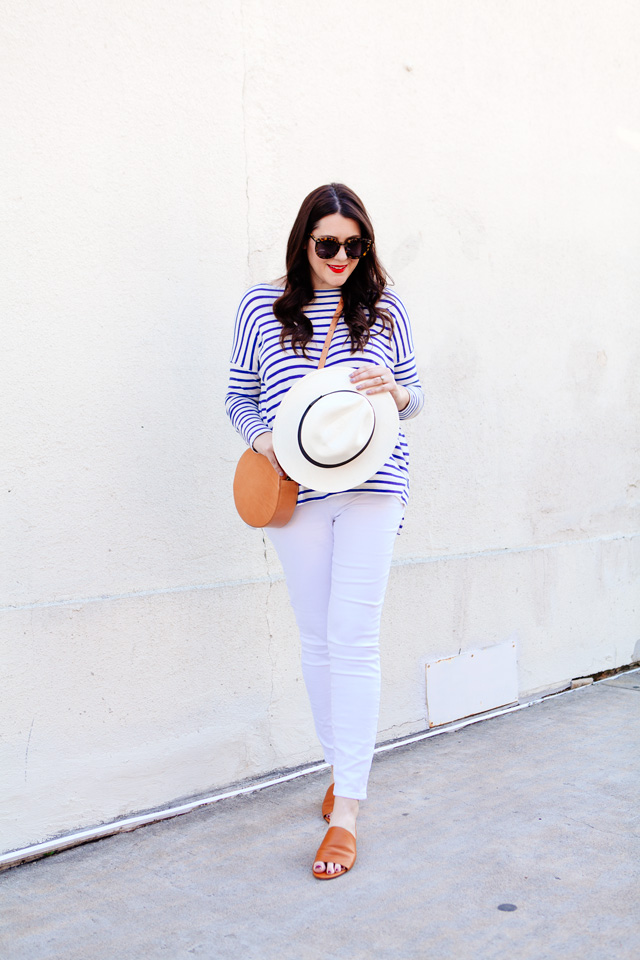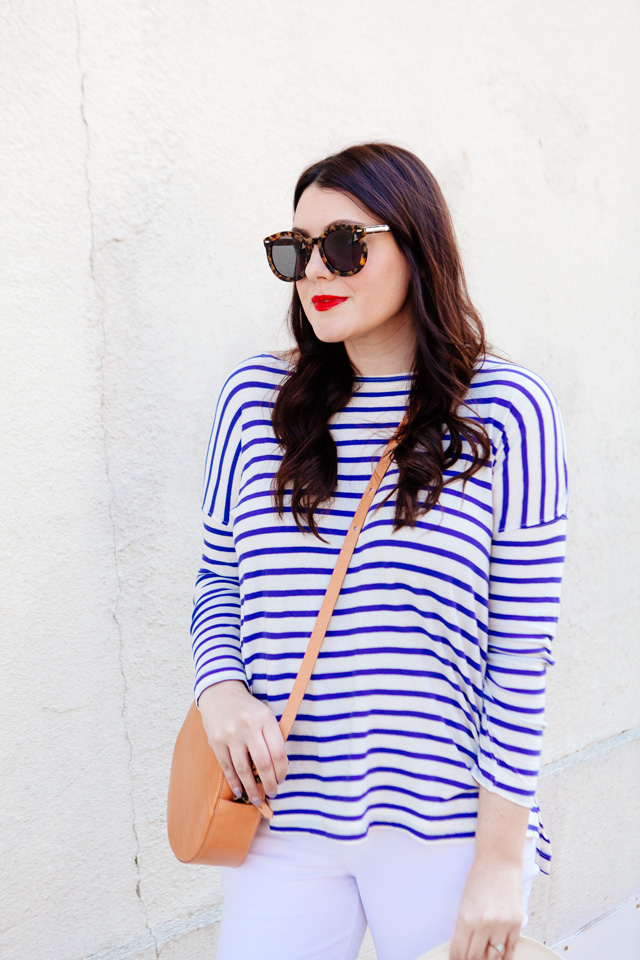 Technically these photos are supposed to be in sunny California this week, but when you mix the flu and a pregnant lady, the best laid plans become the best cancelled plans. But the sunshine is coming through for me this week almost as a consolation prize for not being on the beach. If this means I can get away with sandals and white jeans, then I'll take it, thank you very much.
A friend of mine recently asked how to deal with first / second trimester clothes once you start to outgrow your normal clothes. Besides a few good pair of maternity jeans (post coming soon on my faves), I've been trying my best to find tops long and loose enough to wear now* and later. I've searched the ends of the Earth (okay not that far but you get the point) for cute maternity clothes and I don't want to rain on anyone's parade but — they are not good. I won't say ALL are not good, but I will say most are exactly what I don't ever want to wear. And the worst part is a lot of them are expensive for what could possibly be a one time wear, for just a few months. The other part is right now I don't really need full blown maternity wear (except for the jeans. God bless the world's supply of elastic on a single pair of jeans.)  So the search begins for straight sizing clothes that I can wear for now* and then later, postpartum.
*I truly mean right now because Lord knows the bump does what the bump wants. Sometimes bigger, sometimes smaller. I could wake up tomorrow and be a completely different size! Bump be crazy….and I like it. It's like a choose your own adventure with your closet every single day.
All of that to say, I've found that trial and error with online shopping is my best bet. Since I'm already tall with a long torso finding long enough tops will prove to be a problem soon enough, but right now I'm looking for tops that hit around or below the hips on models, since we are typically the same height. And many times I'll size up one for a bit more room / length. So far, I've found that there are actually a ton of tops that are long enough to play this online roulette game with. I ended up with this striped top from The Great because I have it in black from last fall and LOVE it. It washes and doesn't shrink which is actually quite hard to find in a cotton top. I picked up this blue number for spring and it's just as lovely. I know I can wear this top now and later. I also picked up this similar striped top from Free People — same concept except way more slouchy. Slouchy = success. Best part is, both of these tops work pregnant or not!
I know not everyone is pregnant right now, but if you are interested in me sharing a few of my favorite recent maternity purchases, I'm more than happy to put a post together! Also, are we sure everyone isn't pregnant right now? It feels like every time I turn around, someone else is pregnant. Just take a test to be sure, okay?