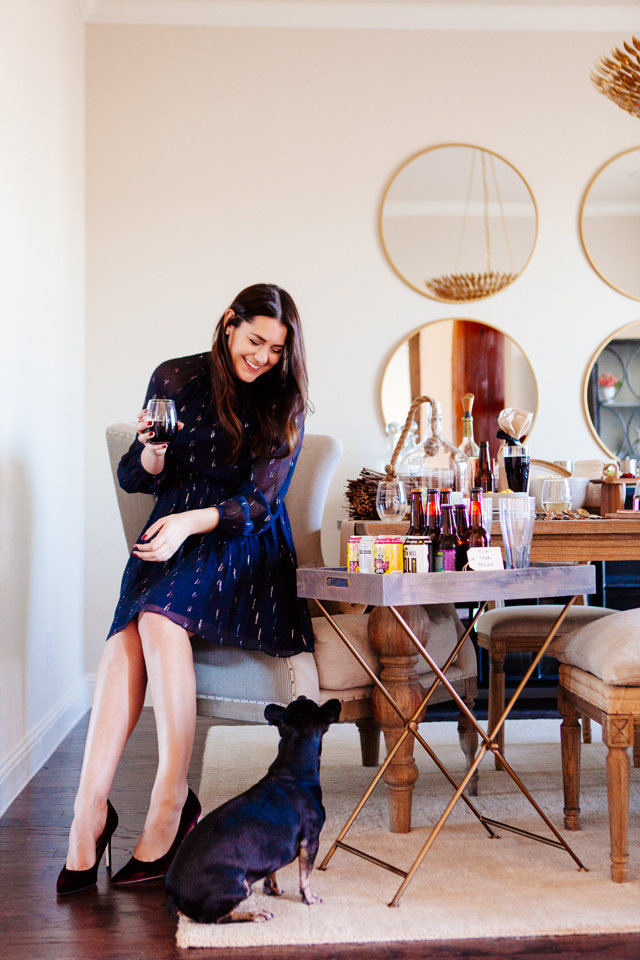 Typically the start of the holidays meant for us that start of our busiest time of the year at the store. Since we closed the store this spring, we decided this year for the holidays we wanted to really celebrate, since we won't be at the shop 24/7 through the end of December. We thought why not throw our first Friendsgiving this year? And why not give a few gifts while we are at it? Oh yes, that's right — gifts at Thanksgiving. We don't do traditional.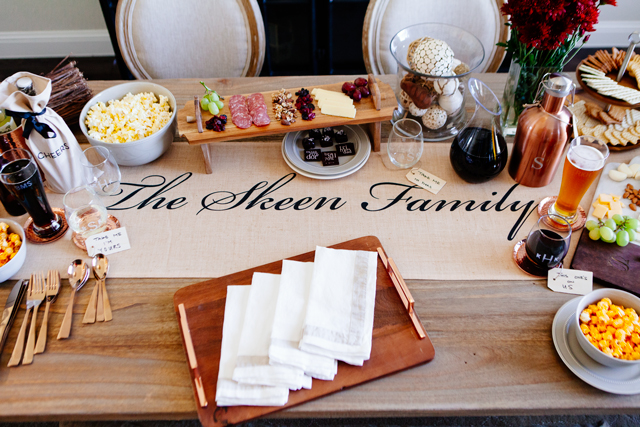 We decided to center our November get-together around something other than the typical food that's at the Thanksgiving table — instead we decided to do what we do best: beer and wine. And cheese and chocolate. I may not be the greatest chef, but I am a master pour. This I know. So we decided to gather our best craft beers from local and our favorite breweries and pick a few wines to taste and share. But the best part is our friends will walk away with more than just a good time.
You see, I also like to pride myself in my gift giving skills — I really love giving someone something I know they will love and use. And one of my favorite gifts to give is a personal one, especially monogrammed. Nothing is more special to me than the thought of a monogramed gift. So when Shutterfly asked to partner, I knew immediately this would be a perfect partnership. They have a myriad of gifts ready for personalization and I've got a Friendsgiving to get ready for!
We started with sending out invitations that included an RSVP to know exactly what our friends' preferences were for their
monogrammed wine
or
pilsner glass
. No guessing there. So when they show up, they will get to pick up their monogrammed glass and take it home with them! What a fun surprise, right?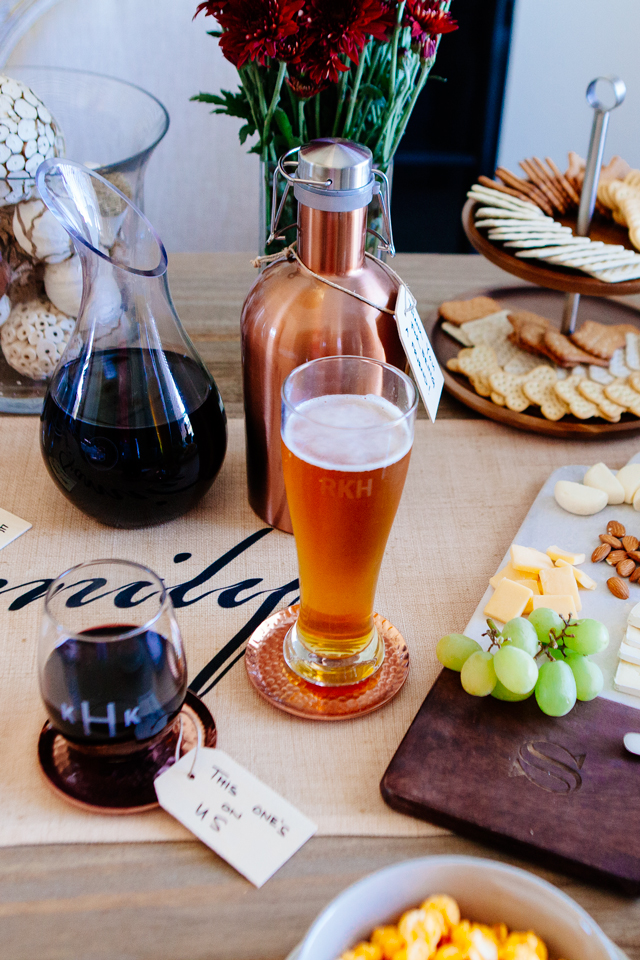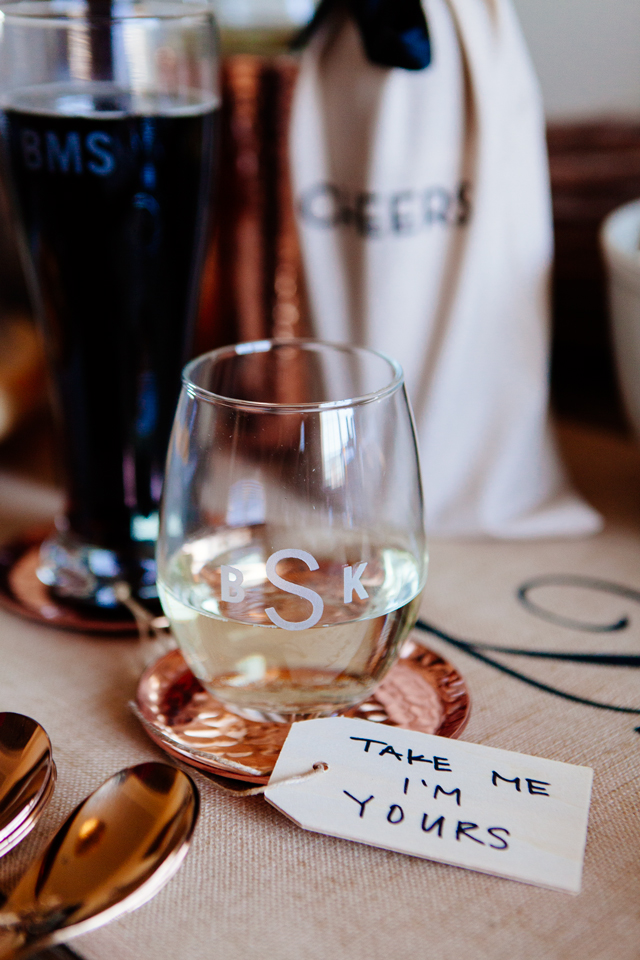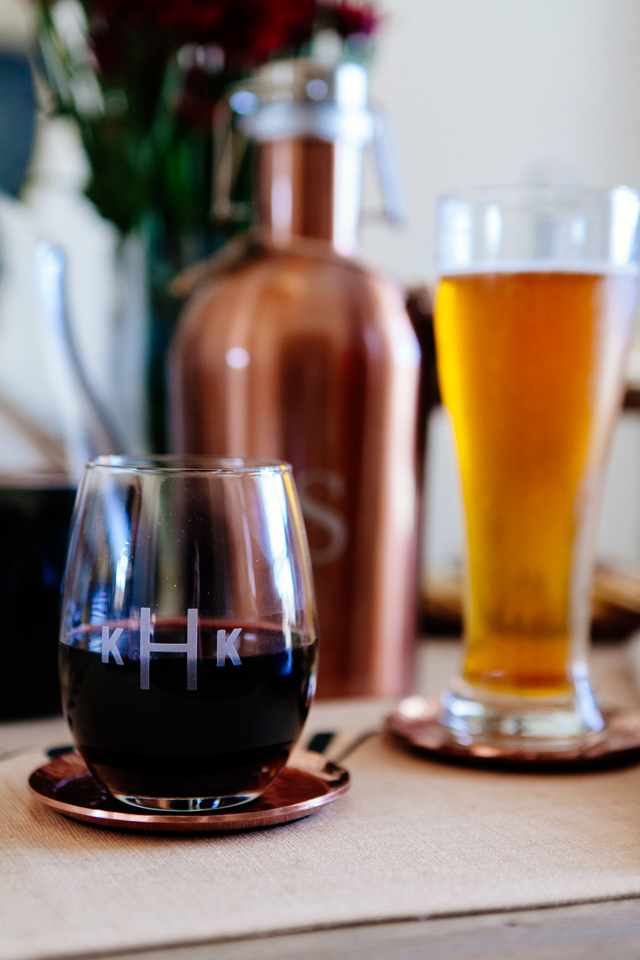 I ended up setting up a tray with our beer selection and the pilsner glasses for our guests. I wanted our table to feel like a non-traditional thanksgiving table — everything is there and we can all gather around it, but the contents look a bit different. I added crackers, almonds and popcorn for the beer drinkers. (When we have a get together, we get popcorn from a specialty store here in town and it's always the biggest hit!) For the wine lovers along with the monogram wine glasses, I added cheese, crackers and chocolate… AKA the best meal ever.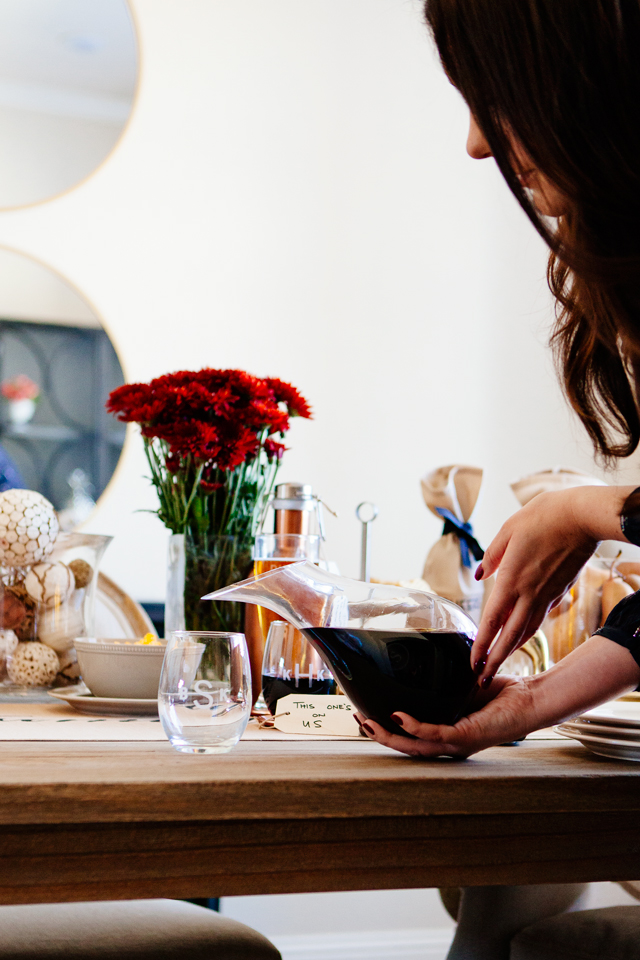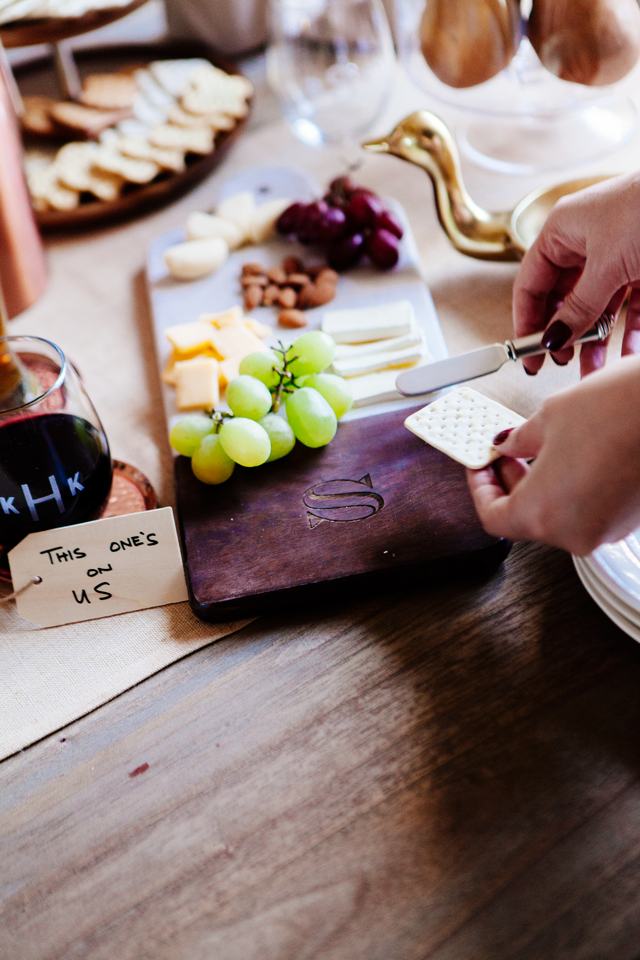 Another take home prize were these fun wine bags with 'Cheers' on them. Albeit perhaps a bit more Christmas spirit than Thanksgiving, I still feel like they are perfect for the season. As someone who has been a recipient of wine as a gift, this is a perfect solution to your "hard to buy for" friends. I try my best to be "hard to buy for", just so that I can receive a bottle of wine every year. (Consider that a life hack, my friends.)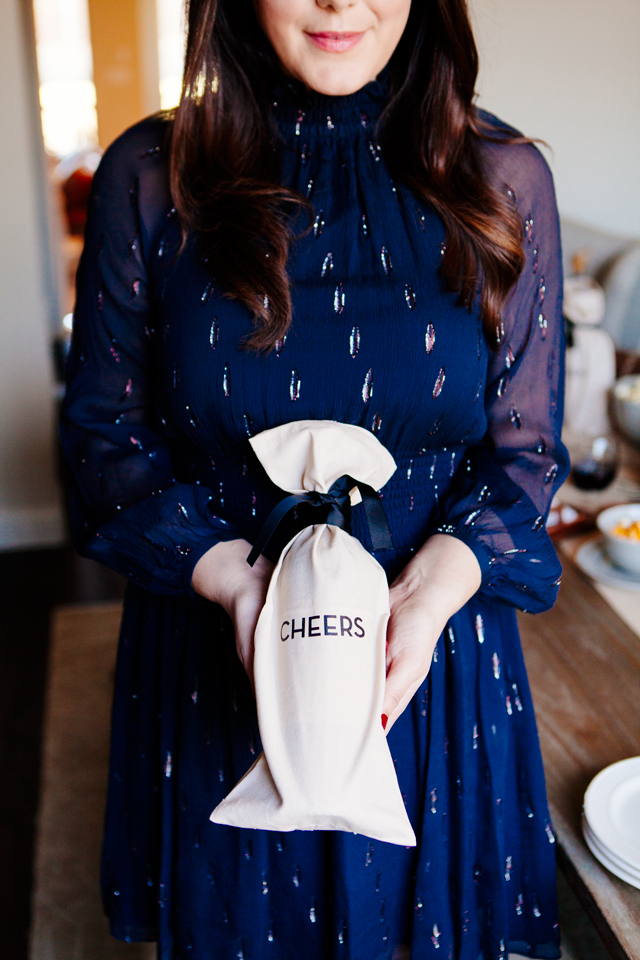 On the hosting front, I love having a few personalized serving pieces around. From our
wine decanter
and
beer growler
, to the
marble and wood cheese board
— I love having little personal pieces around to add some pop to my table. Plus I love that these pieces are non-seasonal — I can use them year round when entertaining. (
This
is also a perfect gift for a cheese lover or house warming!)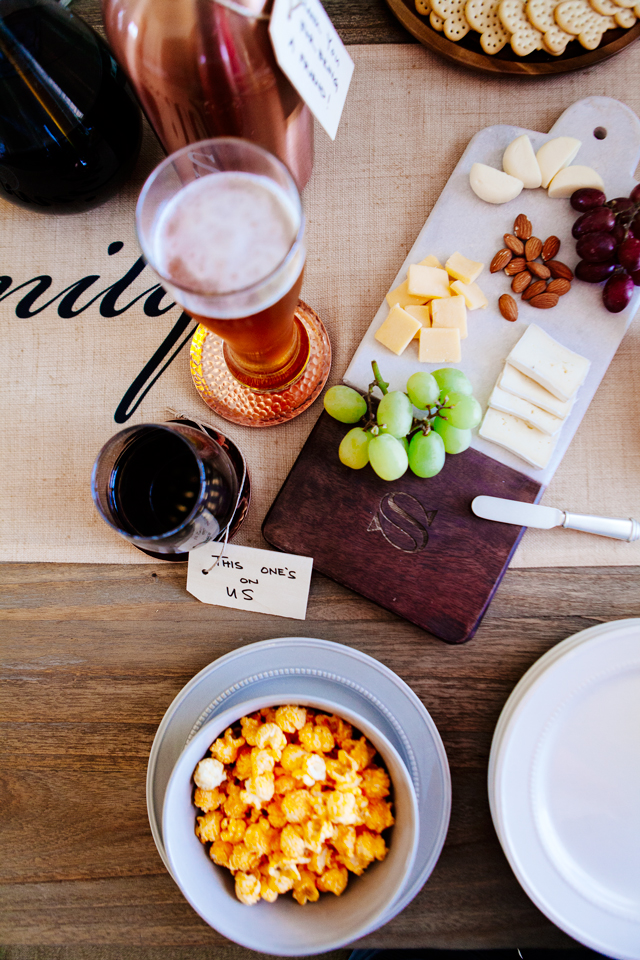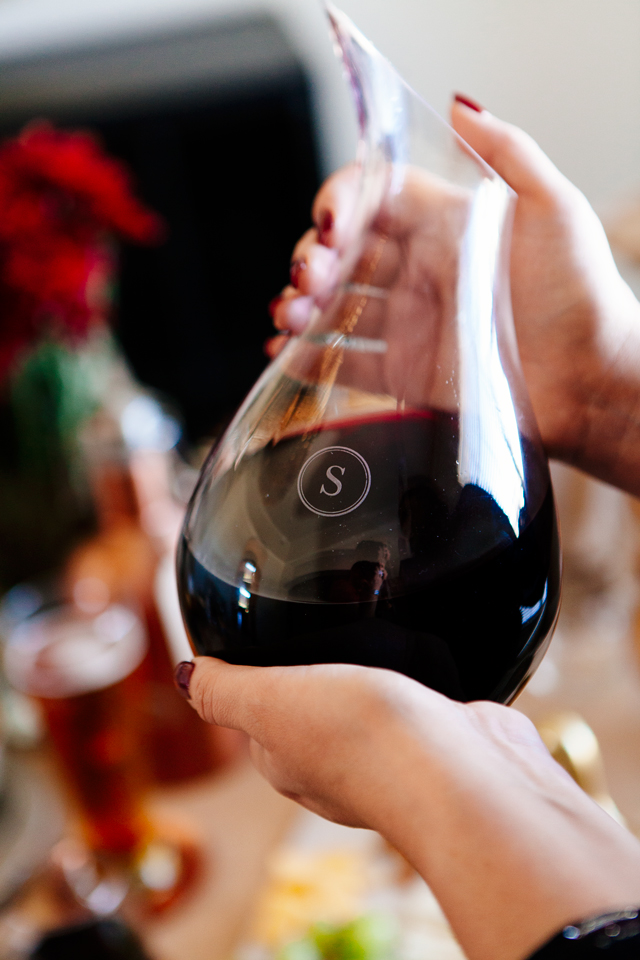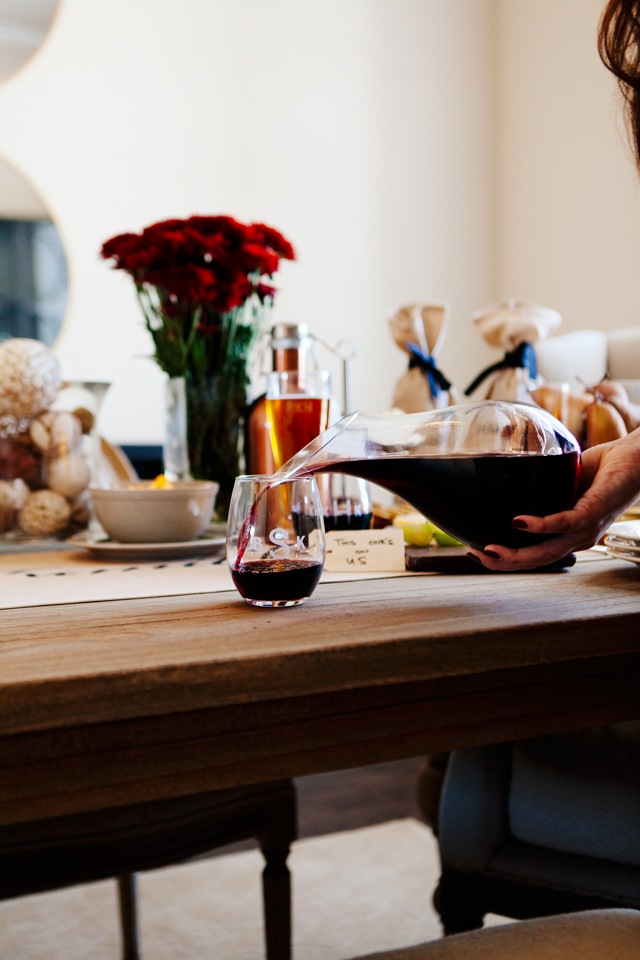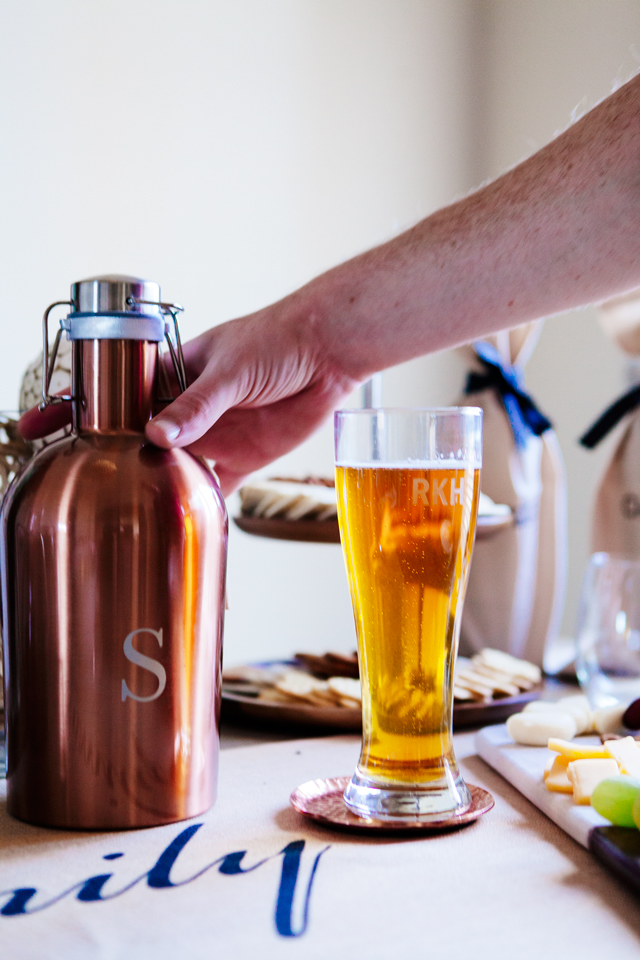 And of course, I love this
personalized table runner
. (A great gift, by the way, for mother-in-laws, a hostess of showers / parties, or newlywed couples.) When we first got married, I kind of went overboard on all 'S' stuff, so I took a break for a few years. But the 'S' is back you guys; my personalization game is strong this holiday season. Monogrammed towels are next; you know they are, dear husband.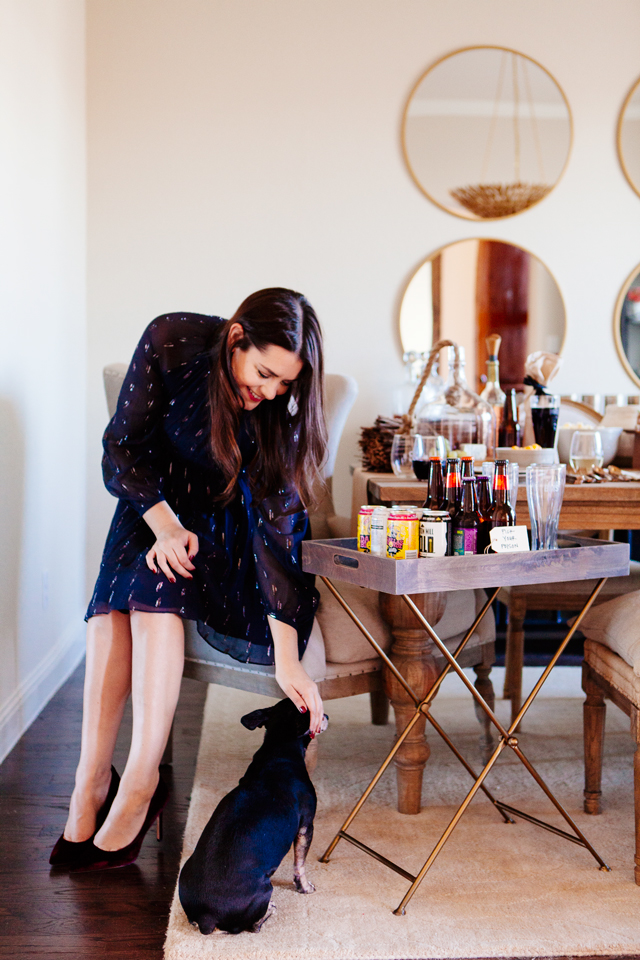 So that's a little inside to our Friendsgiving we are throwing this week! Here are a few other thoughts on personalized get-togethers this season.
+ Hot cocoa + s'mores party: Instead of wine glasses, have mugs personalized for you friends! Take the party outside and enjoy S'mores by a fire pit. Bonus points: take photos at the party and give your guests print outs for Christmas.
+ Ornament exchange party: Invite your friends over to have an ornament exchange with each other, while secretly creating their Christmas gifts for them! Personalize an ornament for your friends with photos (if you are stealth enough) or their names and at the end of the exchange, they can walk away with a personalized gift.
+ Family game night: With your family or friends with little ones, you can create a puzzle from a family photo. Have lots of games for family members to play and pull out the puzzle for the family to put together as a surprise!
Of course, we are just getting started with this holiday season and gifts like these are perfect for any occasion this season. So have fun with it! Personalized gifts don't just have to be photos (although a great gift idea too!); you can get personal and creative with what you are giving! And if all else fails, wine bag. Always remember the wine bag.
***
This post is sponsored by Shutterfly. Show them how much you care this holiday season with the perfect, personalized gift made with Shutterfly.