Call me old school but I miss hand written notes. Isn't there something wonderful about receiving a letter or a hand written note in the mail? I always love receiving a birthday card or a thank you card, so that was one of my new year's resolutions this year — to send more cards this year. It seems like such a small gesture but I think such an important one. We tend to forget how small things can make a big impact on our day and on others.
When we had the shop, my grandmother would send a letter of encouragement every single month. Every. single. month. You guys, how thoughtful is that? It was never lost on me that she took the time out of her day to put sweet thoughts to paper. I kept almost every single one of those letters, they meant so much. Such a small gesture from my grandmother went such a long way.
So that got me thinking, as I am notoriously bad at remembering birthdays — my sweet nephews are very gracious with my belated cards — this is such a small habit that I can start to incorporate in my everyday life. Sending thank you notes, birthday cards, small letters of encouragement takes just a few minutes for me but can be such a sweet surprise for a friend or loved one. As I've been working to be better at this habit, I've come across a few ways that might help you incorporate it, too!
Have them in-stock and ready!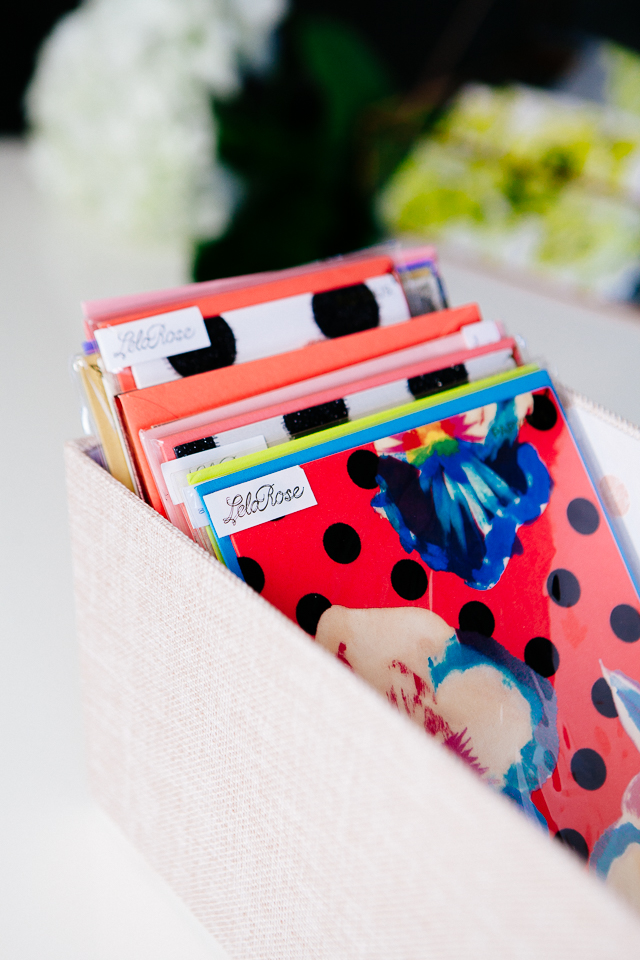 I've found that if I have a stack of pre-purchased cards for different occasions — thank you, sympathy, birthday, etc. or just plain cards that I can write my own message in — I am more likely to get that card in the mail than if I have to go to the store and purchase it. Sometimes my to-do list items get pushed and pushed and before I know it, I've missed a date or forgotten completely.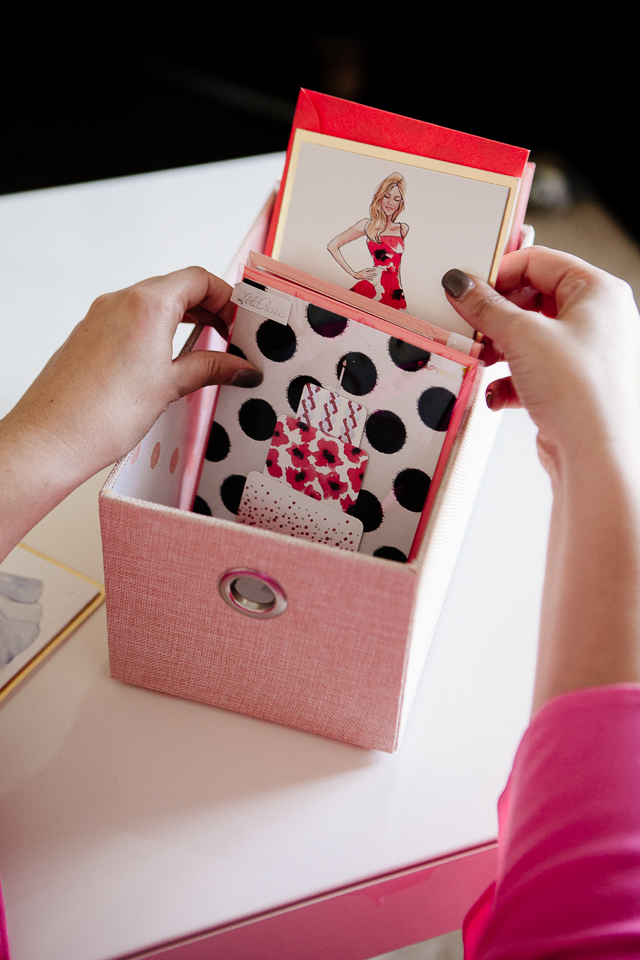 I love to keep cards that show my style (or humor!) so that it really feels like it's from my desk personally. I was SO excited when I learned that Lela Rose partnered with Papyrus to create a whole line of cards. I've long been a fan of Papyrus cards because they always feel like I've taken that extra mile (and because yes I'm always late!). The weight of the cards always feel like it's a piece of art, or something I could frame. Especially these from Lela Rose, one of my favorite brands I love to dream about. She's such an icon to me with her feminine pieces, season after season — I've long dreamed of owning one of her pieces. So being able to send fashion forward greetings cards is right up my heel-friendly alley.
Pre-write and stamp them!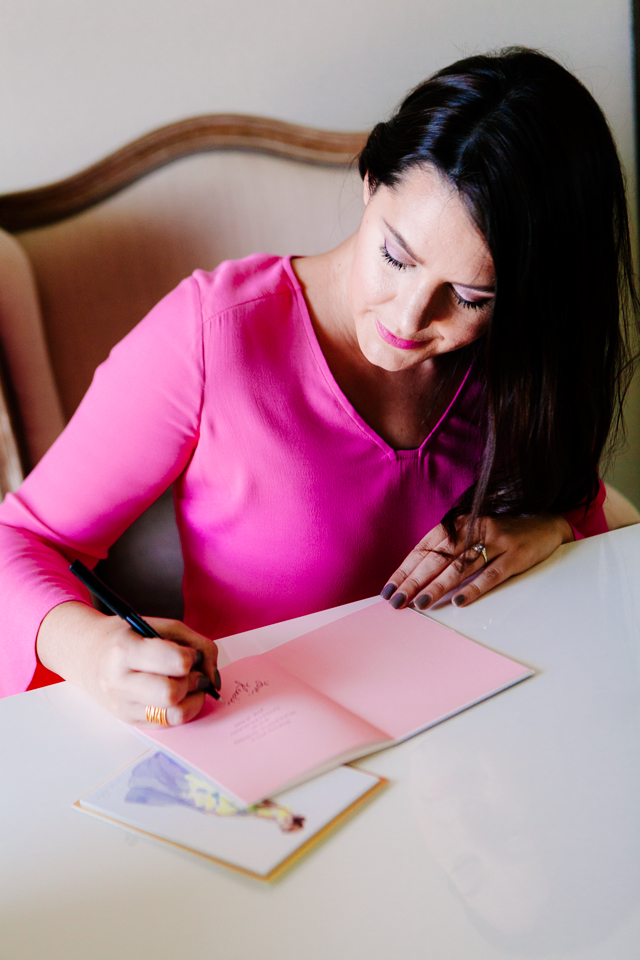 Obviously you can't predict thank you notes or sympathy cards or encouragement notes, but birthdays and holiday cards are bound to happen once a year. You can easily get ahead of the game by selecting your birthday cards for the year, writing a sweet note, addressing and stamping the card and placing aside until it's ready to send. I am queen of gift cards, so I like to go ahead and stuff one with a gift card or if I know it needs a different gift I'll place a small post-it on the envelope so I know to grab something to go with this card.
Pre-stamped cards have been a life saver because I never remember to buy stamps which again goes into the to-do task abyss. Now I can set one afternoon aside and make all of my cards and stamp them and I'm done. Thoughtfulness organized.
Use your calendar!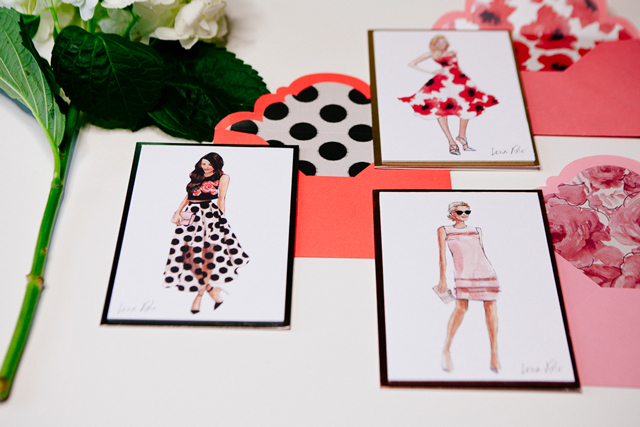 There is no way you are going to remember everyone's everything. (Unless you are my husband who is some kind of birthday robot. He amazes me with the information he retains — names, birthdays, address. Genius!) Since I don't possess that same natural recall, why not use the technology I constantly have at my fingertips? My calendar is filled with birthdays, anniversaries, etc. so that not only can I remember but I can get my notes in the mail. I go a step further and set my alarm to alert be a few days before so I can pop the note in the mail and finally be on time to a party.
Write thank you notes!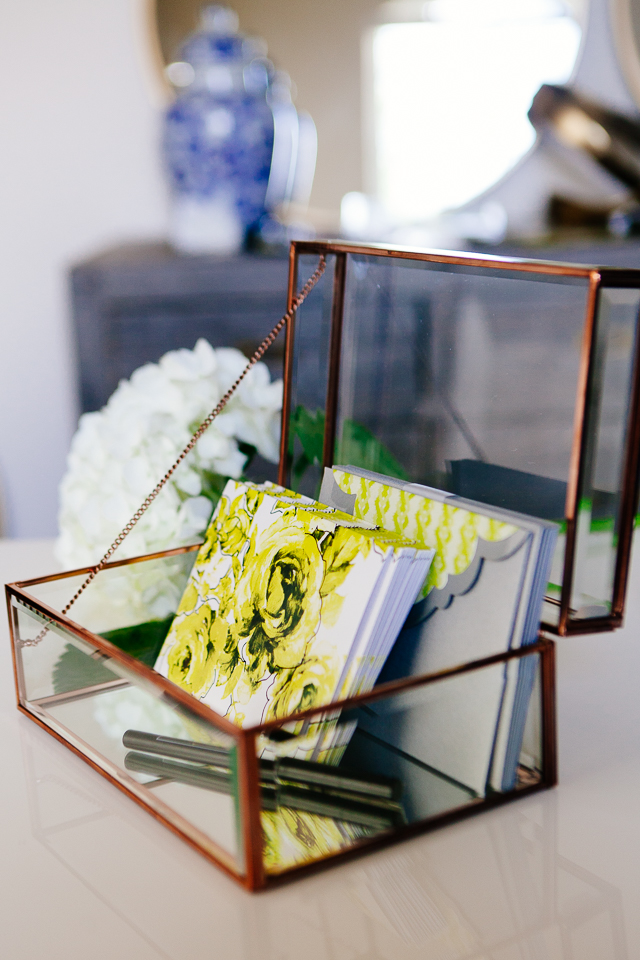 One of the best pieces of advice I received after graduating college was to send thank you notes the day you were interviewed. It didn't have to be much, just enough to thank the interviewer for their time and tell them how excited you'd be to work for their company. This obviously wasn't a magic wand that granted me the first job I sent a thank you card to but it was a gesture to show that I was grateful for the opportunity. Plus it's always nice to be nice. I've never once regretted being kind.
Thank you cards do not have to be long. I learned this when writing thank you notes for our wedding gifts. Simply saying thank you is quite enough with a personal anecdote about the gift or action someone did for you. Thank you's always go a long, long way.
(This is another card you can have stamped and ready for your message and address! Pre-stamping is the best.)
Get personal!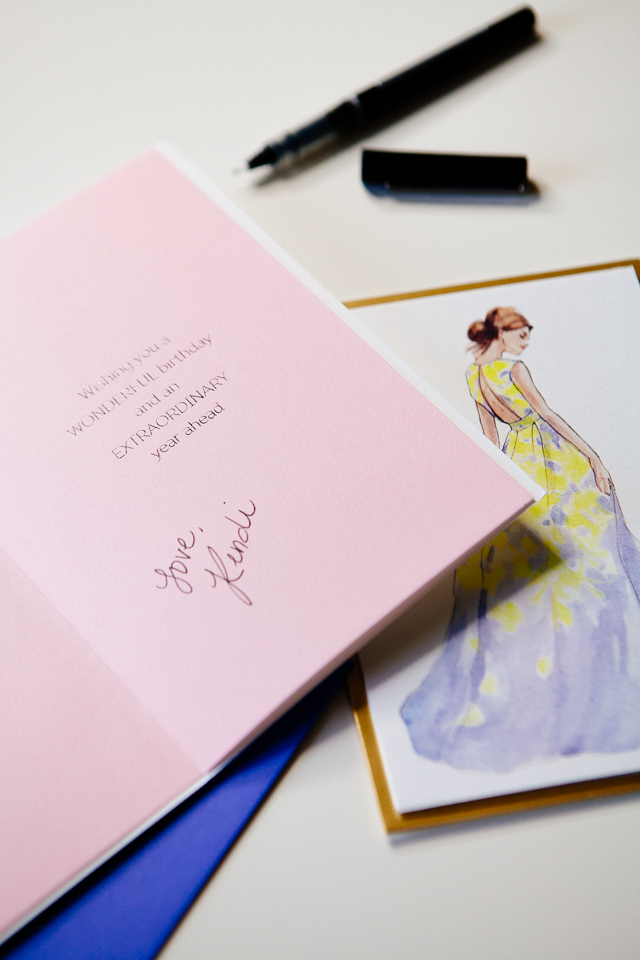 I love sending cards that reflect my personal style. That's what I love about the Lela Rose collection, it doesn't feel like I was rushed at the drug store and just picked up the first card I could find. She really took her time designing these cards with her prints and embellishments and I love being able to send my style of card. (And I really do think you could frame these cards! That's a win-win for your recipient!)
Sending cards that represent your personal style, humor, or brand is another way to reach out to a long distance friend or loved one.
Celebrate the small things!
A friend's new job or promotion, a new home, or heck — even just a Tuesday afternoon! Recognizing things that sometimes we overlook as steps in life can be celebrated with just a little card to your friend or loved one. I think everyone can agree that sometimes it's just nice to be remembered, and we all want our friends to feel loved. A sweet little note can always brighten a day, especially on a pretty card.
I like to keep blank cards around for this purpose. I have the biggest bulk collection of blank cards. The Lela Rose x Papyrus collection has the prettiest yellow floral that works year round. Plus it feels like I'm sending a one of a kind card. It's like sending a bouquet through the mail. Just a little bit of happiness with a stamp on it.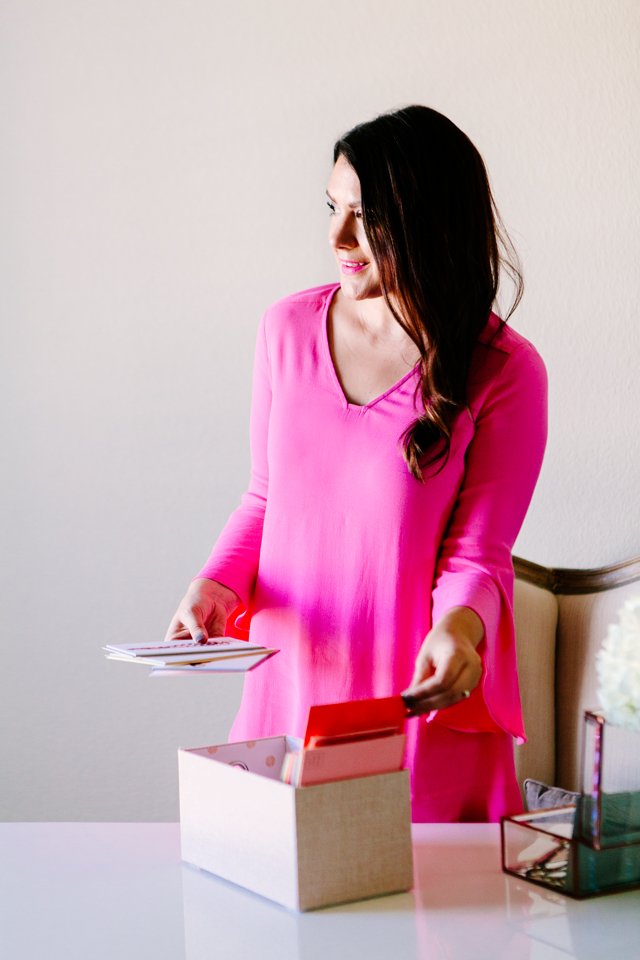 ***
What are your favorite tips for writing notes? Share below!
*This post was brought to you in collaboration with Lela Rose x Papyrus! Thank you for supporting the brands that support KE!