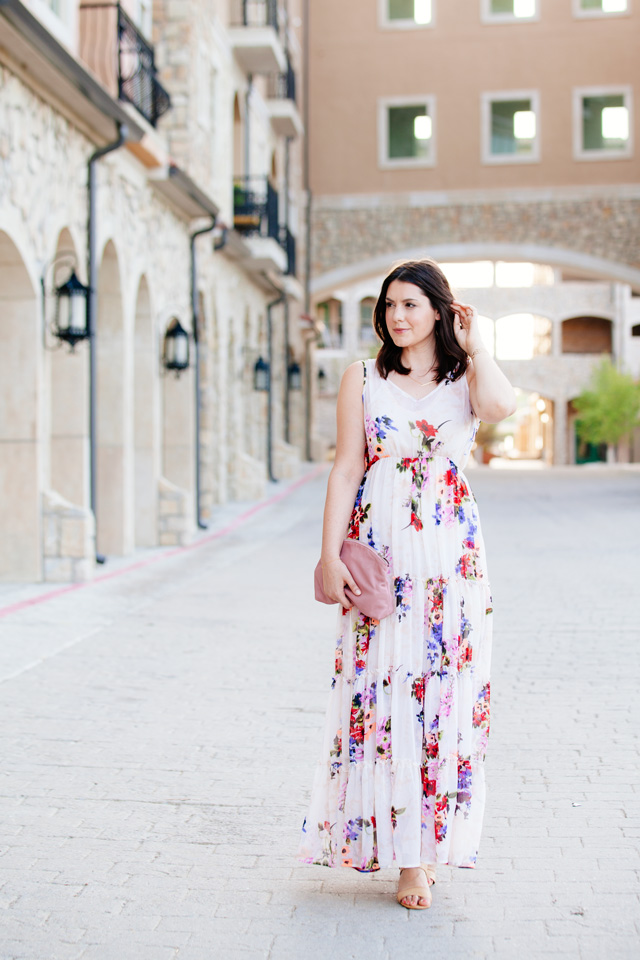 Wedding season is here, my friends. Ready or not, those invites are going to come and you've got to have a dress ready. (And just as a friendly reminder, mainly to myself: you shouldn't wear a white dress to a wedding.) But you could wear a
pretty floral maxi dress
. This blush number is what I wore to a wedding last weekend. It was an outside venue so I thought I'd go with that vibe, hoping it would be more casual than formal. Maxi dresses are nice when you aren't sure if the wedding is dressy or casual. I felt both casual and formal in this dress, which is hard to do. Another bucket list item checked off.
Funny story about this dress. I bought
this dress online
so I hadn't tried it on / seen it in store. When it arrived to my house, I immediately tried it on — because when mail arrives at my house I go full on child at Christmas. (Packaging everywhere and I'm asking around for AAA batteries for no apparent reason.) But as I put it on, I was kind of disappointed in the fit. It didn't look like how I thought it would. The neckline was too low and the slip showed — it just looked awkward. I looked online again to see how it fit on the model and realized that I had the dress on backward! So I did a quick switch and voila — that was how it's supposed to fit! I had put it on backwards. But the tag was actually sewn into the wrong side, so I sighed a sigh of relief that I'm not a complete idiot. Once I figured out the right direction to wear this dress, I liked it so much that I just rolled with it — cut the tag out of the front and wore it backwards. Or front wards, I have no idea what's going on with this dress. But I do know that I like it so all that to say, if you buy
this dress
and the tag is in the higher neckline like mine was, turn that dress around so that the lower side is in the back and cut the tag out. No one but me and you will know. Your secret is safe with me.
_________________________
_______________________
JavaScript is currently disabled in this browser. Reactivate it to view this content.