Hello. My name is Kendi and I'm an excuse abuser. Give me free time, a gym membership and sneakers and I will give you any excuse I can think of. I've trained for years at this, so I'm pretty fool proof when it comes to thinking up excuses for not wanting to go to the gym. Hunger is one of those excuses. Time and schedule are the other two. I'm too busy I tell myself, I can't find the time. I mean hey, I'm busy, you're busy, we are all busy people. And I think that's just fine; it's just when 'busy' is a negative thing or an excuse it becomes a problem. And since this was one of my wellness goals, taking 30 minutes a day to be active, this means that my excuses are just a roadblock to my priorities. I can find at least 30 minutes somewhere in my day to get in a quick but effective workout.
So I did some Pinterest plowing a few weeks ago and found a few workouts that I like to mash together into one thirty minute session. I'm a sucker for habits as I've said before and if my brain can become accustomed to this routine (and a solid playlist), then it becomes a part of my priorities. That's right, brain trickery. It works.
Here is my no-excuses, 30 minutes workout that you can use anywhere. I do this in my driveway because again I'm high maintenance and excuse prone, but this can be done anywhere there is room. All you need is you, some sneakers, possibly a yoga mat and a kettle bell at whatever weight you're comfortable with. See? No excuses.
(PS: You also need a phone. I set a timer on my phone for 10 minutes so I don't forget to move on to the next circuit.)
1. Start with stretches and yoga poses.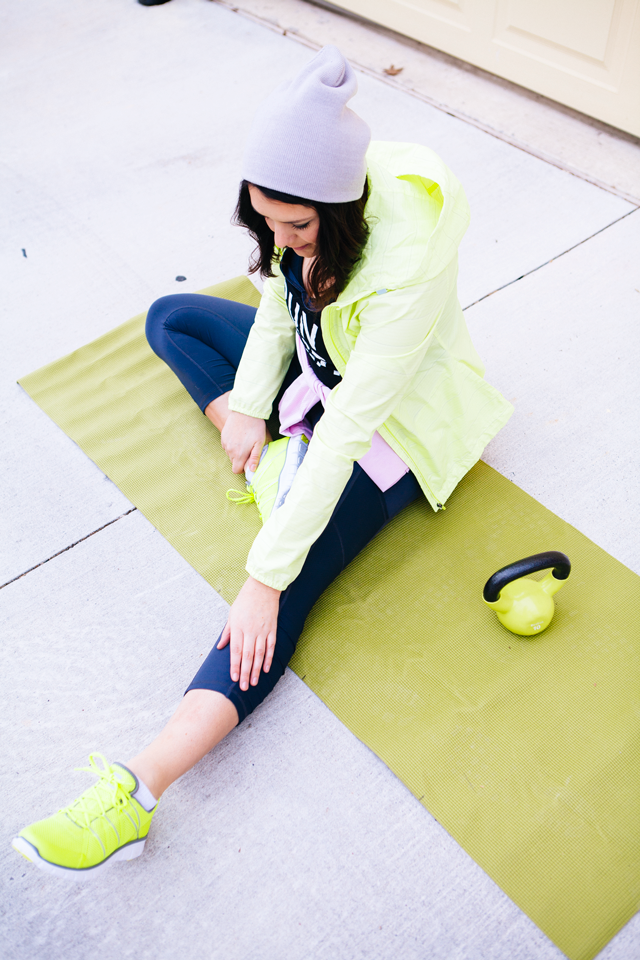 10 minutes: I like to warm up a little with a few light stretches and then move right into 6-8 sun salutations routines. These yoga poses and moves always get my blood flowing and ready for the next step in the circuit. Plus it's a great stretch for everyday. Be sure to hold each pose for 5-10 seconds before moving on to the next (or longer, you pro you!) (Sometimes if I'm feeling overzealous about my day, I'll start off with 5 sun salutations in my bedroom in the mornings. It's a nice start to the day.)
2. Quick Kettle Bell Circuit.
10 minutes: I'll be honest I picked up some kettle bells on sale at Target like two years ago after watching Bob on the Biggest Loser talk about them. But this year I'm actually putting them to use and I have to say I really like them. The exercises are fairly fool-proof and they go by fast. (Two must-haves for me.) I'm swinging 10 lb kettle bell above but you can do whatever you feel most comfortable with. (I use a 15 lb one when I do the squat exercise in the workout I've linked below.)
I use the linked workout and repeat it until my 10 minutes are up. The arm swings circuit is my favorite, I feel like I'm getting all the aggression I didn't know I had out.
3. Lunges and sprints!
Did you see how I put an exclamation point behind lunges and sprints above? That was to pump you for this circuit. I know it's working, isn't it? Since we have a shared driveway, I've got a lot of room to sprint and lunge. I'm going back to my junior high basketball days when we would sprint half court and back, then full court and back and that was one. This is what I do until I get until to 5. Then I finish out my time with full court lunges.
I'll go back to the mat and finish stretching a little bit more and that's it! I'm done. Easiest workout ever.
Of course my favorite part of any work out are the clothes and shoes. I'd be lying if I didn't say that new gear and looking cute while doing it wasn't a perk. You can take the girl out of the shop, but you can't take the shop out of the girl.
What are your quick workouts? Feel free to share your wisdom below!
This post was sponsored by Old Navy. Check out Old Navy's latest fashion lineup in store or online at oldnavy.com.